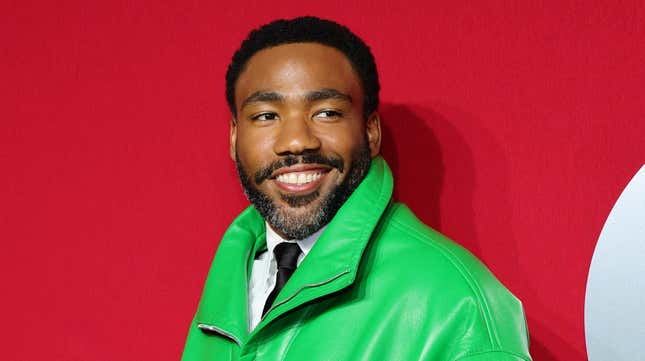 Donald Glover is set to bring his Lando Calrissian expertise up to the next level, Variety reports, with news breaking today that Glover will now be writing Disney+'s planned Lando show. He'll be working with his brother and frequent collaborator, Stephen Glover. The duo will be replacing Dear White People's Justin Simien on writing duties for the series, which was announced back in late 2020.
The A.V. Club's weekly film round up
The Glovers are, of course, no strangers to writing TV; between the two of them, the pair wrote about half of Glover's starring vehicle Atlanta, and, most recently, both worked on the Donald Glover-produced Swarm. (They also co-wrote FX's shuttered animated adaptation of Deadpool, which remains one of the great truly odd "What might have been?"s of modern TV.) Now the sibling duo will take on sole writing duties on Lando, details of which are, honestly, just about nil. Glover originally played the part of Billy Dee Williams' Empire Strikes Back anti-hero back in 2018 for Solo: A Star Wars Story, which was written by Jonathan and Lawrence Kasdan. The new series will presumably focus on Lando doing Lando-type stuff, as Disney continues to relegate all of its more active Star Wars work to TV for the foreseeable future.
The deal for the Glovers to take over the Lando series was apparently struck back before the Writers Guild Of America went on strike—which presumably also means it had nothing to do with the modest performance of Simien's latest Disney project, The Haunted Mansion, which is expected to open in third-place at the box office this weekend beneath the combined might of Barbie and Oppenheimer. Glover, meanwhile, is keeping a busy schedule, post-Atlanta; Most notably, he's still working on the Mr. And Mrs. Smith show, which is part of his and Stephen's overall deal at Amazon.