When DC Comics decided to reboot Superman in the mid-'80s—the first of many reboots to come—editor Julius Schwartz agreed to let an eager Alan Moore write the last adventure of the "old" Superman, in a story called "Whatever Happened To The Man Of Tomorrow?" As a way of hedging their bets, Moore and DC dubbed it "an imaginary story," reviving a concept DC writers often used in the '50s and '60s when they wanted to play around with the Superman mythology without wrecking continuity. But Moore threw a curveball in his opening caption, writing, "This is an Imaginary Story… aren't they all?" This has become a well-quoted line, cited by anyone easily irritated by the way science-fiction/fantasy/adventure fans become preoccupied over what's "real" or what isn't in their favorite fictional universes. For some, though, when Alan Moore wrote that line, he committed a crime against fiction.
Do storytellers have an obligation to maintain suspension of disbelief? Some people love it when a creator reminds the audience that what they're reading or watching is nothing more than an elaborate fake, while others feel betrayed by that kind of willful goofery, wondering why they should invest time and interest in characters and situations that even the authors don't take seriously. Being flip is risky.
That probably explains why Joe Dante has had such a rocky career. Weaned on wiseass Warner Bros. cartoons and endearingly fakey B-movies, Dante has always been a proponent of gags over realism, pushing his tongue deeply into his cheek in movies like Piranha, Small Soldiers, and the Gremlins series. Check the credits of any TV anthology series produced after 1980, and chances are Dante directed an episode or two, usually taking on scripts with quirky or mind-bending aspects, such as the Amazing Stories episode "The Greibble," in which a voracious Seussian children's-book character comes to life and terrorizes a suburban home, or the Night Visions episode "The Occupant," about a woman who thinks an intruder has been rearranging the furniture in her house, until she learns that it isn't her house, and she's the intruder.
In 1991, José Rivera and Karl Schaefer co-created Eerie, Indiana, a kid-friendly spin on Twin Peaks and The Twilight Zone about a boy named Marshall Teller (played by Omri Katz) who lives with his family in a small town infested with monsters and unexplained phenomena. Joe Dante was brought in as a creative consultant and frequent director, since this kind of premise—wholesome Americana undercut by the bizarre—is Dante's stock in trade. In the 18th episode of Eerie, Indiana's lone 19-episode season, Dante also makes an appearance, playing himself: the harried director of an episode of Eerie, Indiana.
G/O Media may get a commission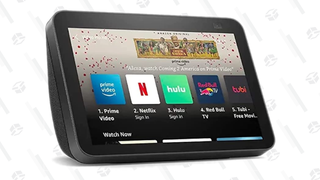 "Reality Takes A Holiday" was written by Vance DeGeneres (Ellen DeGeneres' brother, and later a Daily Show correspondent) and directed by Ken Kwapis (who went on to make significant contributions to The Larry Sanders Show, Malcolm In The Middle, and the American version of The Office). The episode opens with Marshall at the breakfast table with his family, dodging their invitation to go to a monster movie because he's more committed to combating the real monsters right there in Eerie. Then Marshall walks out to his mailbox and finds a script, which opens with a scene exactly like the one he just lived. He walks back inside the house and finds his family still there at the breakfast table, ready to engage him in the same conversation. But Marshall doesn't know what to say, so someone off-screen—Dante, as it turns out—yells, "Cut!" And then he calls Marshall "Omri."
The premise of life as a performance and the protagonist as an unprepared actor is fairly common in science-fiction/fantasy/horror anthologies, likely because it's a fairly common nightmare. (I endure the "test I didn't study for" dream more often, but every now and then I do have one where I'm back in high school drama class, desperately trying to memorize lines for a play that starts in minutes.) "Reality Takes A Holiday" gives the premise a different spin, pulling back to show what's just beyond the stage. Marshall/Omri's confusion irritates his fellow cast members, who are presented in the episode as shallow Hollywood types—each the inverse of their characters on the show—eager to get their jobs done so they can go home. When our hero wanders out of his kitchen, he finds a maze of disconnected sets and dressing rooms, with crewmembers busy carrying scenery back and forth. The life he knows—crazy enough already—is now literally breaking into pieces.
There are different ways to handle the "character realizes he's a fictional construct" plot. Writers can get metaphysical with it, letting the character meet his creator and have a conversation about the meaning of existence. (See Grant Morrison's early-'90s run on the comic book Animal Man for the best example of that.) Or they can "Duck Amuck" it, using the premise as an excuse to play around.
Eerie, Indiana goes a different route, building a quasi-suspense plot out of all the freakiness. Marshall's persistent gray-haired nemesis Dash X (played by Jason Marsden, one of the only characters in the episode who gets called by his character name throughout, not his actor name) is in cahoots with The Writer in a plan to kill off Marshall at the end of the episode so Dash can be the new star of Eerie, Indiana. If Marshall/Omri finally makes it through the breakfast-nook scene he flubbed, he'll step outside and get "accidentally" shot by a Bigfoot-hunting Dash. There's a monster at the end of this book, and if Marshall keeps turning pages, he'll meet it.
His solution? Rewrite the ending. And after a suspenseful scene where a comically slow printer almost derails the plan, the Marshall-saving pages arrive just in time.
In this new version, Marshall agrees to go to the movies with his family, and as he's saying those words, the set becomes a house again, and Eerie, Indiana is restored. Or is it? On his way out the door, Marshall finds another script page on the floor, this time with Omri's newly rewritten ending.
Eerie, Indiana is a relic of the early-'90s post-Twin Peaks era, when shows like American Gothic, Picket Fences, and Northern Exposure were all green-lit by networks looking to recapture some of that "eccentric small town"/"creepy mystery" magic. In the case of Picket Fences and Northern Exposure, the creators quickly steered away from the Twin Peaks zone, aiming more for contemporary relevance and heartwarming human drama. Eerie, Indiana, meanwhile, feels almost like Rivera and Schaefer's attempt to sneak a horror anthology onto TV by convincing NBC they were making a family-friendly version of David Lynch.
The show ran for one season, then popped up again in syndicated repeats a few years later, around the time when the horror-for-kids Goosebumps series was becoming a phenomenon. But Eerie, Indiana was never a hit in either of its runs, and though people who watched it fondly remember it today, those viewers hardly constitute a mob. Perhaps the show was too quirky. Even prior to "Reality Takes A Holiday," Eerie, Indiana often winked at the audience, poking fun at the conventional elements of its genre and its medium. And though the characters were likeable and the basic premise engaging, Eerie itself isn't a well-rounded, habitable place, the way, say, Mayberry is. The town already has the feel of a Hollywood back lot; it radiates artificiality the way movies and TV shows involving Joe Dante often do.
"Reality Takes A Holiday" has the added burden of being about show business, which is a subject the American viewing public only seems to like when it's filtered through "Hey, I wonder what the famous people are doing tonight?" infotainment. Movies and TV shows about Hollywood at work typically don't do so well. Maybe the problem is that no one has found a way to make a deal memo as pulse-pounding as open-heart surgery or a murder trial—even though in real life, all those things are equally routine.
Myself, I've always found backstage dramas fascinating, because I like to know what goes into making the sausage. Still, I can understand why a casual TV fan might not have any interest in seeing the villain of "Reality Takes A Holiday" taken out of the picture via an order to "clear Omri's eyeline." And I can see how some might find the jokes about Omri as another child actor destined to go on a crime spree a little snide and insider-y, or Mary-Margaret Humes' memories of being cut from Jake And The Fatman too cutesy. It's all in good fun, sure. But those kind of jabs in the audience's ribs also defuse narrative tension. There's no real stakes if we're reminded early and often that this is just a story, enacted by actors, who "get shot and die because I said so."
True, these tales have always been imaginary. And true, the people who spin these tales should have the freedom to fling their toys about willy-nilly, or to cut open the world they've created to see what's inside. But once they do, they may find it's hard to put a story—or a TV series—back together again, and have it work as it once did.
"Reality Takes A Holiday" is a funny, clever episode of a funny, clever series, but it's telling that its best scene is one that briefly brings the hero back into the proper Eerie world. Marshall wanders through a studio populated by oddly festooned people every bit as strange as what he sees back home in Indiana, and just as stressed-out in their way as the people of Eerie—if not more. Then he sees the set for Mr. Radford's soda shop, and hears Mr. Radford (played by the venerable John Astin) inside. The shop looks the same. Mr. Radford acts the same. Marshall is able to relax for a moment, appreciating the familiar, and the audience is able to do likewise, regaining our footing in the show. The actors hit their usual beats, the surroundings look right, and the entire mood of the episode transforms, just through the power of television convention.
Inevitably, Mr. Radford hears about Marshall's problem and responds by pulling out his own script, to figure out what Marshall should do next. But at least he remains recognizably Radford—not John Astin—and at least his commitment to staying in character and consulting the script represents a win for those who crave stability in storytelling. Mr. Radford defends order and plausibility in narrative when he praises the work of writers, saying, "Otherwise, everyone could make things up as they go along, and there'd be chaos."
Next time on A Very Special Episode: Barney Miller, "Quarantine, Pts. 1 & 2."