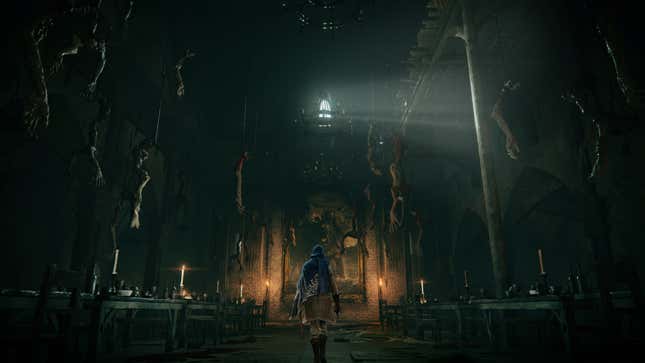 Elden Ring never gave up its secrets easily—or its joys. One year to the day after it was first released to the public, From Software's wide-ranging opus has been dissected, analyzed, and datamined nigh unto death by a fervent horde of fans (who would, uh, really like to know if and when that DLC is coming, thanks). And yet, in many ways, the hunt for the Elden Ring remains exactly as it was back in February of 2022: Hostile, vast, and mysterious. Hell, we're talking about a video game that won't even allow you to enter its first "real" level, without first letting a 12-foot tall ogre with a British accent crack your head open with a shillelagh for a couple of hours.

But once players of Elden Ring do bring down self-appointed gatekeeper (and the game's first serious boss) Margit The Fell Omen (and his lousy, cheap-ass, no-telegraphing, infinite stamina magic sword combos), they found—and continue to find—themselves in the game's obscure and belligerent version of putting its best foot forward. Because Stormveil Castle, Elden Ring's first dungeon, isn't just one of the best monster-filled castles ever designed by a studio that's long proven it's best in class at designing horrifying, monster-filled castles: It's also a thesis statement that explains that, no, From Software had not lost its mind by radically reinventing one of the most successful gaming formulas of the last decade—the company's own meticulously crafted Dark Souls.
I doubted. I'll admit it; while playing through Elden Ring's first public beta, I despaired at the apparent shifts in design philosophy I saw, the lack of any big, beefy dungeons to lose myself in. The game's sprawling open world was pretty enough—and I'll never forget the first time I got ambushed by a pack of howling wolves apparently dropped on my head by a thunderstorm whilst climbing an atmospherically rain-pummeled hill—but there was none of the meticulous craft or level design I associated with From.
What I was missing, I now know, was Stormveil, hidden as it was behind a rampaging, literally horny Brit who wanted to use my Tarnished skull as his golf ball. Once inside—and outside, and on top of, and lurking below—the castle's crumbling walls, my confusion about what Elden Ring even was abruptly cleared up. Those vast open world spaces became, not a replacement for something I dearly loved, but the connective tissue linking them. And Stormveil revealed itself as a playground for From's new approach to exploration, incorporating climbing, jumping, and other upwardly mobile verbs to radically expand what a level like this could be.
That dedication to choice and exploration is apparent from your first approach to the castle gates, which stand intimidatingly shut. A hyper-sketchy gatekeeper, slacking off in a side room, glumly offers to open them for you—while noting, accurately, that you will be torn to shreds in a hail of ballista fire within seconds if he does. Instead, he suggests, why not go the back way, climbing the castle's broken walls to sneak inside from an oblique angle? Which is both a) good advice, and b) a transparently murderous plot so that this dude can scavenge cash off of your corpse every time a bird with knives glued to its feet sends you plummeting straight to hell as you make your way up the shoddily built back stairs.
G/O Media may get a commission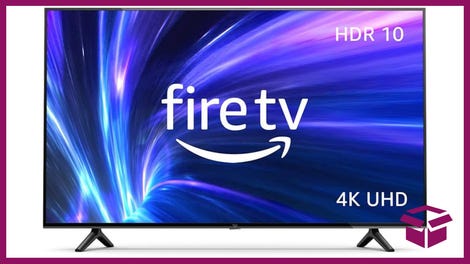 42% Off
Amazon Fire TV 50" 4K Smart TV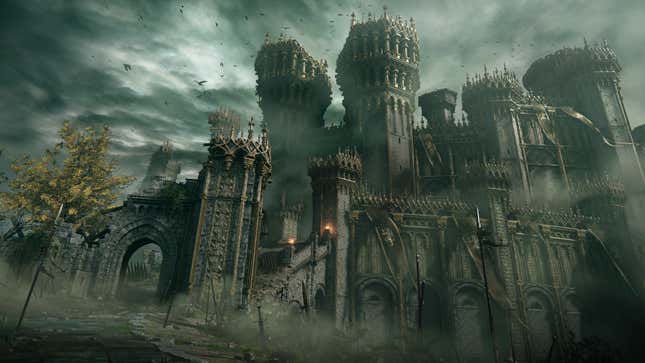 That level of complexity, and that blending of "trap" and "path," is key Elden Ring—as is the fact that your climb up Stormveil's walls is an actual climb, incorporating running and jumping in abundance. (Also: Murder birds.) One of the key lessons the castle imposes on players at every turn is "Look up, dummy!"; the ability to jump, imported from From's oddball Sekiro, massively changes how the game's designers can hide strange, potent secrets in seemingly innocuous spaces. You can clear almost all of Stormveil by sticking to the beaten path, charging through hordes of soldiers, trolls, and, in one notable instance, a sort of multi-limbed dude spider. But every time you decide to push at the boundaries, to poke at the edges, to look up, the game is ready to reward you, whether with treasure, or a safer path around enemies, or sometimes with deep and terrifying secrets about the game's lore.
From has always been good at castles, from Demon's Souls' iconic and decrepit Boleteria Palace, to the gilded spires of Dark Souls' shining Anor Londo. But Stormveil is special: A genuine, good faith effort to create an entire vast medieval living space for your Tarnished hero to smash their way through, winding in from the outer battlements, through the towers, to the kitchens—maybe, uh, don't look in the cooking pot—passing by secluded chapels and quiet libraries, and all the way up to a soldier-packed courtyard that's the last major threat standing between the player and the castle's twisted lord, Godrick The Grafted. By the time you're forced to face off against the birds with knives and explosives strapped to their feet, you'll feel like you've been run through a genuine, logically laid-out gauntlet.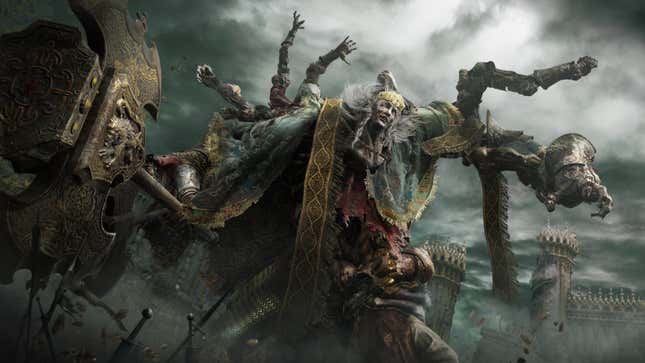 And even once Godrick—whose misfit obsession with power has caused him to transform himself into an even gnarlier dude-spider—goes down, Stormveil continues to hold secrets. There are things lurking in the darkness beneath the castle, hints of a conspiracy that once took a golden, "perfect" order … and shattered it. Push at the edges of the map, get rewarded: It's the Elden Ring ethos. But even for the most determined secret hunters, Stormveil won't reveal all the answers—which have never necessarily been From's preferred stock in trade, anyway. Instead, they raise horrifying, fascinating questions, hinting at a sickness that runs through the very roots of the world.
The wild thing about Stormveil is that it might not even be the best of the various "Legacy Dungeons" that dot Elden Ring's massive map, hand-crafted labyrinths of brutal, exploration-focused goodness. In some ways, it's a mere trial run for the even more detailed and elaborate royal capital of Leyndell that players will tackle closer to the game's ending, which pulls the same trick of creating a sprawling, opulent living space, but taken to even further extremes: bigger palaces, deeper depths, nastier secrets lurking at the heart of it all.
But Stormveil is the more important of the two, because it's where Elden Ring defiantly strikes the balance between the past and the present. It's the place that demonstrates that From hadn't let itself become completely seduced by Breath Of The Wild-esque rolling vistas, filled with majestic (and somewhat empty) landscaping. It proves that some of the best level designers in the business could not only still demonstrate their craft, but improve upon it, blending brilliant moment-to-moment, hallway-to-hallway gameplay with a much wider and more expansive world. It's a huge part of the reason we can't stop thinking about Elden Ring, a full year after the fact.