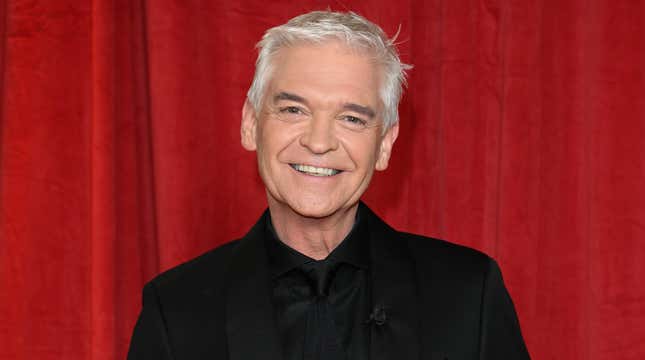 The long-going debate about whether the U.S. version or the U.K. version is better got another tantalizing entry, this time in the category of morning show drama. You may remember The Ballad of T.J and Amy, the GMA3 hosts whose affair captured the imagination of the Internet late last year. Well, now get ready for the Phillip Schofield Scandal, which is once again giving The Morning Show a run for its money with behind-the-scenes impropriety.
"The Marvels" director says shooting an MCU movie is existentially stressful
For the non-British and uninitiated, Schofield is a longtime TV presenter who has hosted ITV's This Morning since 2002. In 2020, Schofield came out as gay and separated from his wife of 27 years. Appearing on the show at the time, Schofield said he "never had any secrets" from his wife Stephanie Lowe, adding, "We have gone through this together. We have been very open and very honest." His co-host, Holly Willoughby, pledged, "I will be by your side forever."
Cut to three years later, and the British tabloids began reporting on tension between Schofield and Willoughby. (This came after a queue-jumping scandal in line to view the late Queen Elizabeth's coffin and Schofield denouncing his brother over child sexual abuse.) On May 20, Schofield announced he would be leaving This Morning. In a since-deleted Instagram post (via USA Today), he wrote, "I understand that ITV has decided the current situation can't go on, and I want to do what I can to protect the show that I love. So I have agreed to step down from This Morning with immediate effect, in the hope that the show can move forward to a bright future."
Days later, Schofield admitted to an affair—one that began before he came out, and while he was still with his wife—with a much-younger colleague on the show. Further, the colleague was only a teenager when he met Schofield, and Schofield helped him get the job in the first place, per the Mail on Sunday.
"I am making this statement via the Daily Mail to whom I have already apologised personally for misleading, through my lawyer who I also misled, about a story which they wanted to write about me a few days ago," the statement began. The television personality apologized for lying to them and "to many others" about the affair. "I did have a consensual on-off relationship with a younger male colleague at This Morning," he wrote. "Contrary to speculation, whilst I met the man when he was a teenager and was asked to help him to get into television, it was only after he started to work on the show that it became more than just a friendship. That relationship was unwise, but not illegal. It is now over."
Schofield claimed his departure from This Morning was "unrelated" to the affair, and that he only came forward because of the increased media speculation to protect the unnamed, now ex-colleague. "I am painfully conscious that I have lied to my employers at ITV, to my colleagues and friends, to my agents, to the media and therefore the public and most importantly of all to my family. I am so very, very sorry, as I am for having been unfaithful to my wife," he wrote, resigning from ITV as a whole. "I will reflect on my very bad judgment in both participating in the relationship and then lying about it."
Following this admission, ITV revealed it had conducted an investigation into rumors of the relationship in 2020, but based on Schofield and the anonymous colleague's adamant denials and a lack of any other proof, the investigation was closed, per Sky News. "We are deeply disappointed by the admissions of deceit made tonight (Friday 26 May) by Phillip Schofield. The relationships we have with those we work with are based on trust," the network said in a statement. "Philip made assurances to us which he now acknowledges were untrue and we feel badly let down. We accept his resignation from ITV and therefore can confirm that he will not be appearing on ITV as had previously been stated."
Co-host Holly Willoughby also weighed in on Instagram (via Sky News), expressing her disappointment in her longtime friend. "When reports of this relationship first surfaced, I asked Phil directly if this was true and was told it was not," she wrote. "It's been very hurtful to now find out that this was a lie." After being absent from air for two weeks, Willoughby returned with a monologue: "I imagine that you've been feeling a lot like I have. Shaken, troubled, let down, worried for the wellbeing of people on all sides of what's been going on, and full of questions."
Speaking with The Sun, Schofield confirmed that he and Willoughby were no longer speaking (the tabloid also describes him as "furiously vaping" during this conversation). He also suggested in an interview with the BBC that the extent of coverage of the affair was tinged by homophobia, saying "if it was male-female then it wouldn't be such a scandal." However, he also said he'd been wracked by guilt and the desire to protect his ex-colleague. "I see nothing ahead of me but blackness, and sadness, and regret, and remorse, and guilt. I did something very wrong, and then I lied about it consistently," he said. And so the saga comes to its ignominious end.