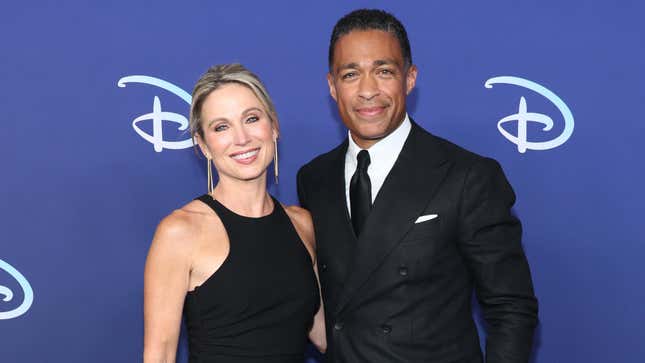 When life imitates The Morning Show, you know things are not going to end well. That's the case for T.J. Holmes and Amy Robach, who have now, in the words of an official statement from the network, "moved on" from their positions as hosts of the Good Morning America off-shoot GMA3. The two made headlines for their reported affair back in December, and have continued to remain tabloid fodder ever since.
An ABC spokesperson released a statement this evening: "After several productive conversations with Amy Robach and T.J. Holmes about different options, we all agreed it's best for everyone that they move on from ABC News. We recognize their talent and commitment over the years and are thankful for their contributions."
TMZ first reported the news of Holmes and Robach's exit, after what the outlet describes as an "extremely contentious" mediation process. The romance had been under internal review since the pair were originally taken off the air, though ABC News President Kim Godwin had claimed in a memo that they were not in violation of company policy and had simply become an "internal and external distraction." Now, a Page Six source suggests that "Unless ABC reaches a satisfactory departure agreement with both Amy and T.J., they would both be looking at filing lawsuits against the network."
Holmes and Robach were allegedly separated from their respective spouses when they struck up their relationship, meaning there was nothing inherently inappropriate about their conduct. Complicating matters are the allegations that Holmes had multiple workplace affairs. One Page Six report alleged a years-long affair with a GMA producer before his relationship with Robach. A more recent Daily Mail source alleged that he had been intimate with a 24-year-old script coordinator in his actual office while working for ABC News. The same Daily Mail report claimed that Holmes had "stressed" and "freaked out" an intern with unwanted advances. "He was a predator who took full advantage of his position, and he was reckless," a source told the outlet.
Plus: "He's also a dick to producers. No one likes working with him," another insider told Page Six. "He yells and has the biggest ego." It doesn't sound as though many will be sorry to see Holmes go.