For a while, Kumail Nanjiani's name was somewhat of a liability. The formerly Chicago-based stand-up worked for years honing his craft, culminating in a moving, comically packed one-man show called Unpronounceable. It debuted two summers ago at the Lakeshore Theater, detailing his journey from Pakistan to small-town Iowa and the resulting falling out with his faith. But the jokes and opinions voiced within the show were considered blasphemous back home, and it put his parents in danger. Upon relocating to New York shortly thereafter, Nanjiani started doing stand-up almost every night under the moniker Kumail Ali, and only performed Unpronounceable a handful more times.
But the industry is starting to learn his name. He appeared on Jimmy Kimmel Live and The Colbert Report, wrote for Best Week Ever, and opened for Zach Galifianakis and Eugene Mirman on tour. Just recently, Nanjiani finished filming Michael And Michael Have Issues on Comedy Central (Michael Ian Black and Michael Showalter star; Nanjiani plays one of the writers of the show-within-a-show) and received two high honors: He was named one of Variety's "10 comics to watch" and earned a coveted "New Faces" spot in Montreal's Just For Laughs festival in July. Both these opportunities are meant to introduce the industry to Nanjiani, so The A.V. Club decided to turn the tables and get Nanjiani's take on the many facets of "the biz," in anticipation of his headlining Lakeshore show tonight.

Writing short, TV-ready stand-up sets

Kumail Nanjiani: It's weird because you get to a certain point where you can do longer sets, and then when you finally get on TV, you have to go back to four-and-a-half-minutes. It's a skill, it's just not as much fun.

The A.V. Club: Why not?

KN: Because I like going up there and having the confidence to do whatever. You usually don't. But when I'm up there I like to think that if something came to me, I could go off and talk about that. You know? Or something happens in the crowd, then I can address it, and not really have a set plan that I have to stick to. When you're doing these sets, you really have to stick to the plan. It's a little unnatural. It's sort of not what the job of stand-up comedy is. It's like performing in a bubble, where you can't really acknowledge what they're doing.
Nanjiani performing at Comix in New York:
Riding the stop-and-go industry pace

KN: It's hard. It's up and down. There's not always something going on all the time, although I'd really like it to be like that. From the outside, there can be a perception that certain things happen in a row. When I started working on Michael And Michael, it was my life for three to four months, and then suddenly it's gone. It was all day, every day; you're up at five in the morning and working 14-hour days—and then one day, it's just gone. It's done. And then you see it on TV.

AVC: How do you deal with all the in-between time?

KN: Since then I haven't had a regular job. But the great thing about this industry is that you can work a few months and live off of that. This is my time to re-focus on stand-up and start writing new jokes. I keep a pretty regular schedule for myself. But of course, [when I started] I was, like, going to bed at 5 in the morning every night.

AVC: Just working so much?

KN: [Laughs.] Just playing video games. That's what it was. You really need to have that discipline. It's not even discipline. I just put down these rules. It's not like a vague, "Motivate yourself!" and do something. It's specific hours set aside every day for certain things.

Maintaining and monitoring a web presence

KN: I have an IMDb page now. It feels pretty legitimate, man. I'm 87 percent up in popularity this week. Wikipedia is kind of weird. I feel it's lame to put up my own page, but I desperately want someone else to do it. How long would it take? I'm looking at you, random person. You can tell when people write their own pages.

You can get stuck in the trap of reading your YouTube comments all the time. Sometimes I regret it. Not everyone is going to love you. And for some reason, stand-up has this thing where everyone thinks they can do it. So everyone thinks they're an expert. Like, if I see a musician, I don't go, "Oh, I could do that." I remember something where this one guy said I faked my accent, which was a really weird thing to read. And you can just get sucked in and be like, "You know what? Fuck you. You have a fake accent." But my only rule is [I] do not respond to comments.

Schmoozing

KN: It's like being at a party where you don't know anyone. You don't want to be like, "This guy is head of development. I should go talk to him." When you think of a "goal" [to schmoozing], that makes it really strange. It's already such a weird thing where it's like, all this industry and comedians, and the illusion that everybody is friends and just hanging out. And everyone is evaluating everyone. It's like a big interview with bow ties. [But] if somebody is in development, they'll know why a comedian is coming up and talking to him. I want to let the work speak for itself. I don't think of them going, "This guy came and talked to me and he was so nice. Let's give him a development deal!"

Avoiding racial typecasting

G/O Media may get a commission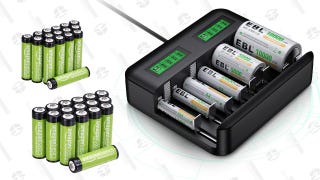 KN: The Stephen Colbert thing was cool because it played off [racial stereotyping] in a certain way. The point was that he's Greek—he's not from whatever vague Middle East country you thought he was from. I get scripts, and some of them were literally like, "You play a cab driver who can't speak English very well." But a lot of auditions I've gone out for have been auditions that anybody could play, and I just happened to be one of the people auditioning for it. My agents and managers have been really good about understanding that I don't wanna get into that trap. Obviously I'm Pakistani, and that's part of who I am, and I'm always going to have to play some ethnic person.
AVC: How inevitable is working with the industry?

KN: I don't think you can resist. It's all-powerful. It really is. You can sort of circumvent it in a way when you get your own YouTube channel going and become popular off of that. But ultimately, even then you're gonna get an offer from someone in the industry. The point is to be able to dictate your terms. Be good enough that you're calling the shots, rather than the other way around.
Nanjiani talking about his move to New York:
Interviews
KN: The weird thing about interviews is that it feels just like a conversation, but then you see everything in print and everything the other person said is gone, and rephrased into questions. It's weird to see stuff you said casually end up in hard print like that. I try to keep it loose and light, but I always have to tell myself to stay away from certain topics and things.
AVC: Like what?
KN: Well, that would defeat the point…