Egads, HBO has unveiled a whopping 20 new images from Game Of Thrones' final season. Sure, they're nothing more than several of the characters photoshopped onto the Iron Throne, there's plenty to infer from both who's included. Also, the costumes look sick.

The frontrunners are on display, from Jon Snow and Daenerys Targaryen to the throne's current occupant, Cersei Lannister. But The Night King, looking weird as hell sitting like a person, is also posited as a viable contender (wouldn't King's Landing would be a touch warm for him?).
There's plenty to dig into here. Sansa's clad in what appears to be a dragon-scale dress, while Theon, for once, doesn't look completely bedraggled. Also, Jon is posed quite similarly to how his pops, Ned Stark, was in the show's season one promo photos.
G/O Media may get a commission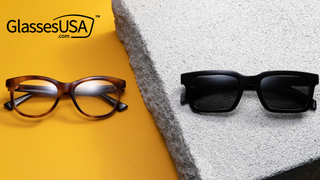 60% off frames
GlassesUSA.com Back to School Sales
But it doesn't stop there. Nearly every living major character is shown sitting among the iron spikes, which is pretty neat for the likes of Samwell Tarly, Davos Seaworth, Euron Greyjoy, Greyworm, and, hoo boy, Jorah friggin' Mormont, who we can't believe didn't die in season three.

The photos have also reignited conversations of notable fan theories, namely that one that says Bran and the Night King are one and the same.

There's plenty more on display—The Hound! With a cane?—but also a few notable exceptions. Where, pray tell, is Gendry, who is rumored to play a big role in the final season? And what of Ghost, the loyal direwolf that's currently galloping his way towards Winterfell? Surely you could've given us the joyful sight of a good boy riding the throne before Jorah's lovestruck ass.
To make live-tweeting that much more colorful, Twitter's gifted each of the characters their own emoji. Do they get all bloody and mangled after dying? Because they should. Check them out below.
See the full assemblage of photos here, or enjoy a slideshow prepared by one enterprising twitterer below.