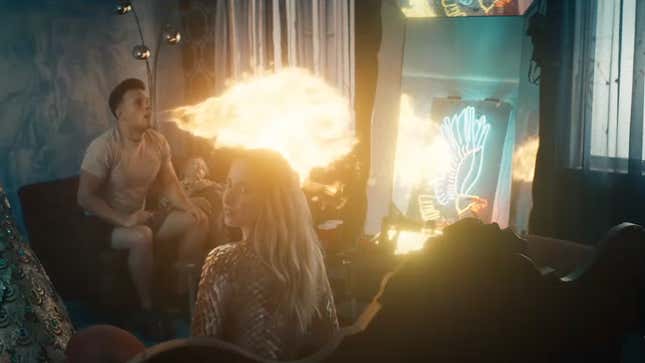 College can be a messy time for anyone, especially when hormones, substances, and bad decision-making set in. But, hey, at least adolescent ragers for mere humans don't (usually) end in multiple laserings, head explosions, or... muppet disembowelments? Okay, we're still scratching our heads on that last one, but all will surely be revealed in due time. This is The Boys' Eric Kripke we're talking about here: he's not exactly known for his subtlety.
Kenny Loggins on "Playing With The Boys" and "Danger Zone"
The Boys has never pulled its punches, and upcoming Zoomer spinoff Gen V—also from Prime Video—seems no different in its first full-length trailer.

There's... a lot going on here, so we'll try our best to break it down for you. The young cast, led by freshman blood-bended Marie Moreau (Jaz Sinclair) and Ant-Man-esque shrinker Emma Meyer (Lizze Broadway), as well as hot Supes on campus Golden Boy (Patrick Schwarzenegger), Jordan Li (London Thor and Derek Luh), and Andre Anderson (Chance Perdomo), all meet in the hallowed halls of Godolkin University, an Ivy-style school for Vought's future best and brightest.
But Gen V isn't all super-strength keg stands and flaming frat parties. There's something sinister lurking around the edges of campus called The Woods, which seems like it might house errant super-teens in a similar way to Stormfront's Sage Grove Center from season two of the main series. Either way, it doesn't seem like a fun place to be, with Asa Germann's super-fast, super-strong Sam consistently attempting to break out and many of the adults that we see (only in short, snappy clips) conspiring to keep him—and the rest of them—locked in.
Through all the guts, viscera, and glitter (again, the whole muppet thing is baffling), a few familiar faces emerge. Colby Minifie's wonderfully neurotic Vought exec Ashley makes a welcome cameo, along with Claudia Doumit's Congresswoman Victoria Neuman and P.J. Byrne's filmmaker Adam Bourke. Jessie T. Usher is also confirmed to make an appearance as A-Train, but no word on his fellow Seven members just yet.
We're still not really sure what Gen V is about. But if it's anything like The Boys, we know it will be extremely bloody, and bloody good fun at that.
Gen V premieres September 29 on Prime Video.