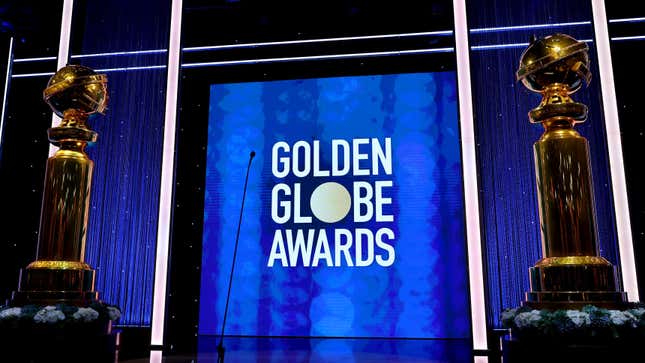 The Golden Globes went through a bit of a PR crisis at the beginning of last year–and for very good reason. In 2022, NBC canceled its live broadcast of America's most drunken awards show amidst reports that there was not a single Black person amongst the Hollywood Foreign Press Association's 87-member voting body (not to mention a since-dismissed lawsuit alleging that HFPA members were bribing studio execs for marketing opportunities).

Still, after a spot of reputational housekeeping (the HFPA brought on a new president, moved away from their tax-exempt status, and actually added Black voters to the panel), the show was allowed to go on for 2023—a gambit which, despite record low ratings, seems to have paid off. While the 2023 event aired in a less desirable Tuesday night slot, the Globes will be back to their regular Sunday night broadcast for 2024, reports Variety. It will all go down Sunday, January 7, if you're into that sort of thing.
Not only are the Globes returning, but Variety reports that they are also currently fielding multiple offers from potential major distribution partners.
In some ways, this resurgence of corporate interest isn't all that surprising. If this year's incredibly flashy Grammys broadcast—which brought in 12.4 million viewers, a 30% increase from the previous year—is anything to go by, awards shows are relatively on the up and up as a whole, despite a significant pandemic dip.
As for the Golden Globes themselves, despite lingering reservations from stars like Brendan Fraser, Hollywood as a whole seemed keen to re-embrace the HFPA—and their champagne. The night did give us some affecting and well-deserved moments: from Angela Bassett (she did the thing!) and Ke Huy Quan's wins to Jennifer Coolidge doing, well, anything, it wasn't by any means a complete bummer of a night. Still, whether these moments were a controversy-inspired blip or the oft-maligned show will actually take these changes to heart remains to be seen.