Looking is that rare TV series you could call "the best show you're not watching" and be statistically accurate to two decimal places. It's Enlightened all over again: There's a half-hour HBO dramedy in its second season that's one of the very best shows on TV. It gets a twentieth of the attention of night leader Girls. It will never win an Emmy. And HBO hasn't announced a ruling on its future yet. Last time the network canceled the best show on TV, but given the ratings, it's hard to argue against the cycle continuing. But Looking has a rare claim to fame that contributes to both its shallow cultural footprint and its colossal greatness: Looking is the only show on American television right now about gay men as a group.
Sharon Stone made a fraction of what Michael Douglas did for "Basic Instinct"
Created by Michael Lannan, Looking centers on Jonathan Groff's Patrick, a repressed video game designer who lives with his best friend Agustín (Frankie J. Alvarez). Both ex-suburbanites, they're two sides of the same class coin, Patrick rooted with shame, Agustín adrift with carelessness. Completing the trio is Dom (Murray Bartlett), a 40-year-old striving restaurateur who lives with his best friend Doris (Lauren Weedman), a straight nurse who gets all the best lines. The first season has Patrick torn between his buff English boss Kevin, who fits Patrick's typical type, and charming Latin barber Richie, who pulls Patrick out of his comfort zone. It's a situation designed to explore Patrick's journey toward self-acceptance, examining how homophobia manifests internally even in otherwise privileged gay men, how that expresses itself, and how acceptance might be possible. In short, Looking is a coming-of-age story with a healthy dose of cringe comedy, courtesy of our embarrassing hero.
Now, television has its fair share of queer characters. Lesbians are kickass teens in Pretty Little Liars and parents on The Fosters. Gay men are young white narcissists on Please Like Me and How To Get Away With Murder. The Good Wife is exploring Kalinda's bisexuality in her final season, and Revenge is home to that TV unicorn, a bisexual man. Transparent centers on a trans woman with adult children, and Laura Jane Grace's True Trans documents a number of real-life trans people. With a lesbian, a gay man, and an intersex woman, Faking It is a show after Ryan Murphy's heart. And Orange Is The New Black contains an entire spectrum of sexual fluidity with lesbians, bisexual women, and bicurious women, and one of its best characters is Laverne Cox's transgender hairdresser.
Still, with enough gay men to fill out an Advocate quiz, the San Francisco of Looking is a television oasis. Not because the heroes are Princes Charming or the city is Camelot, but simply because it presents a world that shows gays as a majority, not a minority. Early in the second season, our heroes see a new character named Malik checking them out. Doris snarks about how they're not even in a gay bar and the guys are interested in guys. It turns out Doris is the one he was interested in: Malik was gay until proven straight. You could almost call Looking homonormative, but that would ignore the show's engagement with the outside world of conformist childhoods and bride-and-groom weddings.
G/O Media may get a commission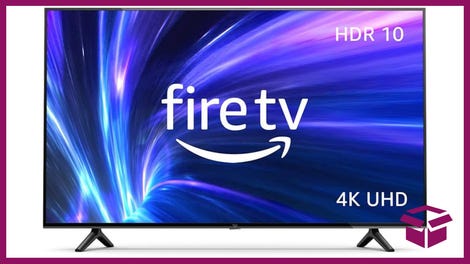 42% Off
Amazon Fire TV 50" 4K Smart TV
Similar to the way Black-ish and Fresh Off The Boat highlight how rarely television's sense of diversity extends to whole minority families, Looking shows how rarely we get to see gay men together, let alone seeing them in bed together. Instead of one gay regular with one recurring suitor at a time, Looking paints a rainbow. It wouldn't be on television without the handsome young WASP at the center, but around him are a depressive Cuban-American, his lively black partner, a 40-year-old white chef, a Mexican-American barber, an English beefcake, a young HIV-positive bear, an older widower, the token straight woman who's not so token anymore, and a Wooly Willy's worth of facial hair arrangements. Looking might get low ratings—even lower now that the Gen X family on Togetherness moved in between Looking and Girls—but even if a substitute comes along, canceling Looking perpetuates the cycle where TV only shows multiple gay men together two months out of the year.
In fact, a substitute is coming along. Shortly after Looking ends its season, Logo will offer the Stateside debut of Cucumber and Banana, the latest dramas from Queer As Folk creator Russell T. Davies. They're companion shows, along with the webdoc Tofu, named for measurements on a scale of erection hardness. Cucumber follows a group of Gen X queers, centered on Vincent Franklin's repressed, middle-aged insurance salesman Henry. Banana is an anthology series about millennial queers, each episode centering on one character with some connection to the story of Banana. Picture it as Cucumber swaying from side to side while Banana dances around it. (Tofu is shorter and online, kind of like a Real Sex interstitial crossed with those segments after Awkward. where they'd interview the actors about sex and dating.) As you might guess from the Queer As Folk pedigree or the experimental distribution, Cucumber and Banana are splashy. They're presented in slick widescreen; they sparkle with on-screen sexts; they're bright and colorful and dramatic. They're the latest torch-bearers for a louder tradition of gay TV from Queer As Folk to Glee.
Looking plays in a lower key. Its characters are past coming out and too late for the '80s AIDS crisis, the typical subjects of gay TV. Around the edges are the headline consequences—a poz character, another scarred by the long ago death of a partner, a whole shelter of homeless trans kids—but Looking's focus is on the internal: shame, heartbreak, loneliness. The question of how to accept yourself in an overtly and covertly homophobic society is more in line with Enlightened's struggle with how to be good or Mad Men's struggle with how to be happy, only Looking is more naturalistic. Patrick's love triangle with his well-off boss and a working-class Latino sounds like a '50s melodrama plot, but the mood is more in line with '30s romance, with its fluid dialogue and bittersweet tonal alchemy. Think Mitchell Leisen's Midnight, Leo McCarey's Love Affair, or Josef Von Sternberg without the exoticism. Looking conjures an atmosphere.
That's what really sets Looking apart, not only from Cucumber and Banana but from television at large. Looking is cinematic. Executive produced by Weekend director Andrew Haigh, who regularly writes and directs episodes, Looking sits alongside Steven Soderbergh's The Knick and Bryan Fuller's Hannibal as one of the best-made shows on television. It's thoughtfully directed, shot, lit, edited, and colored to tell its story. The day is muted but deceptively rich, and the night is dotted with colorful lights. One-on-one scenes routinely play out in immersive single takes, the camera barely moving because it already has the best view. The dance shots have become as big a highlight as the credit songs, from the buzzing panorama of our heroes losing themselves to music to the persistent push in on Patrick winning Richie over to "A Little Respect." Blocking repeats itself so subtly and meaningfully that a kiss can reenact a whole relationship. Episodes cut to credits on exuberant bursts of emotion, the better to extend the mood. Nowadays every other show is received like it's the best ever, but artistry this intricate is rare.
The fifth episode, "Looking For The Future," was a godsend, a version of Before Sunrise starring Patrick, Richie, and San Francisco. On a daylong date, these two guys swap childhood stories and fears about the future; they wander around San Francisco in Haigh's patient long takes; they're dwarfed by the grandeur of nature and time and space. Television sometimes achieves romantic highs for gay men on shows like Shameless and Happy Endings, but it never gives itself over this fully. Gay men always come second.
HBO has stopped reporting overnight ratings data, acknowledging that On Demand and HBO Go account for significant upticks in viewing. So we don't know its full audience, but either way, Looking isn't for everyone. That's exactly what makes it so valuable.