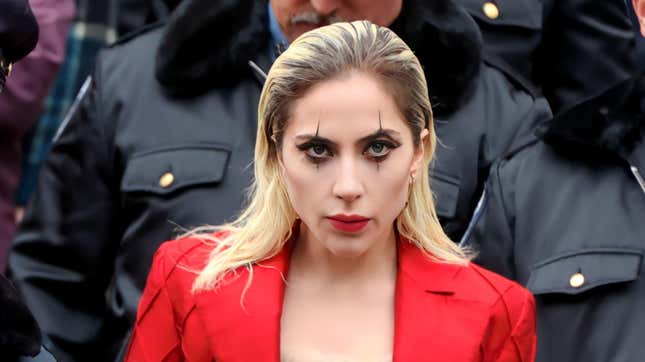 That's the tricky thing about filming a movie outdoors: There's cameras out there, and not always just your own. Which is to say that a recent bout of location filming for Todd Phillips' upcoming Joker sequel, Folie à Deux, has rendered some surprise dividends: Our first look at Lady Gaga in costume as the film's second lead, psychiatrist-turned-murder-clown Harley Quinn.
George Clooney's Batman costume goes up for auction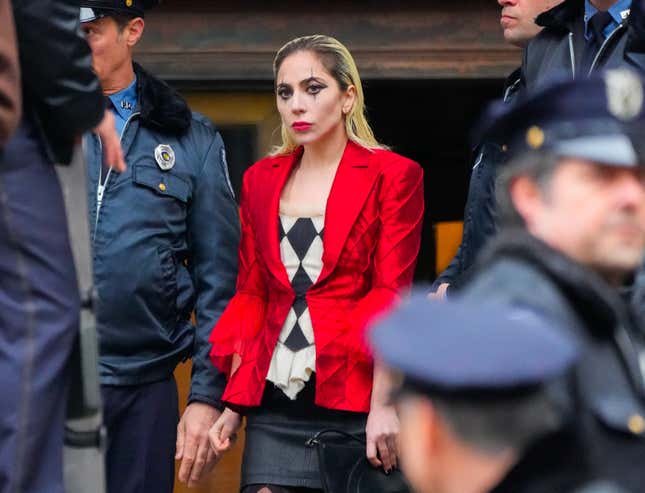 Phillips and his crew were apparently filming a courthouse scene in New York, when photographers started snagging pics of Gaga in what appears to be at least one of her signature looks for the film: A bright red jacket with a diamond-print blouse and leggings—a genuinely pretty good recreation of Harley's Harlequin costume, managing to look eye-catching without breaking with the more grounded reality of the original Joker. (Even the clown makeup is—sort of—subtle; this is Gotham City, after all, so you've gotta have a little bit of clown makeup.)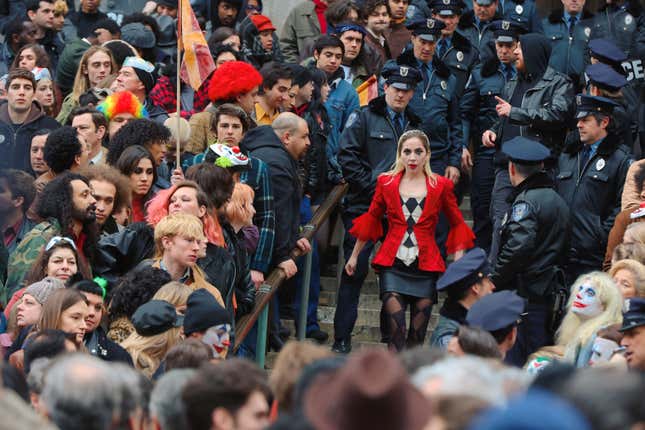 Folie à Deux reportedly began filming back in December of last year, with Phillips releasing a few set photos from the start of production. But with the film still more than a year out from release—it's currently being aimed at Halloween 2024—this is the first real look we're getting at Gaga in character. (Phillips put out a picture of her and co-star Joaquin Phoenix on Valentine's Day, but you couldn't see her costume at all.) There's no formal word yet on what the story for the sequel to Phoenix's surprise billion-dollar supervillain origin story is supposed to be, although most everybody is assuming—what with Harley in the mix, and Arthur Fleck incarcerated at the end of the first film—that it'll take at least some inspiration from Mad Love, the Eisner-winning origin story for Harley originally created by Paul Dini and Bruce Timm for DC Comics (and later adapted into an episode of the duo's The New Batman Adventures).