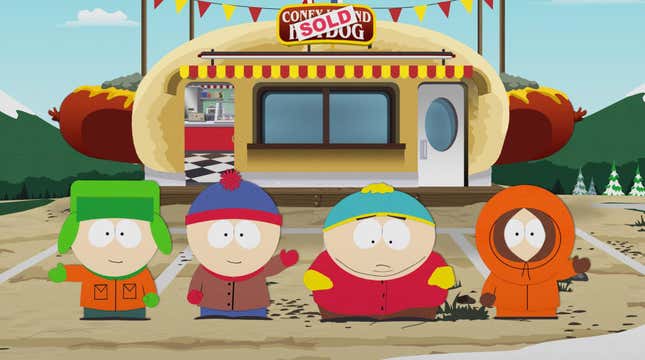 Warner Bros. Discovery has just hit its rivals over at Paramount with a $200 million lawsuit, alleging that the company has, basically, screwed them over for several years now in regards to streaming rights for Comedy Central's South Park. And make no mistake about it: These people are pissed. We've never seen a corporate-penned lawsuit like this use big, angry chapter headings like THE ILLICIT CONSPIRACY EMERGES. (Actual quote.)
The core of the issue is a deal that Warner signed back in 2019 with South Park Digital Studios (SPDS), the company that makes the show, and which is co-owned by Paramount and series creators Trey Parker and Matt Stone. (Who, due to some savvy deal-making back in the very early days of the internet, get fully half of whatever streaming revenue the series picks up, an arrangement that has made both men billionaires.) The deal saw Warner—desperate for "anchor" content for its then-new HBO Max streaming service—pay an exorbitant $1,687,500 per episode fee for exclusive streaming rights to the show's back catalogue, and for 30 more episodes to be delivered in the form of three more seasons. (So, yes: The streaming rights for "Not Without My Anus" almost certainly cost more than your house.)
But a funny thing happened on the way to Season 24: Paramount ditched its flailing CBS All Access streaming service and rebranded its online efforts as Paramount+. And suddenly, the company was announcing that its "brand new" streaming service was going to have some "brand new" South Park content, too. Not new episodes, mind you—that would breach the HBO Max contract. And not "specials," because then they'd have to offer them to HBO Max first, as they did with 2021's 50-minute "Pandemic Special" and "Vaccination Special." For a minute, they tried calling them "movies," but then Warner Bros. reminded Paramount that it co-produced the actual South Park movie, 1999's Bigger, Longer, And Uncut, and thus retained the rights to veto any future South Park films. So instead, they just gave up and called them "events." (There have been four so far: 2021's Post-COVID and its sequel, and 2022's Streaming Wars Part 1 and Part 2, all exclusive to Paramount+.)
Meanwhile, per the lawsuit, HBO Max was also pissed to learn that SPDS was retroactively declaring that the two 2021 specials that had made their way to HBO Max after airing on Comedy Central "counted" as the entirety of the show's 24th season, and that Season 25 of the series, which aired in 2022, was only going to be 6 episodes long. (The current Season 26, the last covered by the streaming deal, is also expected to be truncated.) SPDS reportedly claimed that production was delayed and shortened by COVID, but, as the lawsuit points out, that didn't seem to stop the Paramount+ "events" from being cranked out.
G/O Media may get a commission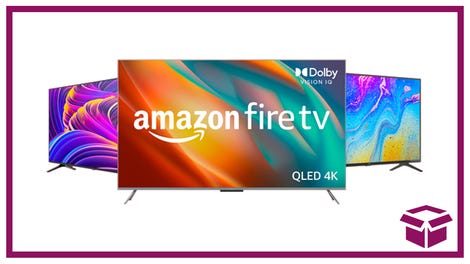 Ooh. stunning.
New Amazon Fire TVs
Ultimately, it all comes back to money: Warner Bros. contends that it only paid that huge flat per-episode fee in the first place because it was assured it would come with a) 30 full new episodes of content delivered in a timely fashion, and b) exclusive streaming rights to the show, neither of which really seems to have happened. So they're suing for breach of contract against Paramount, SPDS (including Parker and Stone) and MTV, alleging damages of $200 million.