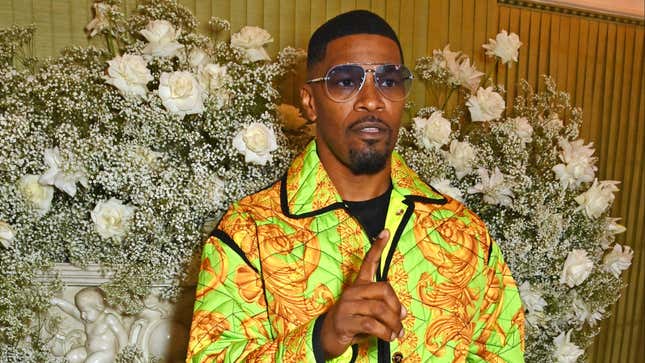 Nearly a week after Jamie Foxx's daughter Corinne shared via Instagram that her father was recovering from a "medical complication," the actor is reportedly still recuperating in a Georgia hospital, per a report from CNN.
Jamie Foxx is spotted in public for first time since health issue
In her initial post, shared on Thursday, Corinne disclosed the incident, emphasizing that Foxx was "already on his way to recovery."
We know how beloved he is and appreciate your prayers," Corinne concluded the post. "The family asks for privacy during this time." The A.V. Club has reached out to Foxx's representatives for comment.
Foxx's health scare has also pulled him away from the Atlanta set of his upcoming Netflix movie Back In Action, which also stars Cameron Diaz and Glenn Close. According to People, Foxx's medical incident did not occur while he was on set. It remains unclear when, or if, Foxx will return to set. A CNN source didn't elaborate on whether or not Foxx had more scenes to film in the first place, but TMZ reported this morning that there was still a stand-in apparently filming for him on set.
Before news of Foxx's hospitalization broke, Back In Action had already made headlines after a report from The Sun indicated some storminess on set, beyond just the literal bad weather that led to filming delays. According to The Sun, a crew member's alleged attempt to scam Foxx out of roughly $35,000 triggered an on-set investigation and multiple firings—the offending crew member was fired, and Foxx himself reportedly let go "an executive producer, an assistant director and a unit director" as well as his personal driver.
Although what exactly hospitalized Foxx remains undisclosed, in her initial post Corinne shared that "due to quick action and great care," his outlook has already begun to look brighter. With any luck, he'll be back to the important work of revitalizing the romantic comedy soon (with a new driver by his side, of course.)