Though most scripts go through a rigorous rewrite process before they ever leave the confines of the screenwriter's computer, there are almost always changes—sometimes big, sometimes small—that are made on the fly once everybody is on set together. A new article from The Hollywood Reporter takes a look at some of the on-set tweaks made to this year's nominees for Best Screenplay, including Jordan Peele's masterful thriller Get Out. The change Peele made during production may seem small in isolation but it ended up transforming the way the film's biggest twists play out for audiences. (Spoilers for Get Out follow.)
Apparently, after the incredibly tense dinner scene with the Armitage family, the script originally included a scene where Chris (Daniel Kaluuya) went off on Rose (Allison Williams) about how racist her family was and how he wanted to leave. But during rehearsals, Peele realized that forcing Rose to convince Chris to stay would tip the audience off that something weird was going on with her.
"I knew Rose had to manipulate Chris and the audience, so I rewrote the scene as though she is going through her awakening to racism and is the one popping off about leaving," said Peele. By switching their roles and making Chris the one who disarms the situation, convincing Rose to stay, Peele added the additional subtext of having a black character forced into saying, "It's OK, I can take this kind of racism."
Additionally, this last-minute change ensured that audiences wouldn't be tipped off about Rose's ultimate betrayal, which doesn't become clear until later. Peele says the power of that reveal was a huge part of the film's success: "That switch right there might have been the difference in allowing us to have this conversation now. If 80 percent of the people knew at that point Rose was in on what was happening, as opposed to 20 percent who maybe just figured it out, the movie fails in what it's trying to do." The fact that an on-set decision made that memorable moment possible is a testament to Jordan Peele's abilities as a director and storyteller.
Check out the full article on The Hollywood Reporter for more insights into changes to Lady Bird, The Shape Of Water, The Disaster Artist, and more.
G/O Media may get a commission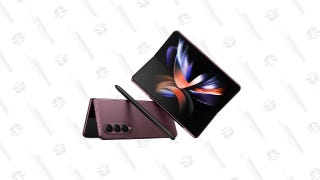 Save Up to $300
Galaxy Z Fold4
Send Great Job, Internet tips to gji@theonion.com