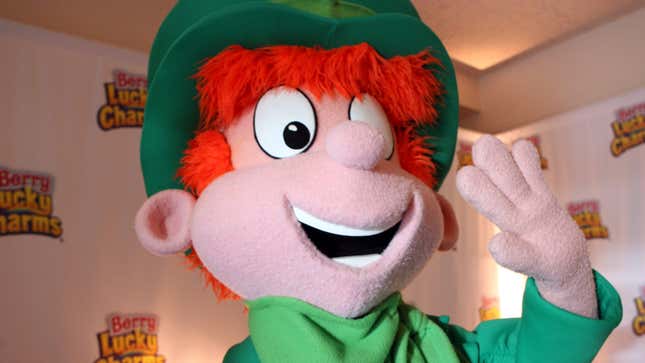 Among the numerous unkillable horror franchises that crawled out of the 1980s and '90s—and which then lodged themselves in the imaginations of an entire generation, dooming them to endlessly revisit and reboot them for the rest of their lives—there might not be a dopier one than Leprechaun. An unholy blend of kid-dumb comedy and R-rated violence, the Leprechaun movies started in the kill-and-quip territory that Freddy Kreuger eventually devolved his way into over the course of several films, and then descended from there, with Warwick Davis gamely doing his best to wisecrack some life into the titular monster. And that's before irony completely consumed the franchise some time around 1997's Leprechaun 4: In Space, a film in which a foolhardy man urinates on the Leprechaun's corpse, which then infects his penis, causing the creature to fatally emerge—complete with hat—from the unfortunate man's dick.
Keanu wonders if "John Wick" has gone too far
Anyway: They're rebooting it!
This is per THR, which reports that Lionsgate is once again trying to get some blood out of this particular Blarney Stone, tapping director Felipe Vargas—who drew acclaim for his 2020 horror short "Milk Teeth"—to direct a new film in the franchise. (Mike Van Waes is writing the script; we're pretty clearly in "Give the new kids a name brand to play with and see if money pops out of it" territory, a long tradition in the world of horror.)
We hope you'll pardon our pessimism here, though; while you could certainly argue that a talented team can make a good modern horror film out of almost any premise, you could also argue that most such premises don't require audiences to be scared of an antagonist with a buckle on his hat and an exaggerated Irish accent. (It feels telling that, even when Lionsgate tried to put a slightly more serious spin on the franchise in 2014 with Leprechaun: Origins, the scariest bad guy they could whip up was leprechaun-themed WWE wrestler Hornswoggle.)
Still, maybe we're wrong: Vargas' "Milk Teeth" is genuinely creepy, and it's not like the original Leprechaun movie didn't end up making way more money than anyone expected through its blend of comedy and violence. Maybe this, right here, is the start of a whole new generation of genuinely scary, good Leprechaun movies that will delight and terrify a whole new generation of fans. Unlikelier things have happened, although we admittedly can't think of a single one right now.