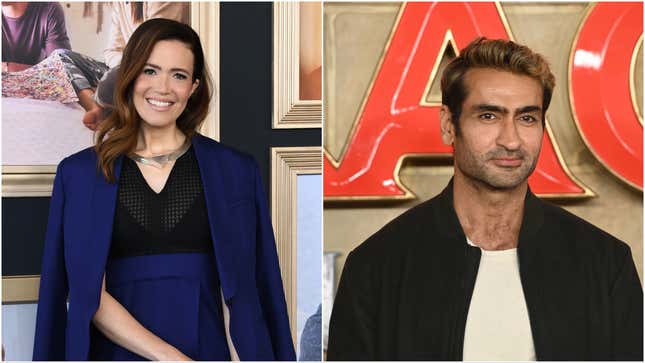 The Insidious series—which is not the one where Ethan Hawke sees the scary home movie or the one with Patrick Wilson… but it is the other one with Patrick Wilson—has been quietly hanging around for a decade. Not only is a new mainline entry coming out this summer (Insidious: The Red Door, directed by Wilson himself in his feature debut), but the series is now getting a new spin-off called Thread: An Insidious Tale with a good cast and a good premise.
Chukwudi Iwuji on Pom Klementieff being hilarious, teaching Kumail Nanjiani to cry, and more
Thread, first announced last year before it was officially brought under the Insidious umbrella, will star Mandy Moore and Kumail Nanjiani, and a Deadline story says it's about a husband and wife who "enlist the help of a spell to travel back in time" so they can "prevent the death of their young daughter." Previous movies have dealt with a mystical ghost world that demons and other spirits can access (along with supernaturally inclined people like Lin Shaye's Elise Rainier) and they've taken place across two distinct timelines, so none of that seems especially unusual for an Insidious movie, but at the same time "two parents go back in time to save their child" is kind of a wild swing for what was—until now—essentially a series of haunted house/possession movies.
That kind of weird premise is also a good way for Insidious to keep setting itself apart from the other Patrick Wilson horror franchise and the other horror franchise with a title that could be a synonym for "insidious," but at this point that's got to be society's problem and not Insidious' problem. By the time Thread comes out, there will have been six of these. You either have to get on the Insidious train now or decide that you're comfortable being left behind by culture.