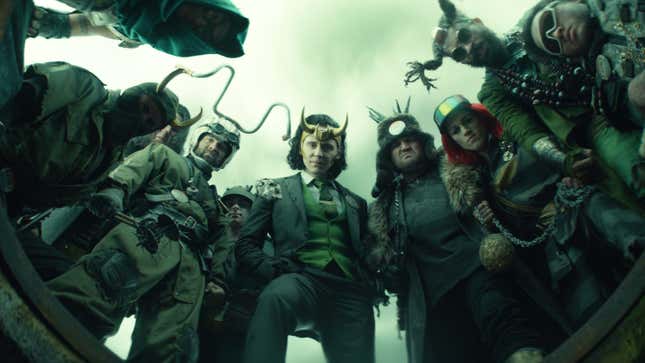 Something curious is going on at the Disney+ branch of Marvel Studios… maybe even more than one curious thing. After a run in 2021 and 2022 where Disney was obviously very excited about getting the MCU onto Disney+ in as many forms as possible—10 Marvel shows premiered in the platform if you count Werewolf By Night and The Guardians Of The Galaxy Holiday Special as TV movies—but that plan has clearly changed now. Despite having at least a dozen or so TV projects in the works, Disney and Marvel Studios aren't going to cram them all onto Disney+ as fast as it can anymore.
Tom Hiddleston on Loki's "glorious purpose," quest for power
Today, during an upfront presentation that evidently was not sidelined by the WGA strike (pay writers what they're worth, Disney!), the company announced that season two of Loki will premiere on October 6—four months after the premiere of Secret Invasion, which doesn't seem like a long time, but in '21 and '22 they were coming every three months—and that Hawkeye spin-off Echo will premiere all of its episodes on November 29. And then that's it for Marvel shows on Disney+ in 2023. Everything else, including Agatha: Coven Of Chaos and season two of What If…? will have to wait until at least 2024.
As for Loki, Variety says that Marvel Studios boss Kevin Feige teased that both Owen Wilson and Sophia DiMartino are returning to join Tom Hiddleston, and Oscar winner Ke Huy Quan will also make his MCU debut in the show. Variety says that Feige didn't mention Jonathan Majors, who made his own MCU debut in season one of the show before appearing as the villain in Ant-Man And The Wasp: Quantumania, but Variety believes that he is still in the show. It's not surprising that Feige wouldn't mention him, but Marvel is clearly running out of time to figure out what its future plans are.
Echo is the more curious of the two, since the classic Netflix-style "binge release" model has never been used for these Marvel shows before and it's being implemented here for the first time. Feige didn't give a reason for it, but it's presumably a "trying something new to see if it works" move, which would be fine… if not for the fact that it's the first of these Marvel shows about a Native American woman, and Feige touted its "incredible team of indigenous writers, directors, and cast members," so giving this specific show different treatment from every other show has shades of the horrible optics back in 2021 when then-Disney boss Bob Chapek admitted that putting Shang-Chi on Disney+ after a short theatrical run was an "interesting experiment" (implicitly devaluing Marvel's first movie led by Asian actors).
But bad optics might be all it is. There's no way to tell, especially not months before the show has premiered. It's weird, though!