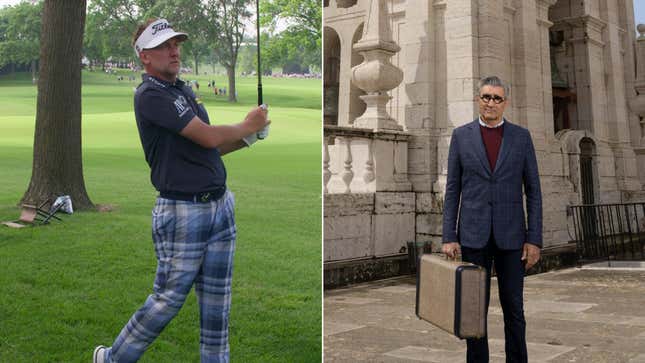 Two months into the year, we're entering the sweet spot for reality TV scheduling. The good scripted shows premiered in the fall and might still be on hiatus, the bad scripted shows that were held for midseason mostly won't start for a few weeks, and there's nothing to see at the movie theaters but the second sequel to nobody's favorite Marvel movie. That means there's nothing better to do than watch reality TV, but the problem is that most of the reality TV taking up airwaves at this time of the year is the same old thing that's on every year. The Bachelor. American Idol. One of the Real Housewives shows (it's New Jersey, specifically).

But there are more interesting things on the reality TV landscape this month than the same stuff you're used to, so let's take a look at a few of them:
First, at Netflix, the streaming service has a new season of Formula One: Drive To Survive premiering at the end of February, but before that, it's looking to try and replicate its success with (very, very) similar shows about tennis and golf from the same production company (Box To Box). DTS's brilliant gimmick is that offers a window into the occasionally arcane world of Formula 1 racing by carefully shaping real events into something more like serialized drama, and it worked so well here in the United States that it effectively forced the sport to take notice (recent years have had one race in the U.S., if that, but this year there will be three).
The tennis variant, Break Point, premiered last month and was surprisingly boring in all the ways that Drive To Survive is surprisingly engaging. The personalities seemed less appealing, the storylines felt more contrived, and—worst of all—the sport at the center of it is kind of boring to watch. Who knew tennis wasn't as fun as Formula 1 racing? (If you didn't know that, you probably could've guessed.) The golf version is called Full Swing, and it's coming on February 15. Based on the trailers, it will have a bigger focus on recognizable famous players than Break Point did, which is a smart choice, since the tennis show's insistence on focusing on up-and-coming tennis stars memorably backfired.
A wider scope should give it a better chance at replicating DTS' ability to uncover the fascinating little personal struggles and "storylines" going on behind the scenes, but we'll have to wait and see if it manages to make golf as exciting as Formula 1 racing. Weirder things have happened.
If a documentary about golf is a little too highfalutin (we get it), there's always Fox's Masked Singer, which comes back the same day. The lovably trashy singing competition in which famous people put on increasingly absurd and elaborate costumes before singing in front of a panel of judges (including Jenny McCarthy, who is apparently still allowed to be on TV) is introducing some twists for its new season, including more sudden and double eliminations, as well as a new mechanic where the judges can save a singer from being eliminated—and in true Masked Singer fashion, it has a completely ridiculous name: The "Ding Dong Keep It On Bell." This show is a lot to deal with.

And it will be even more to deal with beyond that, with the new season also introducing an array of themed nights. Entertainment Weekly says they'll do stuff like ABBA Night, New York Night, DC Superhero Night, Sesame Street Night, and (perhaps most baffling) The Masked Singer In Space Night. Why not just Space Night? Is it going to be both Masked Singer-themed and space-themed? Some famous person sings while dressed as a horse wearing a space suit and they're also wearing a dragon costume on top of that? The show would actually be a lot more fun if it were really that stupid, so cross your fingers that it makes that leap this season!
But if none of that works for you, the end of February (February 24, to be specific) will also have the premiere of what could be a more elevated, thinking-person's reality show in the form of Apple TV+'s The Reluctant Traveler—which will feature Eugene Levy putting his hand inside an elephant's butt. Who doesn't want to see that? Despite the title, the show doesn't seem to be as lovably antagonistic as the U.K.'s excellent Travel Man, but it is being sold on the appeal of watching Levy be kind of anxious and uncomfortable while in picturesque locations—all shot with the budget and tech of an Apple TV+ series.
Apple's streaming platform has always been a destination for things that just look good on a big screen, but Home and Prehistoric Planet aren't, you know, funny. That might make The Reluctant Traveler perfect for Apple TV+ and its "quality over quantity" approach to building its library (and a unique and refreshing addition to the reality canon in general).