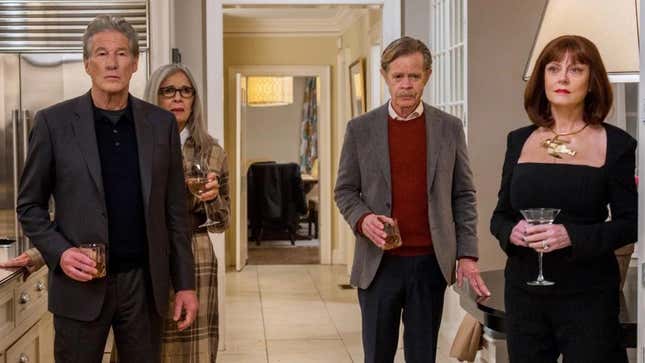 Veteran TV writer/director Michael Jacobs makes his feature debut with Maybe I Do, a purported rom-com about marriage and the intertwined relationships among three couples or, more accurately, couplings. At first, the stories seem unconnected, but of course they are. You might expect something along the lines of Garry Marshall's holiday films (New Year's Eve, Valentine's Day, and Mother's Day), but you'd be severely disappointed. This has a much simpler and less engaging structure.

Maybe I Do opens nicely with a black-and-white sequence, which is quickly revealed to be a film within the film. Sam (William H. Macy) is loudly weeping at what appears to be a faux Bergman movie; his distress catches the attention of Grace (Diane Keaton), an empathetic soul. They end up at a motel, just talking and bonding. (Despite the lack of carnal consummation, Grace hides her wedding ring in the hotel room, a bit of business that is never fully dealt with. As Chekhov said, if you introduce a gun in act one, it better go off in act three).
Howard (Richard Gere) is in an upscale hotel, ending a four-month affair with the flamboyant and demanding Monica (Susan Sarandon), while Allen (Luke Bracey) and Michelle (Emma Roberts) are attending the wedding of friends. When Allen realizes that the fix is in for Michelle to catch the bridal bouquet, he freaks out and goes for the interception, thus humiliating his girlfriend.
It's 30 minutes in that we begin to learn how these six characters relate to each other. The first one or two revelations might be a pleasant surprise, so, in the name of avoiding spoilers, let's say that the only thing that will stop a viewer from figuring out the rest is the film's reliance on an insane number of coincidences—more coincidences than the film's tone can bear. Macy's character tries to chalk it up to fate, but even fate has stricter rules than Maybe I Do is willing to abide by.

G/O Media may get a commission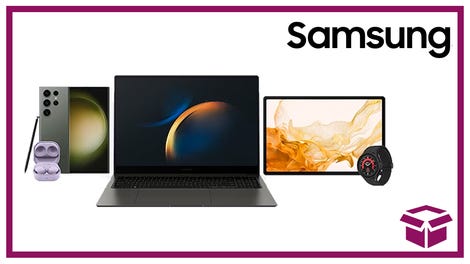 24 hour deals
Discover Samsung - Daily Deal
That is to say: this is farce logic without farce style. Allen's bouquet ploy is about as wacky as the film gets. The rest of the film's humor is both tepid and sparse—sparse enough that it barely counts as a rom-com; let's call it a romantic dramedy. Instead of gags, we're treated to endless observations about love, commitment, romance, parental responsibilities, and other well-trod subjects.
None of this is particularly insightful or interesting. Yes, a child's view of marriage is unquestionably shaped by what they've observed between their parents; and a parents' view of marriage is colored by the failings of their own mother and father. What else is new? This is about as profound as it gets.
The biggest problem here—besides the scarcity of actual laughs—is the blankness of the characters. We get no sense of their lives beyond the immediate events and a few reminiscences about their respective relationships. They function only as commentators, apparently without jobs or other interests. Oh, wait: Grace does a lot of knitting and seems to be religious. That's about as far as the nuance goes.
Given the cast, one may assume the target audience is those in age brackets of the four older actors: Macy is 72; Keaton, 76; Gere, 73; and Sarandon, 76. And it's delightful to see these old pros still get to act in romantic roles. Sarandon seems to be having the most fun; her Monica is an unrelenting force of nature (much like Sarandon herself) and gets all the good lines; she harnesses the abrasiveness of her performance in Lorenzo's Oil, but for comedic effect. Macy is in maximum poignancy mode, which he's always been good at. But Keaton— probably the most prominent comic actress of her generation through her many Woody Allen films and subsequently in older women rom-coms like The First Wives Club and Something's Gotta Give—gets much less to work with. Her character here is sympathetic, but a bit of a drip; Grace's neuroses are expressed through an excess of whimpering, which quickly loses its humorous value. Gere seems almost unaged, still coming across as your basic stud.
As the young bride-to-be, Roberts gives it her all, but that's blunted by the amazing blandness of Luke Bracey's character. It's baffling what Michelle sees in this guy. He is somewhere between being totally shallow and an actual non-entity who barely registers on the screen. We know from the beginning that these not-very-crazy kids will end up tying the knot. The problem is that writer/director Jacobs mistakes this for a happy ending.
[Maybe I Do opens in theaters nationwide on January 27]