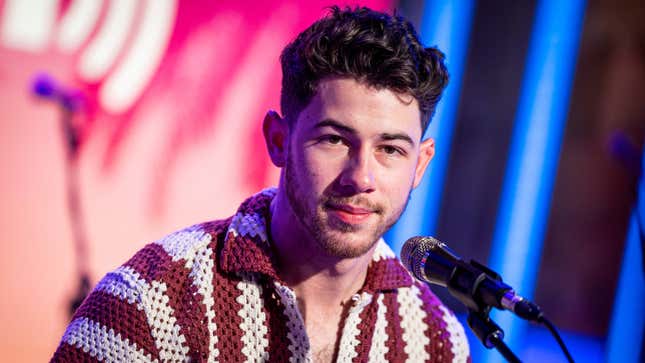 If you don't happen to remember the 2016 Academy of Country Music Awards in vibrant living color, don't worry: Nick Jonas remembers. As the singer recalls in a new interview, a "tragic" guitar solo gone wrong at the awards ceremony scarred him so profusely, he ended up seeking therapy to grapple with his own perfectionism and showmanship standards.
"Andor" star Adria Arjona on Bix Caleen's Journey
Joining Kelsea Ballerini for a performance of her 2015 hit "Peter Pan," Jonas recalls the moment when his big guitar solo began to veer off-key after initially starting out "fine."
"As I walked towards [Ballerini], I just went completely blank and I hit a wrong note and blacked out basically and clocked that it was wrong and I couldn't stop," Jonas tells Dax Shepherd on a recent episode of Shepherd's Armchair Expert podcast. "In retrospect, I can kind of laugh about how big I thought it was. But it did travel more than I wish it would have, and it did cause me to go to therapy."
Years later, as he prepares to head out on a North American tour with his band of brothers supporting their new album The Album, Jonas says he's still not exactly sure how the aftermath of the distressing onstage flub actually played out. All he knows? It was bad.
"Until this day and hours after unpacking it, I can't really figure out exactly what happened, but I was rushed to a car and rushed to a plane right after it," Jonas said. "And I looked at my manager and said, 'I think that was bad.' I was like in shock kinda. Like it was a really traumatic moment that shaped the pressure I put on myself to be perfect and to always be on." For a moment that sounds like LaGuardia students' stress-induced dream made manifest, "traumatic" feels like a more than apt descriptor.