It has become nearly impossible to discuss Nicki Minaj without scrutinizing the bitter turf war that has played out between gritty street raps and pop anthems on past albums. Her last album, Pink Friday: Roman Reloaded, literally split itself in two making the distinction. Following the release of hard-hitting songs "Looking Ass" and "Chiraq" earlier this year, there was again widespread speculation that listeners might see a departure from the glossy "Starships" splendor that made Minaj a household name, which she herself dutifully confirmed, but it didn't hush the skeptics.
The mystery continued after the release of an eclectic mix of singles—a disjointed pop ballad ("Pills N Potions"), a "Baby Got Back" reprise ("Anaconda"), a star-studded dud ("Only"), and a laundry-airing, Top 40-pandering epic penned by Skylar Grey and produced by Alex Da Kid ("Bed Of Lies"), the duo behind Eminem's "Love The Way You Lie" and Diddy−Dirty Money's "Coming Home." Each seemed like an effort to satisfy the many tastes of her now diverse fan base, yet none of the songs really hit home with any of them, save for "Anaconda," which poached listeners on the strength of its eye-popping viral video. To an extent, listeners and fans knew nothing of what to expect coming in.
In a surprise twist, The PinkPrint, Nicki Minaj's third studio album, is less a clash of sonic ideals and more an exploration of emotional turmoil. This isn't a battle of hip-hop vs. pop; it's a look inside the cold, isolated milieu that fame creates. Much of the album's sorrow is fueled by a split with longtime boyfriend and alleged husband Safaree "SB" Samuels, and she breaks privacy to confront all that plagues her through a public lens for the first time.
Nicki Minaj always raps with a steely resolve, never cracking or showing any real sign of feeling, even when discussing something as gut-wrenching as losing a child ("All Things Go"). It's only in pop that she finds solace. The knock on Minaj has often been she doesn't rap enough, and that she goes pop too often. It's implied that there's a lack of substance that comes with pop glaze, but here it's a necessity, a shiny veneer to convey something painful and ugly.
G/O Media may get a commission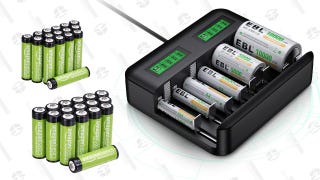 She gets the pop out of rap producer Mike Will Made It—who learned how to hedge toward mainstream audiences working with Miley Cyrus last year—on "I Lied," where her voice strains in an admission of deception as an act of self preservation. The stringy guitar lick on "The Crying Game" places her in the middle of a fight. On the more upbeat records there are snide little asides (On "Want Some More," she sings, "Ain't got nothing for me; these dudes is funny / That's why I'm throwing shade like it's sunny." And on bonus cut and sleeper hit "Truffle Butter," where she declares, "I ain't never need a man to take care of me."), but when she goes full power pop, like on the stirring "Grand Piano," she is her most honest, and grippingly so. The PinkPrint is the closest Nicki Minaj has ever gotten to balancing her tendencies, and the furthest she's ever been from emotional stability.