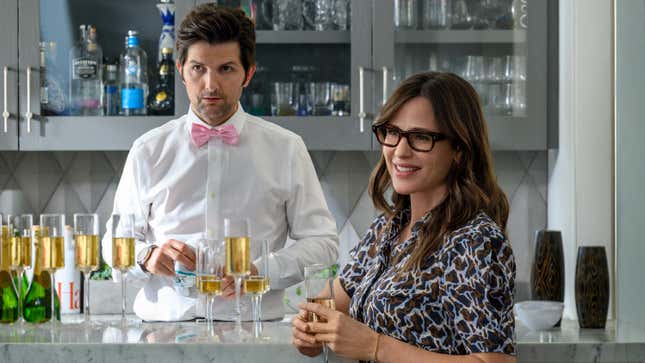 Party Down makes some of the most apt (and cutting) pop-cultural references in the business. (See this episode's perfect deployment of Charlene's "I've Never Been To Me" and the schlocky 1984 sex comedy Hardbodies.) But it's a cultural reference that's decidedly not pop—Rainer Maria Rilke's 1908 poem "Archaic Torso of Apollo"—that cuts to the Camembert center of this cake bite.
"Everyone is so stuck on the idea of food being good—this whole 'taste and flavor' bullshit," opines Lucy Dang (Zoe Chao), Party Down's unhinged new chef. "Food is art. It should change the way you think and feel. Like Rilke's poem—it says: 'You must change your life.'"

Lucy's dessert recipe sounds as nasty as Ron's van-ripened underarm stank, but she's not wrong. From caterers to clients, everyone in "Jack Botty's Delayed Post-Pandemic Surprise Party" is terrified to face the fact that they're barely hanging on—at least until revelation clotheslines them in the throat.

Episode two leaps ahead to the post-vax days of 2021, which means the surprise 44th birthday party Evie was planning for her boyfriend, Jack, has now become a surprise 45th birthday party. The Party Down crew is on the job at the couple's mansion, which is just as opulent and dull as their relationship. It's a perfect tragicomic touch that the most important room in the house is the palatial upstairs bathroom. It's a space that Evie stresses is off-limits—so of course, everyone ends up using it.

What a difference 14 months makes. Henry is finalizing his divorce on a teacher's salary, so he's moonlighting with Party Down to cover his alimony payments. Kyle's also back in the pink bowtie after he tanked his chance at the big leagues by being too dumb to realize he was disseminating Nazi propaganda. But he hasn't come back to catering because he needs a job, of course; it's just research for a bartender role he's hoping to land on the CW's Lost Boys reboot.

And against all odds, Ron still owns Party Down (with a little help from Constance's millions). Though he's ditched the guy-living-in-a-van look he was sporting last time we saw him, he's still a guy living in a van—and as Roman points out, a guy who reeks like he lives in a van. But poor Ron can't tell; thanks to taking gigs catering "secret weddings, poker tournaments, goth raves, and unpermitted underground brises" during lockdown, he got COVID four times and permanently lost his sense of smell.

Though he's trying his best to be the "This Is Fine" dog, Ron's new awareness that his self-image might not match up with the way others perceive him sends him into a panic. "Fancy people will not hire you for fancy parties if you smell!" he tells Henry. It's a page straight out of Parasite, another great 2010s satire about class anxiety: You can go inside fancy houses, rub elbows with fancy people, and maybe even flirt with them. But at the end of the day, they're never going to invite you to their Rat Pack–themed karaoke night—because, well, you smell like a poor.

Instead of picking up a kitchen knife like Kim Ki-taek, Ron legs it to the bathroom he told his employees was off-limits and takes the most self-flagellating shower ever filmed. But he makes a fatal mistake when he dips into Jack's precious stash of Tipo Fico, Tom Ford's "small-batch conditioner."

Jack and Evie might smell like the billionaires they are, but they can't wash away the stench of casual infidelity. When the birthday boy and his mistress, Tandy (Marisol Sacramento), accidentally burst into the Party Down crew in the kitchen, he orders them to keep his secret on the DL.

Though Henry has no qualms with swiping Percocets from his clients' medicine cabinet or downing secret shots behind the bar, he draws the line at this kind of lie. When he spills the beans to Evie, she isn't so much shocked as resigned; but Henry begs her to wait until after the party to break things off so that Ron can have the chance to pitch Jack on funding Party Down. The chemistry between these two is a little too muted, but you can see the moment in Jennifer Garner's eyes when Evie decides that Henry is a good egg.

Terrible revelation also comes for Lydia, who's attending the party on Escapade's behalf. "Adolescent girl brain," she explains, even though her daughter/client is, in fact, 23 years old now. It's news to her when Kyle points out that child actors tend to become messed-up adults. ("Judy Garland? But she always seemed so happy!")

She goes straight to the source for advice: Tandy, who just so happens to be a former child star. After housing a few of Lucy's existential cake bites, Tandy realizes that her Hollywood upbringing has left her "pretty fucked up." You know what that means: Lydia is throwing Escapade a prom! And you'll never guess who's catering.

Ultimately, it's Tandy herself who takes Rilke's advice. Balancing on her wedge heels like a newborn colt, she picks up the karaoke mic to deliver a very public, very tipsy apology to Evie for sneaking around with Jack. Sometimes, fate dumps your shitty boyfriend for you.

The full closing line of that poem, by the way, is, "For here there is no place / that does not see you. You must change your life." Glass houses, thrown stones: In a bathroom covered in mirrors, in a sun-drenched town where everything you do winds up on camera, there's nowhere to hide—not even in the back of a terrible van.
Stray observations
In the mid-credits scene, Evie rebounds from her breakup by passing Henry her phone number, asking that he promise not to do any "fairy-tale shit." "Oh, no. I'm a total mess—guaranteed," he assures her. And that's why we love ya, Pollard.
The MVP of this episode is Marisol Sacramento, who takes the "sad, drunk girl at the party" archetype to glorious comedic highs. The only thing more perfect than Tandy's slur-screamed karaoke cover of "I've Never Been To Me" is her delivery of the line, "I was hiding in a bush."
Ron does get one piece of great news in this episode: Karaoke machines exist! "Karaoke? In your house? That's allowed?"
Kyle misinterprets what Henry means when he says he's moonlighting as a caterer. "Yes, man! I haven't done that since they canceled Burning Man. So, if you dropped your tab at moonrise, you're due for a Molly, like, now. How's your headspace?"
The writers still don't seem to know what to do with poor Sackson; he's off in his own little subplot about sneaking into the coveted bathroom to film himself "doing the Chumble to the new Mo Dip single." I get the sense that the show's Gen X creators are struggling to figure out a way to talk about the TikTok generation. Here's hoping that Tyrel Jackson Williams gets more to work with as the season goes on.
Constance appears via iPad to tell Sackson an uplifting story about following your Hollywood dreams that involves planting drugs, impersonating a police officer, and handcuffing a woman to a radiator. "Isn't that, like, a crime?" "I don't know. I'm not a lawyer. But what are laws anyway but, basically, rules?"
I'm genuinely dying to hear the elevator pitch for Human Tree 2.
Ron is super proud of his new business cards, which are a) cartoonishly large, and b) advertising a business called "Party Dowm." But hey, at least he got a sweet deal from the printer—2,000 for $2,000!