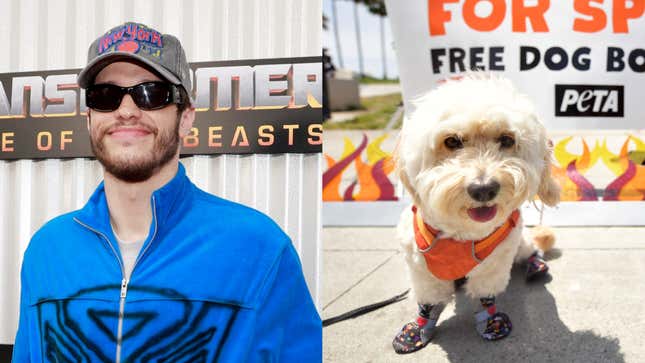 Pete Davidson, continuing to prove his aptitude at collecting viral feuds like infinity stones, has taken on a new opponent: PETA. After TMZ leaked a voicemail wherein Davidson cussed out the organization for publicly decrying his decision to purchase a new puppy, a billboard is set to go up in Times Square today defending Davidson and opining that PETA "can't handle Pete's B.D.E." (In this case, "B.D.E." stands for "Buy Dog Energy.") Any kind of PETA feud may seem like a relic of publicity trends past, but with the air in New York City barely breathable, perhaps it's time to dip back into the comforting classics.
Writers' strike shuts down late-night talk shows
PETA initially criticized Davidson earlier this month, after TMZ shared footage of Davidson and his girlfriend, actor Chase Sui Wonders, purchasing a new dog on June 1. In a statement to TMZ, Senior VP of Investigations Daphna Nachminovitch urged Davidson to "show some big heart energy by adopting, not shopping, in the future," calling the actor's decision to go to a pet store over a shelter "tragic."

Responding to the statement, Davidson left a scathing, profanity-heavy voicemail for Nachminovitch, where he told her to do her research before talking to the media, calling her statement "uneducated" and "premature." Davidson later clarified that he's allergic to dogs, and was purchasing the pet for his mother, who recently said goodbye to the Davidson's family dog Henry; he says that he didn't know he could "adopt a specific hypoallergenic dog."
"This organization made a public example of us, making our grieving situation worse," Davidson told E! News yesterday. "I am upset. It was a poor choice of words. I shouldn't have said what I said, but I am not sorry for standing up for myself and my family."
Not deterred from its cause by Davidson's mournful story, PETA released yet another statement to TMZ, arguing: "If Pete had done his research, he would know that there's no such thing as a hypoallergenic dog, that at least a quarter of dogs in shelters are purebreds, and that Petfinder has listings for homeless dogs of every breed under the sun, including the one he purchased."
Why does any of this matter? It doesn't, really: but as middling reviews of Davidson's new semi-autobiographical series Bupkis roll in somewhat covertly, it may not have to. What's that classic saying: if it's an NSFW angry voicemail PETA responds to with a statement about hypo-allergenic breeds, it leads?