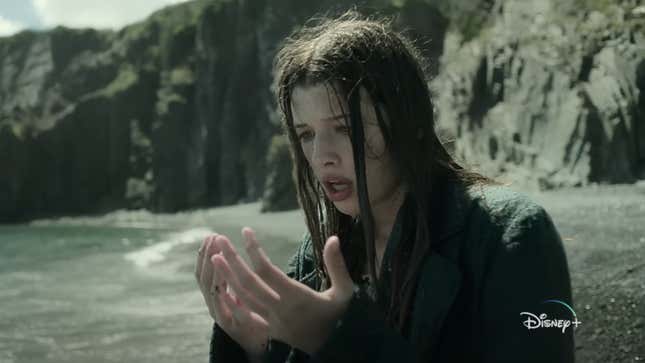 As far as children's classics go, Peter Pan must be one of the most frequently adapted. There are straight remakes, origin stories, beloved sequels, dark reworks, modern reimaginings, side character spin-offs… the list goes on. But the one you probably remember the best is Disney's animated classic, which is why that version is getting a live-action upgrade, as the company is wont to do.
A new trailer for the film leans heavy on the drama. Most of the shots look filtered through a gritty grayscale; the score is booming and propulsive. There are cannonballs and sword fighting and the glass on Big Ben's clock face is completely shattered, for goodness sake! Yet even for all that, this does not appear to be a truly dark and serious Peter Pan retelling, but a mostly faithful remake of the cartoon.
Except for one thing: This is Peter Pan And Wendy, an upgrade to shared top billing for the tale's main female character that members of the Online Community are sure to behave very normally about. And speaking of female characters, this adaptation's Lost Boys aren't all boys. Plus, Tiger Lily is actually played by an Indigenous actor (Alyssa Wapanatâhk), unlike some Pan adaptations we could name.
Peter Pan And Wendy is directed by David Lowery, who co-wrote the screenplay with Toby Halbrooks (the duo previously collaborated on The Green Knight). Alexander Molony and Ever Anderson star as the titular characters, joined by Yara Shahidi as Tinkerbell, Jude Law as Captain Hook, Jim Gaffigan as Mr. Smee, and Alan Tudyk and Molly Parker as Mr. and Mrs. Darling, respectively. The cast is rounded out by Wapanatâhk, Joshua Pickering, Jacobi Jupe, Noah Matthews Matofsky, Sebastian Billingsley-Rodriguez, Skyler and Kelsey Yates, Florence Bensberg, Caelan Edie, Diana Tsoy, and Felix de Sousa. For those eagerly anticipating another case of Disney repackaging their childhoods and selling it back to them, the film will be available to stream on April 28 on Disney+.