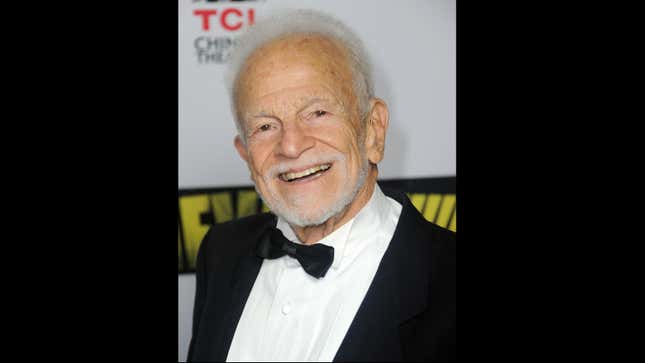 Gerald Fried has died. A veteran musician and long-time Hollywood composer, Fried contributed work to dozens of films, as well as some of the defining TV shows of the 1960s and '70s and beyond, including scores for Roots, Star Trek, and Gilligan's Island. Although his work was sometimes overshadowed by the frequently flashier theme songs for the projects he worked on, many of his songs would eventually reach legendary status—most notably his horn-heavy, trilling score from the Star Trek episode "Amok Time," essentially the iconic theme music for a good old-fashioned sci-fi fight scene. Per Variety, Fried died this week of pneumonia. He was 93.
Born in New York in the 1920s, Fried graduated from Julliard in the 1950s and quickly fell in with Stanley Kubrick, serving as the composer on many of the director's early films (including their final collaboration, Kubrick's 1957 military drama Paths Of Glory). Working frequently in genre film and TV, Fried contributed scores to Westerns, crime thrillers, horror flicks, and more over the next several years, while also making significant (and, eventually, significantly lucrative) inroads into the world of TV.
Fried's TV career started, again, in Westerns—including the inevitable detour through Gunsmoke that pops up on the resumé of essentially every single person working in Hollywood in the 1960s—before landing meatier gigs with shows like The Man From U.N.C.L.E. and Gilligan's Island. (Fried composed music for 51 episodes of the endlessly syndicated series; he later noted, that, thanks to royalties, the series was the most profitable thing he ever did.) His music appeared in five episodes of Star Trek: "Shore Leave," "Amok Time," "Catspaw," "Friday's Child," and "The Paradise Syndrome."
Fried attained his most prestigious TV credit in 1977, when the producers of Roots—apparently worried that original pick Quincy Jones was missing deadlines—brought him on to write a large portion of the music for the later episodes of groundbreaking miniseries Roots. Jones and Fried would share the Emmy win for the series' score, and Fried would return to the franchise for follow-ups The Next Generations and The Gift.
Fried more-or-less retired from composing in the late '80s, not long after the death of his 5-year-old son Zachary, who contracted AIDS after receiving a blood transfusion. Fried devoted time and effort in later years to raising money for The Pediatric AIDS Foundation; he eventually returned to composing for a brief stint many years later, contributing music—including to a Star Trek fan series—in the early 2010s.