For too long now there's been a giant gaping hole in the middle of the dating show swamp in the reality competition wetlands that are a very important part of the overall television landscape. Over the years, it seems that nearly every subsection of humanity has been given the opportunity to find love (and eventually occupy a half-page in In Touch magazine) on TV: Insane people have had their own dating show (Flava Of Love, I Love New York), so have professional groupies (Rock Of Love), bland people (The Bachelor), tiny people (The Littlest Groom), and people who have cream of wheat instead of brains (Next).  But there's one group that has never been given the chance to endure an awkward group date with a plastic faced bachelor: Real Women Who Have So Many Curves.
Thankfully, the heroes at Fox are planning to change that. From The Hollywood Reporter:
Fox is teaming with "The Bachelor" producer Mike Fleiss for a new dating-competition series that casts "average-looking" people.

The series, titled "More to Love," is billed as the first "dating show for the rest of us," throwing open its doors to overweight contestants.

"For six years it's been skinny-minis and good-looking bachelors, and that's not what the dating world looks like," Fox president of alternative Mike Darnell said. "Why don't real women — the women who watch these shows, for the most part — have a chance to find love too?"
To translate: "real women" here means "overweight women" and "love" means "entry into the fourth tier of Fox's  formidible stable of stars (the first tier is Gordon Ramsey and everyone on Bones and 24; the second tier is all cartoon characters; and the third tier is the lie detector from Moment Of Truth)." But More To Love isn't just about giving overweight women the opportunity to be a dating show gimmick. It's also about creating television's first fat-chelor, or its first chunk of burning love, or its first [insert fat pun here].
The project has a similar format to "The Bachelor," where a group of woman compete for one man (producers describe him as a "Kevin James-type").
"Most of the country isn't a Size 2," Fleiss said. "It's the dating show for the rest of us."
G/O Media may get a commission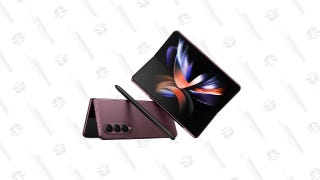 Save Up to $300
Galaxy Z Fold4
So, anything over a size two is overweight? Good to know. But the question remains: Will there be makeovers? Because obviously these grotesquely average people will need them.
Contestants will do the sort of activities seen on "Bachelor," but producers suspect Jacuzzi or massage dates will take on a different perspective. "More to Love" will have makeover aspects — when contestants wear ballroom gowns, for instance — but Fleiss said the focus will not be on physical improvement.

"We want to send the message that you can be the size you are and still be lovable," he said. "We aren't going to thin these girls down so they can find love — that's a backwards message."

But Fleiss has left open the possibility of twists.
That is such a backwards message. Almost as backwards as making a fat-people-dating-fat-people version of The Bachelor and couching it as some kind of "real people" empowerment.
And for a show that's basically The Chubby Chaser, the twist has to be that some of the "real women/men" aren't really fat.  I bet the twist is that all the contestants are Tyra Banks in a fat suit