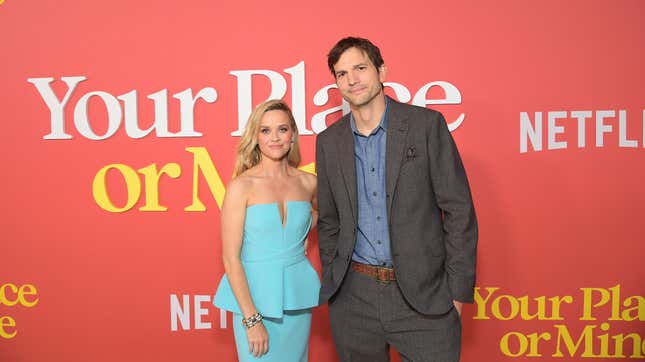 Come on, folks: we can't expect every pair of co-stars who are happily married (not to each other) to have as much steamy, barely containable sexual chemistry as Oscar Isaac and Jessica Chastain on the Scenes From A Marriage red carpet. Sometimes, they're simply going to act like two distant second cousins forced to stand together at grandma's 87th birthday. And that's okay!
Andrew Rannells, Casey Wilson, and Paul Scheer on Black Monday's shocking premiere
Ashton Kutcher and Reese Witherspoon are decidedly in the second camp, as evidenced by their exceedingly awkward Your Place Or Mine red carpet photos, a fact which the internet—and Kutcher's wife Mila Kunis—have had a jolly time skewering the past few days.
"My wife called me, she texted Reese and I together and she's like, 'Guys, you gotta act like you like each other.' And I'm like, 'What is going on?'" Kutcher said on a recent episode of the Chicks In The Office podcast (while wearing an excellently chosen "Dad" hat, no less).
He then went on to explain that he did it all to defend his marriage from the vicious Hollywood rumor mill, something Kunis at least is intimately familiar with.
"Here's the thing: If I put my arm around her and was, like, all friendly with her, I'd be having an affair with her. Like, the rumor would be that I'm having an affair with her," he said. "If I stand next to her and put my hands in my pockets so there's no chance that that could be the rumor, the rumor is we don't like each other," he continued.
But never fear, Ashton and Reese fans: he isn't physically repulsed by her, upset about the way she smells, or actively fantasizing about having done this romantic comedy with literally anyone else on planet Earth. "Reese and I are really good friends. We're really close. I don't have to defend that, " he said, without any (visible) studio gun to his head.
Besides, he assured the podcast hosts, being screamed at by photographers on all sides for 20 minutes—especially when you're hard of hearing in one ear like Kutcher is—is really, really weird. "You're gonna tell me in that entire 20-minute period, at one point you're not gonna have an awkward face on?" he asked. "Then you're better than I am, and I'm cool with that."
Your Place Or Mine premieres February 10 on Netflix.