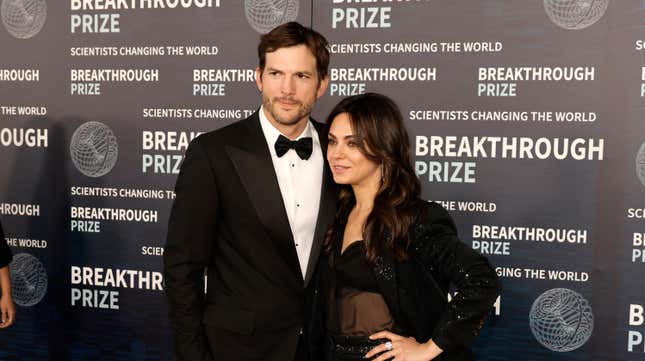 Ashton Kutcher has formally stepped down from the leadership board of Thorn, the anti-child-trafficking organization he co-founded with ex-wife Demi Moore back in 2009, Time reports. In his resignation letter to the organization, Kutcher directly linked his decision to leave the group to his recent choice to write a character letter calling for leniency for That '70s Show co-star and long-time friend Danny Masterson, who has been convicted and now sentenced on two counts of rape. "Victims of sexual abuse have been historically silenced," Kutcher wrote in his resignation letter, "And the character statement I submitted is yet another painful instance of questioning victims who are brave enough to share their experiences."
Whenever, wherever, Shakira will (allegedly) commit tax evasion
Mila Kunis, Kutcher's wife—who also wrote a glowing letter of support for Masterson, which his legal team (unsuccessfully) hoped would lead to lighter sentencing for the actor—has also stepped down from her position as an observer on Thorn's board.
Thorn focuses largely on tech solutions to child sex trafficking, including creating tools that allow "tech companies to detect, review, and report child sexual abuse material at scale." Moore and Kutcher founded it shortly after viewing a documentary about child sex trafficking in 2009; Kutcher has testified before Congress in connection to the group's work.
Kutcher and Kunis have been heavily criticized for being two of 50 people who wrote letters of support for Masterson (including fellow That '70s Show and That '90s Show stars Debra Jo Rupp and Kurtwood Smith). They issued an apology for harm caused by their letters over the weekend, stating that, "The letters were not written to question the legitimacy of the judicial system. Or the validity of the jury's ruling." (The apology does not seem to have done much to quell ire, or stop people looking through they and their co-workers' history for other troubling moments.)
In his resignation letter today, Kutcher wrote that,
After my wife and I spent several days of listening, personal reflection, learning, and conversations with survivors and the employees and leadership at Thorn, I have determined the responsible thing for me to do is resign as Chairman of the Board, effectively immediately. I cannot allow my error in judgment to distract from our efforts and the children we serve.
Adding later that,
The mission must always be the priority and I want to offer my heartfelt apology to all victims of sexual violence and everyone at Thorn who I hurt by what I did. And to the broader advocacy community, I am deeply sorry. I remain proud of what we have accomplished in the past decade and will continue to support Thorn's work. Thank you for your tireless advocacy and dedication to this cause.
You can read his full letter here.