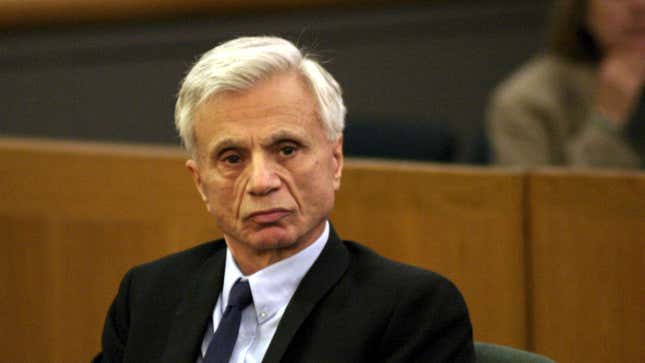 Robert Blake has died. Once a beloved child actor, and celebrated for roles in his adult career that ranged from 1967's In Cold Blood through 1997's Lost Highway, Blake's reputation and career both functionally ended in the 2000s, when he was tried in court for the murder of his wife, Bonnie Lee Bakley. Although Blake was eventually acquitted for the crime, he fared less well in civil court, where he was found liable in a wrongful death suit and ordered to pay a $30 million fine. Blake spent the rest of his life in relative seclusion—give or take the occasional foray into social media—and died on March 9, 2023, of what's being reported as heart disease. Blake was 89.
Meagan Good on Harlem, Shazam, and Helen Mirren
Born in New Jersey to a family of would-be performers (and, specifically, a father who reportedly abused him), Blake appeared in his first movie at the age of 6. Shortly after, he secured a leading role in Our Gang/The Little Rascals, appearing in 40 short films centered on the characters. Other child roles included "Little Beaver," a Native American child, in the Red Ryder Western series—Blake, who was Italian-American, was often cast in such roles in his early career—as well as a single scene with Humphrey Bogart in The Treasure Of The Sierra Madre.
Unlike many of his contemporaries (and amidst an Army stint and struggles with drug addiction), Blake eventually managed the transition into the world of adult acting. He spent much of the 1960s working the Western TV circuit—turning down one of the lead roles in Bonanza in the process—and popped up for memorable parts in a number of war films. He scored his first major break in 1967 with Richard Brooks' In Cold Blood, playing, with eerie accuracy, the role of real-life killer Perry Smith, one of the subjects of Truman Capote's celebrated non-fiction book. Although neither man picked up an Oscar nod (Brooks got two), Blake and c0-star Scott Wilson both came in for serious praise for their performances as the film's killers.
His star on the rise, Blake soon also carved out a name for himself in TV: In 1975, he secured the defining role of his career, as eccentric plainclothes detective Tony Baretta on ABC series Baretta. Across three seasons, Blake became a household name, leveraging his hard-scrabble charisma to make a character weighed down with a number of catchphrases and affectations (including, memorably, a pet cockatoo) feel imposing and real.
Blake's career cooled considerably in the 1980s and 1990s, appearing in only a handful of TV shows and films. But he did score one more indelible performance before his life collapsed into chaos and disarray in 2001: A three-minute sequence in David Lynch's Lost Highway, in which he starred in one of the most effective nightmare moments that Lynch has ever committed to screen. There's an alternate universe somewhere where Blake—appearing here shorn of eyebrows and calm of voice, and projecting incredible menace as he calmly smiles at an increasingly freaked out Bill Pullman—became a regular part of the Lynch ensemble, lending his not-inconsiderable talents to the director's menagerie of gifted weirdos. Instead, Lost Highway was Blake's final role as a professional actor—although his appearances in the media would certainly continue.
On May 4, 2001, Blake's wife, Bonnie Lee Bakley, was found shot to death in Blake's car outside a restaurant where the couple had been eating dinner. Bakley's murder quickly became a national fascination, rivaled only by the murder trial of O.J. Simpson; between reports of an unhappy marriage, and witnesses who came forward stating that the actor had tried to hire them to murder Bakley in the past, Blake quickly became the state's prime suspect. But a lack of forensic evidence, and the fact that no murder weapon was ever found, muddied the case and, in 2005, Blake was acquitted of all charges against him. He fared less well in the civil suit from Bakley's children a few years later; after filing for bankruptcy in the face of a massive judgment against him, Blake spent the rest of his life away from the spotlight.
It is impossible, in 2023, to view Robert Blake's career without filtering it through the realities of the last 20-plus years of his life; impossible not to allow knowledge of real-world death to influence perceptions of the many on-screen killers he portrayed. Watching his performances today, they still fascinate: Both for the reasons that he clearly intended, with decades worth of experience and his natural talents as a performer backing them up—and for all the awful ways that he did not.
Blake's death was confirmed earlier today by his niece.