RuPaul and her team know how to structure a strong narrative. Ever since Coco walked into the workroom on the first day and cracked Alyssa's face into a hundred little pouting pieces, it was clear that their storyline would be a big part of the season and that they would eventually face off in a lip sync. There was just no other way for their quarrel to end. RuPaul is aware of the friendships and rivalries that are formed between her girls, and she tests those relationships through lip syncs on the runway. Alyssa and Coco have both been in the bottom twice, so having them face each other for the dreaded third lip sync makes for great television. Of course, this is RuPaul's Drag Race so the episode is a whole lot of fun the entire way, but it's nice to finally get some resolution to a plotline that has been beaten to death by these two petty pageant queens.
The episode begins with a minichallenge called "The Crying Game" asking the girls to fake cry, a great skill to test considering how often these queens weep on the runway and in Untucked. Everyone gets in character and tries to think of scenarios that would elicit tears, except for Detox, who is having a real surge of emotion as she's reminded of her dead boyfriend while looking at the mourning faces around her. She tells RuPaul the story of her boyfriend's death two years ago and how difficult this challenge is for her, bringing the tears to the surface and getting the job done. Learning about Detox's late boyfriend helps Roxxxy get to know her on a more intimate level, and they return to the topic later as the producers continue to build their romance.
Detox and Alyssa win the minichallenge, making them group leaders for an acting challenge that has the queens performing telenovela style. It's a fun challenge, but why wasn't it thrown out there when one of the Puerto Rican queens was still around? When Detox picks Roxxxy, Alyssa makes the mistake of choosing Jinkx instead of Alaska, allowing Rolaskatox to be reformed while she gets saddled with Coco. Granted, Detox would have forced Alyssa and Coco together like she's done in the past, but her team also wouldn't have that built-in chemistry. Now that Alaska sees how Detox and Roxxxy are in their own little world, it's not the same Rolaskatox as before, but they still manage to pull it together when they're in front of the cameras.
Jinkx is the saving grace of the other team, although neither telenovela is all that funny when actually played on the runway. Detox's team is the winner despite a lackluster performance from their leader because she's still not as stiff or unintelligible as Coco and Alyssa, although Jinkx goes in with so much dedication that she might have topped the combined power of Rolaskatox in this challenge. Unfortunately, she's paired with Alyssa, who thinks that she's still playing "The Crying Game" when faking an orgasm, and Coco, who falls apart when she has to share the scene with Wilmer Valderamma, who is there for some reason. (Or maybe that's fortunately. It's easy to look like perfection when you're surrounded by shit.)
G/O Media may get a commission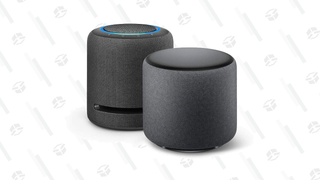 25% off - Prime Exclusive
Echo Studio + Echo Sub Bundle
The top six splits neatly into three separate levels of quality, with Coco and Alyssa at the bottom for not only being less than impressive in the challenges, but also forcing us to endure their repetitive drama week after week. Roxxxy and Detox are in the middle, usually delivering solid runway looks but having less success in the challenges, although when they hit, they tend to hit hard. Jinkx and Alaska have risen to the top thanks to their wit, but also deliver consistently entertaining looks on the runway, even if they're not the most polished. There's always animosity between comedy queens and glamour queens on this show, but the winning queen tends to have a good mix of both. In the glamour department, Alaska has shown consistency while Jinkx has shown growth, giving her an extra edge that makes her the contestant.
In an Untucked Exclusive on the runway, Ru asks the contestants who they think is their main competition, and four of the five say Jinkx. Coco and Roxxxy have been trying to shit on her runway looks all season for not being glamorous enough, but they're obviously intimidated by her talent and hoping to break her spirit by exploiting her insecurities. The queens are asked to bring "Latina Glamorosa Extravaganza!" to the runway, and Jinkx easily steals the show with her Día de los Muertos look, despite Coco and Roxxxy attacking the look for being too much of a risk. Yes, Jinkx takes risks, but they're calculated. She knew that RuPaul would know who Edie Beale is even if the rest of these uncultured bitches have no idea, and she knows that RuPaul is going to gasp when she sees her skeletal couture walking down the runway. She wins the challenge, wowing the regular panel with her runway look and impressing guest judges Jamie Lynn-Sigler and Maria Conchita Alonso with her telenovela performance. Monsoon season continues.
Alaska and Roxxxy hit the runway in spicy but unspectacular red dresses while Detox comes out in a pink mariachi/bull fighter outfit and sombrero that looks like a community theater costume. The judges love Coco's mango jumpsuit and tear Alyssa's ragtag look to shreds, with Santino calling it one of the worst outfits to ever come down the Drag Race runway. That's when Alyssa decides to open her fish lips and talk about how she's an entertainer and will deliver a fierce lip sync no matter what, causing Coco to chip in with her opinion although no one asks for it and no one cares. If Ru is anything like the rest of America, she's gotten really tired of their drama, and when Coco jumps in to attack Alyssa, Ru decides that it's time to send one of these girls home. Coco's need to combat Alyssa is probably what saves Detox from the bottom.
This show has a good track record with Paula Abdul songs, and Alyssa and Coco's lip sync to "Cold Hearted" is one for the Drag Race history books as both queens pull out all the stops. Alyssa makes sure that her dance experience is put on display as she moves around the stage, pulling focus from Coco's rapping as she jumps into the air, spins around, and lands in a splits. That's when Coco starts twirling the ends of her jumpsuit, and there's never a moment when it seems like there will be a clear winner. It's an incredibly high energy, intensely desperate performance from two queens with a severe love-hate relationship, and all that drama between Alyssa and Coco finally pays off in emotion on stage. Ru rips the bandage and quickly tells Coco to shantay to safety, offering some words of encouragement to Alyssa, who was a jigsaw puzzle of a drag queen that could never quite make the pieces fit together. She was still a lot more enjoyable to watch the Coco, though, and hopefully her rival will be on her way out soon.
Stray observations:
This week on Untucked: Thank god Alyssa and Coco won't be able to take over the Interior Illusions lounge anymore. They're insufferable together.
Spin published a fantastic profile of RuPaul today. Read it and bask in her glory.
I love that point in the season when RuPaul starts to get really bitchy when she visits the workroom. There are a lot of awkward pauses and blank stares when she listens to the queens this week.
Those faux fur coats Jinkx wins will be perfect for her Little Edie routine.
"Jinkx, I told you the same thing when you brung this up." I will miss Alyssa's grammar most of all.
"There's nothing more sad than the tears of a drag queen."
Alyssa: "La Casa de Locas!" RuPaul: "…Yeah."
"Our poison bit is going on a long time."
"I am serving up some Sophia Vererrerrserra realness."
RuPaul: "That's your orgasm, Alyssa?" Jinkx: "Have you ever had one?"
"Jinkx is like all the other super models, just skin and bone."
"(SCREAM) Now dat you mention it, we never talk about food."
Santino: "Whoever made that is fired." RuPaul: "Thanks a lot, grandma!"
"You came, you saw…and you came again."