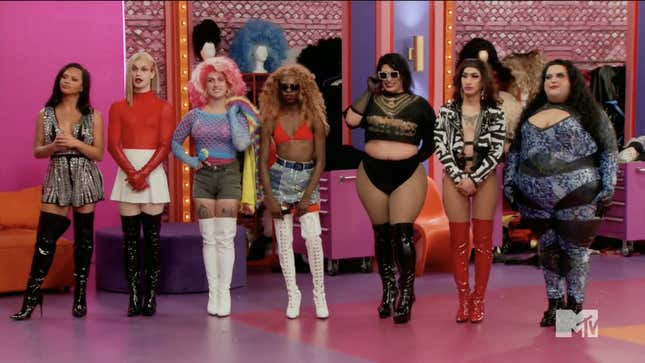 We did it, Joe RuPaul! After weeks of complaints, RuPaul's Drag Race returns to 90-minute episodes for the rest of the season. While the change only accounts for an additional 20 minutes, factoring in commercials, the extended runtime gives the queens more screen time and makes for better storytelling. This week's main challenge is slightly disappointing, but the surrounding segments more than make up for it, including a jaw-dropping mini challenge and epic lip sync for your life. Hopefully, now that longer episodes are secure, the fandom can turn their activism toward the onslaught of anti-drag and trans legislation moving forward in Tennessee and other state legislatures. RuPaul recently joined the cause.

The episode starts with some familiar beats: Salina survives a lip sync; Sasha celebrates a win; Loosey and Luxx bicker over who came in second. While their argument is rather moot, the mounting tension between Loosey and Luxx becomes a significant part of the episode. It spills over into the next day when Luxx prods Loosey about the missing baby bump from her Beyoncé runway. Refusing to drop her interviewer persona, Luxx asks the question the fandom has been pondering since last week. Without a good answer, Loosey deflects the criticism back onto Luxx. The encounter establishes that Loosey and Luxx are equally talented and competitive, and both suffer from a significant amount of drag delusion.
A not-so-subtle video message interrupts the escalating rivalry. The queens correctly decipher that the maxi challenge has something to do with comedy duos. But first, there's a mini challenge inspired by Vanessa Hudgen's iconic and infamous line "I'm so into voguing right now" from the premiere of All Stars 3. The queens perform in a quick drag "Harlem Vouge Ball." While it will probably not ease friction between Drag Race and the Ballroom community, it was fun to watch. Luxx and Loosey warm up the ball with a serious and silly take, respectively. Salina and Marcia both demonstrate impressive floor work, with the former being chaotic and the latter more controlled. RuPaul saved the best for last with the performances from Sasha, Mistress, and Anetra. While Sasha has already impressed in the LaLaPaRUza, she really lets loose on this one and shows how she earned her reputation. Mistress perfectly translates her shady personality into voguing by reading other queens like a mime. And by combining proficiency and comedy, Anetra earns the win and sparks both awe and laughter. With this mini-challenge win, according to the La Duca scale, Anetra is now tied with Sasha and Loosey for three challenge wins, plus a giant trophy.
The Werkroom
As the queens surmised, RuPaul informs them that they will be competing in the House of Love Bubly Comedy Festival performing standup in duos. As the pairs are randomly selected, Salina finds herself the odd queen out. Luckily for her, she's allowed to perform solo or switch places with another queen. She opts for the latter and forces Marcia to go on stage alone. The remaining teams are Sasha and Anetra, Mistress and Salina, and, most interesting, Loosey and Luxx. Whether the fickle finger of fate or a producer's hand, the team of Loosey and Luxx promises potential drama. Anetra, as the mini challenge winner, gets to select the performance order, and Marcia gets screwed again when she has to open the show solo.
The queens get to work. Loosey and Luxx discover that their rivalry can be used for comic fodder when they smartly decide to build a routine around roasting each other. While Loosey and Luxx amplify their differences, Mistress and Salina decide to embrace their similarities as thick Mexican queens and opt for a funny story about hooking up in drag. Anetra and Sasha hit a snag when Anetra develops an intense headache, which leaves Sasha alone to brainstorm. Likewise, as the nights solo performer, Marcia is left to talk to herself.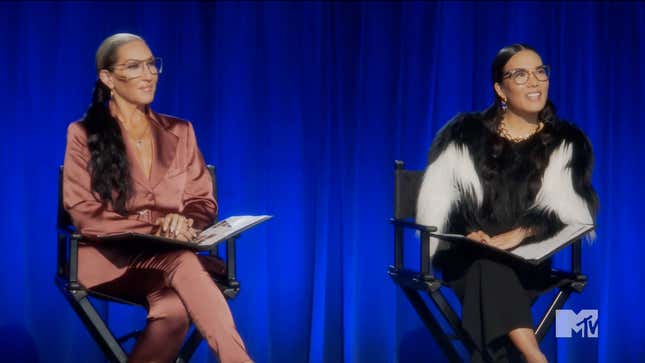 The queens get to workshop their material with Michelle and Ali Wong, a seasoned standup comedian. They push Marcia to sharpen her comedy, and she is receptive to the suggestions. Luxx and Loosey fair better, and the judges' main issue is for Luxx to slow down her delivery. Interestingly, Salina gets the opposite note. The judges concur that she needs to increase her pace and get to a punchline faster. Sasha and Anetra struggle. While they lost valuable time with Anetra's headache, she attempts to mine it for jokes. Despite the valiant effort, the approach falls flat. By the end of the workshop, it appears that Anetra, Sasha, Salina, and maybe Marcia need to worry.

The challenge
RuPaul enters in a Paco Rabanne-inspired mini dress and a voluminous blonde mane to greet judges Michelle, Ts Madison, and Ali Wong and introduce the Bubly Comedy Festival. Despite an excellent premise of equating her experience on the show to puberty, Marcia's routine is rather dull. Loosey and Luxx are considerably better with well-paced and -structured jokes. They prove the benefits of having a partner to bounce off. The perks of working with a partner are harder to see with Anetra and Sasha, who have an awkward dynamic. It feels like they were working with different concepts that never come together. Finally, Salina and Mistress close the show. Salina, on the judges' advice, shortens and focuses her delivery. Ironically, Mistress, who is normally so funny, delivers the more rambling performance, weakening the duo. The standout of their stand-up is Salina's animated physicality which really sells the jokes. Overall, the standup is pretty weak. Of course, it's all relative, and Loosey and Luxx are certainly the best, but this standup pales in comparison to what queens like Bob the Drag Queen or Bianca Del Rio deliver. It feels like while season 15 has a funny cast, many of them struggle to deliver prepared comedy.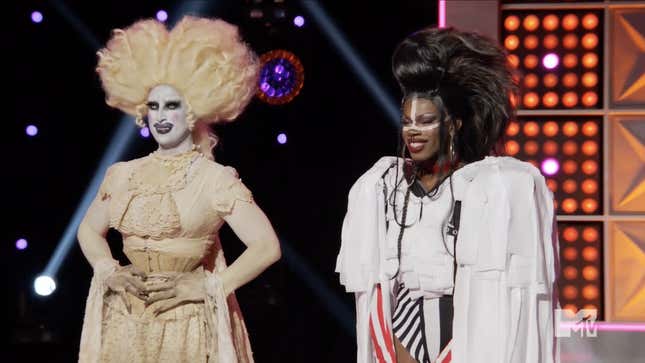 The runway
The category of "Rip Her To Shreds" is a breath of fresh air after the limitations of a celebrity-impersonation runway. This type of prompt allows the queens to interpret a theme and showcase their individuality. Marcia and Loosey both build their looks around a character. This continues to feel like a crutch for Marcia, who often masks rather pedestrian looks with characters on the runway. Despite this, her hair and makeup are certainly amped up. Strangely, it is makeup that hinders Loosey's Victorian vampire. The costume is excellent, but the makeup appears off and too blueish. Luxx and Sasha reference very specific moments in musical history. For a third time, Luxx pays homage to RuPaul by reinterpreting the host's former days performing in the punk band Wee Wee Pole. Judging from the smile on RuPaul's face, it's well received. Sasha turns to more recent music history in a ripped denim ensemble pulled out of the early aughts and evoking Britney Spears' all-denim VMA look. Anetra and Salina enhance their looks with deep stories of perseverance and struggle. Anetra's rather poetic voiceover about lotus flowers matched her slashed green and pink bodysuit accented with spikes. Salina's tale is more personal and slightly political. Her look is in tribute to her mother's journey to the United States. However, when you strip away the narratives, Anetra's graphic look provides more impact than Salina's muted lace gown. Finally, Mistress closes the category with a pink number full of pop references from Marilyn Monroe and Madonna to Mugler and Moschino. All the nods are there, and it's a great look, but her decision to copy the Fall 2016 Moschino collection reads more burns than shreds.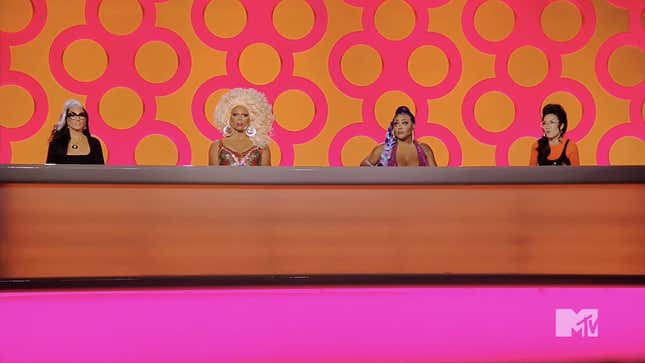 The judging
For the first time, all of the contestants remain on the stage for critiques. Based on the challenge, it is clear that Marica, Anetra, and Sasha are at the bottom, Loosey and Luxx at the top, with Mistress and Salina somewhere in between. As for the runway, the judges respond well to everyone with the exception of Marcia and Salina. The most interesting part of the judging is finally being privy to the judges' deliberations without the queens. In the truncated episodes, said deliberations were on the cutting-room floor. The return of this segment shows how important it is to the arch of the series, as the audience gets a sense of what the judges really think and how they respond to each queen's drag. There is finally insight into what the judges really think about Marcia. They have spent the season incessantly critiquing and joking about her lack of makeup but a comment from RuPaul gets to the heart of the issue. The host concludes that Marica's issue is that she needs "to drag up" her theatrical training. They recognize her gifts as a performer but do not take her entirely seriously due to her lack of drag experience. Ts Madison gives one of the most bewildering comments when she says something about how long Sasha can get by on looking good. While Ts Madison has not been featured in a lot of episodes this season, she has seen enough to know that Sasha is not at all relying on pretty. The judges end up awarding Loosey and Luxx a double win, which is fair. A more chaotic choice might have been to give the win to Luxx alone and see how Loosey responds. Salina and Mistress are safe. The bottom three end up as Marcia, Anetra, and the season's frontrunner, Sasha.
The lip sync
Marcia must be praying for a repeat of the astounding lip sync between Anetra and Sasha, but after struggling in both the challenge and the runway she knows her fate. Sasha is spared, leaving Anetra to lip sync for her life. Before they start, Anetra's confessional warns Marcia that Anetra is about to show her "who is boss, bitch." The address feels slightly overaggressive until the lip sync song is revealed to be Doja Cat's "Boss Bitch."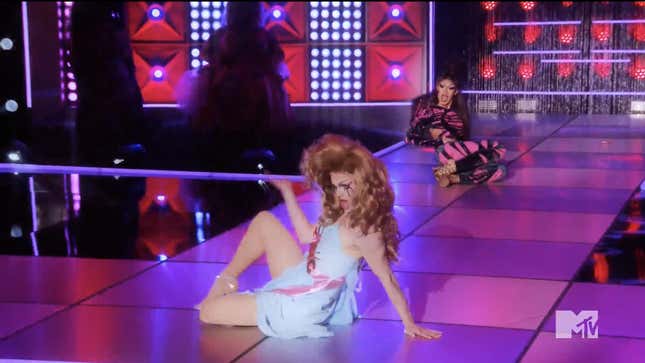 At the risk of being accused of recency bias, this is one of the top ten lip syncs of the entire franchise. The song is so high-octane that their strutting across the stage is absolutely mesmerizing. Their movements are precise and powerful from lips to the tips of their toes. The pinnacle is Anerta's diving somersault Free Willy-style over Marcia's walking backbend ripped from The Exorcist. It cannot get any better until they close the number with a parallel drop to the ground and synchronized floor-work. It is a lip sync for the ages.

The Anetra-Marcia lip sync should be the illustration of double shantay in the dictionary. If this is not a double shantay, what is? The episode has a double win and should have matched with a double save. Perhaps the producers are still reacting to the complaints about the excessive non-eliminations from last season. It feels like there might be as many complaints about Marcia's elimination after such a stellar lip sync. So why Marcia, Marcia, Marcia? The answer is in what RuPaul said about her greenness and what Marcia discusses in Untucked. Marcia correctly infers that the judges' critiques of Anetra are full of "hopefulness," and her own were more resigned. However, as Marcia said in her standup, this season is her puberty. She will return, fully grown soon. She is destined for All Stars.
Stray observations
You have to love Luxx's casual cruelly when she says "she knows her way around cleaning a mirror at this point."
Very glad that Joey Jay from season 13 got a reference. It's impressive for a self-professed "filler queen."
Is this the first video message of the season?
The real surprise of the episode is that Sasha didn't get the headache after the Harlem Ball mini challenge.
Anetra continues the grand tradition of breaking the fourth wall when she makes her "nipple ring" comment.
The Asaf crotch shot was an interesting and effective product placement.
It wasn't necessary for them to call Asaf, Bruno, and Calix for such limited pit crew duties, but I'm glad they did.
Favorite line goes to Luxx saying "I'm parched."
Is it a blessing or a curse to have gloves on reaching into the cooler?
Shouldn't producers save this challenge for an even number of queens? It always feels like they don't know how to count when they map out the season.
Does "two titties is better than one titty" make any sense?
The idea that there is that much strategy to making lineups is getting funny. There are only four slots so you are either in the middle or at the end. At the same time, why would Anetra put herself after Loosey, the only queen who has standup experience?
When Mistress says "we've all been to those drag shows that go on and on and on," is she dragging Drag Race and it's every increasing length. If so, kudos.
I'm not sure Michelle telling Anetra that ocular migraines are nothing to worry about is sound medical advice. I get that's she's commiserating with her own migraines, but they are worrisome.
I also think Michelle (of all people) misunderstood Anetra's joke about head. It's not that she can't give head, its "mess" as in sloppy. That said, the joke still doesn't work.
Do we think that Sasha's backup Snatch Game character was clearly Ivanka Trump?
Second favorite line goes to RuPaul saying "her pussy is on broil."
Finally, eliminating Marcia before the Rusical feels particularly cruel.