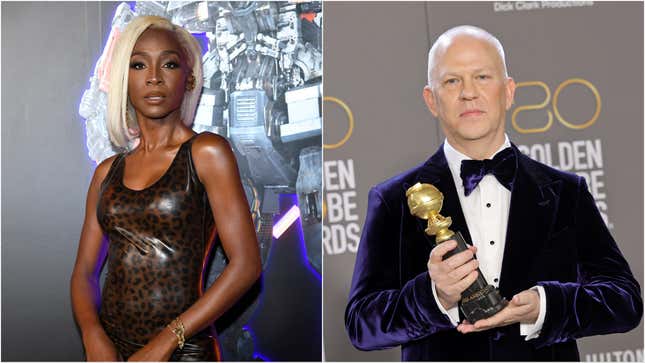 Ryan Murphy reportedly crossed multiple picket lines to get American Horror Story: Delicate made, but it seems like he couldn't even cross his own living room to email Angelica Ross back about a season of television she was supposed to star in.
The feud between Howard Stern and the world's smuggest man, Bill Maher, has come to a tentative ceasefire
This latest entry in the laundry list of Ryan Murphy's offenses comes via Ross' Twitter/X, on which she posted a series of screenshotted emails between her and the director about an alleged Black women-led season of American Horror Story he was conceptualizing. Ross had worked with Murphy before on both AHS and Pose.
"Remember your idea about a HORROR season starring black women? Well, I'm doing it. Not sure of the story yet, but we will start a writers room in the fall. Along with you, who are the four women I should get? I think you, Keke Palmer, Gabby [presumably Sidibe]...not sure of the fourth?" Murphy wrote in his initial email.

"YAAAAAASSSSS!" Ross responded before sending a prospective list of actors, including Debbi Morgan, Lynn Whitfield, Alfre Woodard, Angela Bassett and more.
But Ross would soon have her enthusiasm crushed. She was reportedly "left on read" by Murphy soon after, as she wrote in an Instagram reel, and the series never materialized.
"After not hearing back. After sending flowers and no response I sent one last email in Feb 2022 (it took about a year to film season 10 due to COVID) while still contractually in first position with the show. Mind you, marvel [sic] had called twice now. I haven't heard from him since," Ross revealed in a post containing her final email to the director. (First position meaning that Murphy's show would have been her primary obligation.) 
Ross had previously opened up about losing the Marvel role, but not about the extent of the ickiness which preceded it. "I was under a 7 year contract with FX in what they call 'first position'. [sic] As a series regular, I could not work anywhere else without getting network approval. While working on AHS season 10 I was told I would be returning to Season 11 and was put on hold for several months," she explained in a July tweet. "During this time Marvel called a few times asking about my availability. By the time FX released me, Marvel stopped calling. Now it's been years since I have had an acting job. This is also why we are striking."