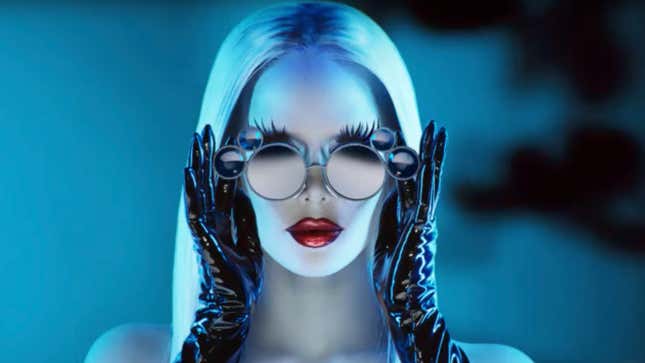 The WGA and, now, SAG-AFTRA strikes have halted much of Hollywood. Aside from reality TV, which isn't unionized (yet), the only productions going forward have agreed to the union's demands and aren't members of the AMPTP. (If A24 can afford to do it, why can't Disney?)
One production that never went dark is Ryan Murphy's American Horror Story. Despite the best efforts of the WGA picket line, Murphy's crew continued working on American Horror Story: Delicate, with one strike captain accusing Kim Kardashian of crossing the picket line. While this wasn't against the rules, as Vulture points out, Kardashian had a chance to use the leverage that being Kim Kardashian affords her.
The WGA continued to picket American Horror Story production in New York, though. Earlier this month, The Hollywood Reporter reported that "only four scripted TV series remain in production on the East Coast — with three of them produced by Murphy: American Horror Story, American Sports Story and the episodic anthology American Horror Stories (the fourth is Lionsgate/Starz's Power Book 2: Ghost)." However, Murphy contends that he was abiding by the rules of the strike, insisting that he was on set in a showrunner/producer capacity—not a writer. As always, there's a lot of hand-wringing about that, as most writers argue that the writing never stops, even on set. But it's not something that can easily be proven. For his part, Ryan Murphy contributed to a $1.7 million relief fund, along with J.J. Abrams, Shonda Rhimes, and Adam McKay.
Anyway, a trailer for the season produced during the strike has arrived. And, boy, was it worth it. Look how porcelain and doll-like Emma Roberts, Cara Delevinge, and Kardashian look in their Ichabod Crane glasses.
There's no premiere date for Delicate yet. Still, it is based on the book Delicate Condition by Danielle Valentine, so any American Horror Story fans who can't wait for the new season should head to their local library.