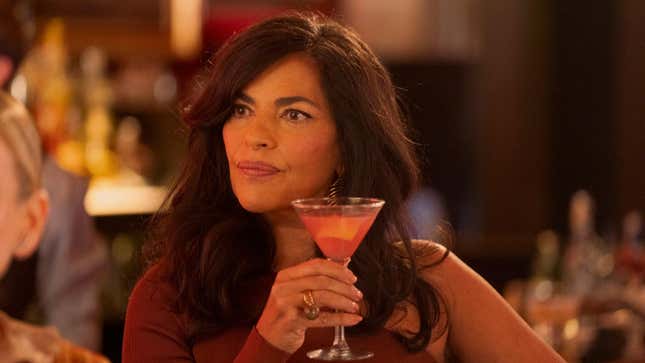 Sarita Choudhury is consistently the most delightful part of And Just Like That..., even if the show doesn't recognize it yet. She stands out in a reboot struggling to stay true to the original series. AJLT... season one was a mess because the three returning protagonists were a faint imitation of their Sex And The City selves. The original HBO series successfully depicted the superficial yet complex lives of the characters, but the two subsequent SATC movies should've been a warning sign. When AJLT... arrived in 2021, Carrie Bradshaw (Sarah Jessica Parker), Miranda Hobbes (Cynthia Nixon), and Charlotte York-Goldenblatt (Kristin Davis) were basically unrecognizable, and the group felt even emptier without the outspoken and charming Samantha Jones (Kim Cattrall).
The feud between Howard Stern and the world's smuggest man, Bill Maher, has come to a tentative ceasefire
Thankfully, AJLT... made one smart move: adding the wealthy and flamboyant Seema Patel into the mix. No one can replace Samantha, of course, but Choudhury helped fill a gaping void with her presence and humor. The flair and heart of her performance remain in season two, currently airing on Max. Seema's storylines so far involve penis pumps, missing Birkin bags, and attending the Met Ball instead of spending another minute with a man who asks her for a $100k investment—she deserves better and she knows it. Her subplots are usually reminiscent not just of Samantha's no-fucks-given attitude, but of the original series itself. Somehow, Seema is the only character still carrying the ethos of SATC.
Seema embodies a certain degree of luxury that pairs well with Carrie's new status as a wealthy widow. It's why they instantly connect. As seen briefly in season one, despite her sex-positive persona, Seema is looking for true love, the kind Charlotte aspired to during SATC's run. And like the Miranda we knew and loved from Sex And The City (long may she reign, unlike Miranda's AJLT... version), Seema is passionate about her career. She's a natural in New York City's real estate market, much like Samantha was as a publicist. Seema believably fits into their universe while carving out her own space. Yes, she has elements of the main leads, but she's her own unique person. As a single South Asian woman in her fifties, leading an independent life and breaking barriers, Seema is a badass. (As is Choudhury, a terrific performer dating back to her debut in Mississippi Masala).
Seema's cutthroat energy is exactly what bridges the gap between AJLT... and SATC, especially when it comes to, you know, sex. For all its flaws, the original always commendably dealt with myriad (horrifying) dating tropes, however emotional, sexual, or ridiculous. It formed the crux of the show. AJLT... couldn't continue in the same vein if Carrie was mourning Big (Chris Noth), Charlotte was dealing with two rebellious teens, and Miranda was falling for the harbinger of doom Che Diaz (Sara Ramirez). Enough has already been said about the wasted opportunity of Miranda's bisexuality, and without Samantha, where would the frothy arcs come from?
Enter Seema. Although AJLT... season two hasn't given her an abundance of these storylines—a massive loss—it's still incredibly entertaining to watch Seema take Carrie and a newly divorced Nya (Karen Pittman) to a hotel lobby bar to meet men. It's here that she hooks up with a gin salesman with erectile dysfunction, encourages his use of a penis pump, and later goes on to use a vibrator when he doesn't satisfy her. Does the man loathe her for using it? Yes. Does she tell him to leave anyway? Also yes. The episode is a fragment of the frivolousness and boldness AJLT... can achieve with Seema's help.
The show doesn't go deeper than that, sadly, because Seema is mostly given random things to do. Among other plots, she fights with her regular hairdresser, goes on a couples massage with Carrie on Valentine's Day, and convinces her to co-share a summer house in the Hamptons. She's once again relegated to the sidekick when she should be the shining star. Seema has the potential to truly elevate the SATC franchise, but AJLT... fails to develop her personality beyond Carrie's new BFF. At least season one's "Diwali" added layers to her backstory (and kicked off an amusing sari vs. lehenga debate). It's been bupkis since then.
AJLT...'s second season is admittedly better than the first. Charlotte's evolution as a cum-loving Upper West Side mom who braves a blizzard to give her daughter condoms solidifies that. As does the return of Aidan Shaw (John Corbett), Carrie's furniture-loving ex-fiancé. Characters like Nya and Lisa Todd Wexley (Nicole Ari Parker), the token women of color in season one, get more fleshed out with romances and family drama. That courtesy doesn't extend to Seema. It's bizarre because Seema is the epitome of Sex And The City; she's hilarious, unafraid, and vulnerable. To succeed as a reboot (revival, sequel, or what have you), And Just Like That... just needs to take advantage of the most valuable tool in its shed for a potential season three.