Sorry, William H. Macy. While you were hiding under a metric ton of prosthetics on the scammer series The Dropout, Sean Penn was quietly waiting in the wings. Armed with just as much cranial surface area as Macy, Penn makes for a surprising sight as John Mitchell in the trailer for Starz's Watergate series Gaslit.
The story of Martha Mitchell (played here by Julia Roberts), the chatterbox wife of President Nixon's Attorney General, John Mitchell (Penn), Gaslit follows this unlikely whistleblower that set the Watergate scandal in motion. Martha, an Arkansan socialite who loves to dish on her husband's work, was a nightly news mainstay and among the first to speak openly about Watergate. However, once Nixon found out that his AG's wife was leaking info to the press, the wheels of manipulation and abuse started turning.

Here's the description:
Despite her party affiliation, she's the first person to publicly sound the alarm on Nixon's involvement in Watergate, causing both the Presidency and her personal life to unravel. As Attorney General, John Mitchell is Nixon's most trusted advisor and best friend. Temperamental, foul-mouthed and ruthless – yet hopelessly in love with his famously outspoken wife – he'll be forced to choose between Martha and the President.
Of course, while this seems like an excellent role for Roberts, it's hard to take eyes off Penn. His Mitchell looks reminiscent of other makeup heavy turns that the awards-hungry denizens of Hollywood can't get enough of. If you don't look exactly like Pamela Anderson or Lucille Ball or Roger Ailes, did you ever really play them?
This level of verisimilitude extends throughout the trailer in its attempts to mimic the looks and sounds of the Watergate era, including several shots that look like 70s-era video footage. Though it's hard to say whether it'll pay off, the extravagance is hard to ignore because, like Macy's gigantic skull on The Dropout, this looks entertaining as hell.

G/O Media may get a commission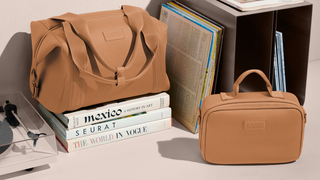 15% off
Dagne Dover Travel Kits
Based on Slate's fantastic podcast Slow Burn, the series stars Penn, Roberts, Shea Whigham as G. Gordon Liddy, and Dan Stevens as John Dean. However, some of the cast has yet to be revealed, including just who the heck is playing Nixon. We look forward to finding out which member of the Hollywood elite endured hours in the makeup chair to get that nose right.

Gaslit premieres on Starz on April 24.