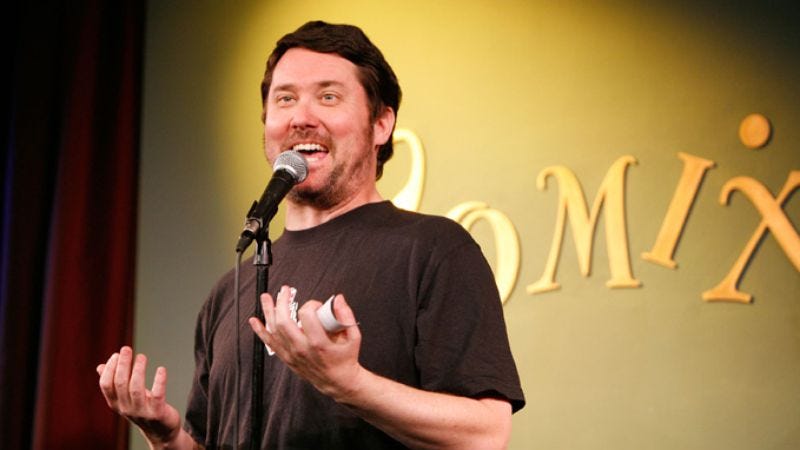 Comedy has gotten much more democratic over the years: It's no longer limited to guys in clubs or major-network TV shows. With a bit of free time and minimal iMovie know-how, everyone from budding young comics to name-brand stars can carve out some Internet space for their sense of humor. At the same time, traditional outlets like comedy CDs and DVDs are growing in breadth with the art form itself. It's a great time to be a comedy fan, and Laugh Track, The A.V. Club's monthly comedy column, will round it all up—new and noteworthy stand-up, sketch, and online video, much of it courtesy of under-the-radar comedians with a little too much time on their hands.
CD: Anthony Jeselnik, Shakespeare
Anthony Jeselnik packs a lot into a little. The stories he tells are sometimes only one sentence long, but they provide plenty of fodder for laughs—and always end with Jeselnik looking like the worst person imaginable. "My girlfriend makes me want to be a better person," begins the track "Romance" on Jeselnik's debut album, Shakespeare, his cocky drawl carrying through to the punch line, "so I can get a better girlfriend." Jeselnik utilizes pauses to drive his point home, like during a story about his girlfriend calling him in the middle of the night, afraid her apartment was being broken into. "I dropped… the phone," he continues. Pause. "And I was so pumped up with adrenaline"—another pause—"it was tough to get back to sleep." His confidence in his despicableness is matched only by his confidence in his stand-up ability; the album contains many asides to reinforce Jeselnik's opinion of himself: "I assume you guys are big comedy fans for coming out tonight, but if you're not, you don't understand the lingo. What I'm doing, right now, is called 'killing,'" he says at one point. "As a comedian, it's like"—another pause—"the top thing you can do." On the fantastic Shakespeare, his commitment to over-the-top sliminess pays off with a fully realized persona and a playful, rapid-fire joke style. (NOTE: Don't let his Dane Cook-like appearance fool you. This guy has actual punch lines—though apparently not any super recent videos.)
Here he is on some Jim Norton HBO thing:
Here's a little interview segment he did with some jokes in between:
And speaking of Dane Cook, check out this pretty spot-on Cook impression from a few years back:
CD: The Apple Sisters, The Apple Sisters
Modeled after an old-timey, sing-songy '40s radio program, The Apple Sisters Variety Show is a nice mix of period-piece devotion and wink-nod modern-day sensibility/comic bravery. During a commercial for candy corn, for example, the three women—donning vintage dinner dresses—line up and chant "candy" as they chow down on the cob, spitting the corn out on "corn!" when they reach the end, like a typewriter. That track makes its way onto The Apple Sisters' debut album, along with other tracks that showcase their playfulness with the radio form. They sing about heading out to California, Drippins Gravy "The champagne of gravys," and how kisses are like bowls of pudding. The language is modeled after the '40s with some comical breaks in the form. On "What The Cluck," despite singing about how "This hen can go roosterless," the girls freak out when it seems like one is going to say the word "sex" to complete a rhyme; once the freak-out is over, she just yells it anyway. The timing is impeccable on The Apple Sisters, as are the tight three-part harmonies, making the album infinitely re-listenable as well as comically savvy.
The album's been out for a bit, but the sisters just released the video for "Pink Wine" a few days ago:
Here's a version of that corn sketch:
Film: Salty Language, Peppered Morals
Comedian Mike Stanley isn't new, but he's a relative rookie to the national stand-up scene. Yet he's as thoughtful about the craft and his career as any veteran, as evidenced in the brisk, enlightening documentary Salty Language, Peppered Morals, which is currently touring the fest circuit. Filmmaker Andrew Zeiter lugged his camera along on a road trip with Stanley, following the Chicago comic to a contest at the Boston Comedy Festival. There's $10,000 on the line, and the documentary captures Stanley's freak-out, subsequent introspection, and inevitable acceptance of his set. There's comedy, too—Stanley's wry observations and self-deprecation—made more exciting by the behind-the-scenes glimpse we get into his process, like when he nails a set after a lackluster one the day before. Stanley is insightful throughout, proving comics of all stripes have something to say, and say it well.
Check out the trailer, plus some stand-up from Mike Stanley:
Here's another Stanley/Zeiter collaboration:
Internet: Funny Or Die's "The Big Dog"
The choice of content in Funny Or Die's first-ever short film, "The Big Dog" (17 minutes) isn't too surprising: After a pathetic pizza store employee (Ron) gets laid off, he concocts a topping combination called "The Big Dog" that he hopes will earn him back his job and access to unlimited garlic dipping sauce. It has the kind of singularly focused cocksureness Will Ferrell and Adam McKay have played with on Eastbound & Down; for example, Ron is so obsessed with his Big Dog he fails to differentiate it enough from a Pizza Hut meat-lover's pizza. But much like Eastbound & Down, "The Big Dog" mixes moments of outrageous comedy with harsh sobering reality, like when Ron cries out that Rich, the summer hire who doesn't care for Ron very much, is his best friend. Starring Charlie Sanders, Bob Odenkirk, Jessica St. Clair, and Rich Sommer, "The Big Dog" sustains its inflated 17-minute running time and hopefully paves the way for more long-form buffoonery.
Watch "The Big Dog" in its entirety:
(h/t The Comic's Comic)
CD/DVD: Doug Benson, Hypocritical Oaf
Doug Benson's third album (second on Comedy Central Records) is his most polished yet—though Benson's version of polished includes a couple of joke misfires and a guy randomly yelling out "chicken porn!" Like last year's Unbalanced Load, the material still covers Benson's daily run-ins with crazies and his musings on weed and weed-related activities. But he's much more confident letting the audience in on his weirdness, which works well with Benson's stories of visiting a weed-prescribing doctor and receiving the mythical "booty, weedy text." Sadly the looseness of Benson's CD is largely lost on the accompanying DVD, a collection of two Comedy Central specials that's scrubbed of Benson's casual pace. The jokes still hit, but they seem overly polished. The CD, then, becomes the gateway to some Benson secrets: On it, he explains that he makes fun of McGriddles and was told it was all right as long as he followed up with, "I love McGriddles." We all laugh; then, on the DVD, he actually does it. Benson's mastering the art of getting audiences in on the joke, and it's serving him well.
Here's an interview Benson did with Puchline Magazine to promote the new album:
And hey, all of his film Super High Me somehow made it to YouTube. Here's part one; the rest are in the right rail:
CD: The State, Comedy For Gracious Living
Comedy For Gracious Living, the "long lost" album from the sketch group that birthed Reno 911!, Wet Hot American Summer, and Stella was clearly made with State fans in mind. The short tracks—the longest by far is four minutes and change—are surreal State sketches in pure audio form: A song about horrible sounds animals make; a balloon man who cuts himself shaving; the maniacal "Dr. Shrinkyballs." It holds up really well when The State plays up unexpected ridiculousness, like when Sherlock Holmes can't decipher the thick, nonsensical accent of Watson and the client. On one track, though, Kerri Kenney sings a whiny ballad to a guy named Steve; on another 11-second one, she makes a guttural sound. This is an album the way The State wanted to make it, warts and all—and in some cases, it's a great thing. In the middle of "Kingston College," in which two louts vie for admission, straight-man/interviewer Michael Showalter loses it. The rest of the cast snickers their way through the remaining lines, now far more over-the-top than before. It's a moment of pure comedy pleasure, captured and finally released for us devotees. You'll wanna dip your balls in it.
CD: Matt Knudsen, The Comedy Stylings Of Matt Knudsen
Knudsen mixes droll observation with dry, almost hypnotic delivery. A Los Angeles transplant, Knudsen discusses on his debut how he chose the Clippers as his team to follow (which elicits a groan from the audience), and that they were not, well, good. "But it's fun to follow a team that always loses, because you can get courtside seats for, like, 50 bucks," he adds in complete deadpan. "And for a hundred, theyyyy let you play." The delivery invites audiences to raise an eyebrow rather than heartily laugh out loud, but Knudsen's material weaves through hare-brained premises that are anything but stock. On flakiness: "I miss the courtesy of being lied to." On the perpetual cheapness of male wedding rings: "This one is forged from the lid of a Jiffy Pop." There's a leisurely pace to the material that's sometimes patience-trying but never boring. Knudsen lulls audiences along, and the twists become more pronounced: "You know you're in a small-town airport when there's an announcement on the PA system that says, 'Ron, come here.'"
Here's Knudsen on Craig Ferguson:
Bonus: Jay Pharoah
Saturday Night Live just cast a slew of new writers and actors, all of whom seem poised to reinvigorate the snoozefest that show has become. If SNL is going to continue to flog impression-based sketches, they've at least got a find in Jay Pharoah. Here's him doing 50 impressions on YouTube—all of which are impressive.