People are still reeling from the news that Amazon is reportedly spending more than $1 billion on its Lord Of The Rings prequel series alone. Consider it a testament to just how desperate streamers and networks are for the next buzzy show, the likes of which can pull in more viewers than any amount of clever marketing. Apple, too, has invested a billion of its own into original content space, while Netflix spooned roughly $8 billion into its own library.

Showtime president and CEO David Nevins didn't mince words when speaking on the state of TV at TheWrap's TheGrill conference on Tuesday. "There's a lot of people paying top dollar and it's definitely gotten more expensive, no question about that," he said before declaring this hunt for original content "an arms race." Cue the Fall Out Boy.
By his estimation, there's roughly "$84-85 billion" being spent on TV right now, with Netflix, Amazon, Hulu, and Apple comprising about $19 billion of it. He predicts that "in two years, the total number will grow to $100 billion with a 70-30 split between traditional TV and tech companies," TheWrap reports.
Nevins also says that Showtime, which has seen success with series like Dexter, Shameless, and Billions, will also "ratchet up" its output. Not too much, though, as he warns that the more is more approach of platforms like Netflix does a disservice to its content.
"There's a lot of shows that have gone on to one of the streaming services that have kind of disappeared without a trace," he said, bringing to mind, for us, promising, short-lived programs like Netflix's late The Joel McHale Show.
G/O Media may get a commission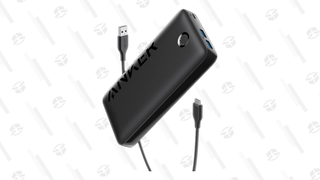 20% Off
Anker 335 Power Bank
He added, "That doesn't happen if you go on AMC or you go on Showtime."
Beyond the Netflixes and Amazons of the world, Nevins' comments could also be read as a subtle dig at HBO's horrible new strategy, which is, under the direction of Warner Media CEO John Stankey, to go "bigger and broader," which we're sure will go great for them.  
Still, it all raises the question: Do networks try to emulate the tech giants, or do the tech giants try and ape the networks? Choose your fighter.