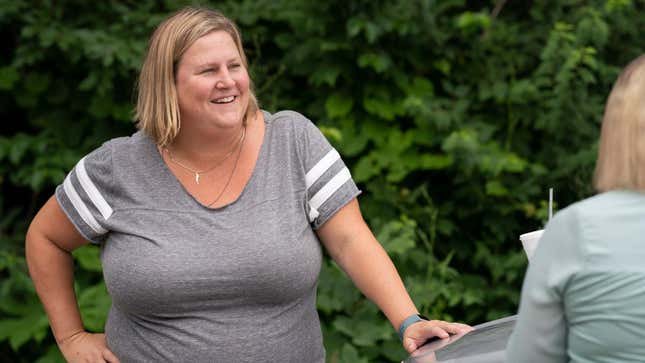 Any praise for Somebody Somewhere risks sounding (and, in turn making the show sound) incredibly precious. It's a gem, I like to say. It works at a low-key register, I intone. It's nice but not cloying, I insist. In fact, the more I praise it in such terms, the more it feels like I'm hedging its impact, as if I can't stake its importance without shrinking it—or, better yet, acknowledging how much it's doing within its intentionally small and quotidian sensibility. This may well be a show about smallness, about finding comfort not in big ambitions but in more homegrown endeavors.

Never Have I Ever's Poorna Jagannathan and Richa Moorjani on working with Mindy Kaling
Sam left New York City and has come back to Kansas. Joel has few aspirations outside of making a happy life for himself in his own backyard. Heck, even Fred came back to town to get married to the woman of his dreams. These are not presented as compromises or outright failures. To the contrary, Somebody Somewhere constantly presents these characters as worthy of our attention precisely because they are making the most of what they have. On another show, for instance, Brad (Tim Bagley) would be both set-up and punchline.
Brad, after all, is a middle-aged church-going teacher who seems perfectly content taking singing lessons (even if he's not very good at it), getting his steps in, and gently chatting up the likes of Joel about, well, everything. You can almost hear Sam's snickers in the way Joel is tiptoeing around how much he likes Brad. Yet the show is intent on making us root for Brad and Joel—helped in no small part by the chemistry between Bagley and Jeff Hiller. The two are clearly relishing these character meet-cutes, which in turn allow Joel and Brad to talk at length about the way queerness and spirituality can coexist (not something that gets discussed with much nuance on cable television). When, after all, has a crisis of faith led to such funny and tender moments as what we witnessed after Joel was caught all but stalking Brad by his church? (Yes, I'm still laughing over the deadpan way Bagley delivered, "I saw you sitting there in your LeSabre," and as soon as I'd recovered he did it again with "You blessed a goat? That's pretty cool. But you know, nobody likes a bragger!")
But if Joel and Brad's budding…let's say friendship since so little else has been suggested nods us toward understanding how we may find joy without looking far, Tricia and Sam presented us with ways that can sometimes be harder to do. Sam, who's given up on her singing lessons after her "love" freakout, is still a tad adrift, moored only by family requirements—like driving her mom all the way to Wichita where hopefully she'll get the help and treatment she needs (no matter how unconscionable cruel she may be). At least Tricia seems to have some drive right now; but what is Sam really wanting to do? Wanting to be? (For much of the episode it's clear she wants to be anywhere but in the car stuck with Tricia and her mom and that super awkward silence the two so nurture, but I mean this in broader terms.)
That's a key question if we believe Tricia's "Lying Cunt" pillow may be the path forward. This after she bemoans that what she had been working on vanished in the blink of an eye when she found her business partner slash BFF had been sleeping with her husband: How is Tricia supposed to move on when it seems nothing's left of years' worth of work (personally and professionally)? Sure, NSFW pillows may not be the direction Sam's sister may want to follow (that plays well on Instagram, but she wouldn't be able to talk about it in church!), but her rage at her husband is clearly opening up something within Tricia that may propel her to a solid business opportunity. One that hopefully doesn't get too much in the way of her event planning. (I can't wait to see what she's done for Fred and Susan.)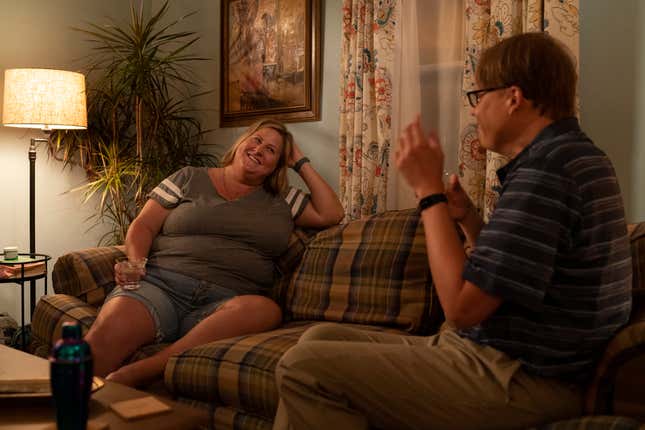 Can Sam find inspiration from Tricia and Joel? That's my hope. And with the gesture of offering the barn and the farm for Fred and Susan to host their wedding, we may finally be getting a gentler version of Sam who says yes (to steps! to new people! to love, maybe?) more often than she snidely says no. This is someone who still playfully bristles at Joel's affection ("I'm really starting to believe you really care about me," she jokes to him early in the episode) so her turn toward earnestness feels like a move in the right direction. And, of course, it comes courtesy of a letter from her dad—replete with a funny drawing of a cow! He was always able to find the lighter, softer side of Sam, and I'm glad that even in his physical absence the show has still been able to let him balance Sam's more cynical (and outright exasperated) tendencies.
Maybe that's what makes me wistful about this show. Somebody Somewhere is gentle without being coddling (a B-plot is about a cruel alcoholic, remember?) and sweet without feeling saccharine. (You heard how many times they said "cunt," right?) It may work at a small scale but it's so bighearted, its bright moments shine all the more. I'm just thankful we get to bask in its warmth week in and week out.
Stray observations
Kudos to Somebody Somewhere (and Sam) for calling out Tricia's sound on text tones. I know on TV it's de rigueur to keep such sounds on to make sure we understand people are, I don't know, texting or typing or answering calls, but as someone whose cell phone hasn't made a mere beep in more than a decade, it was lovely to see it being called out as a rude (if TV-friendly) practice. No one needs to hear you type, Tricia!
"Live Laugh Cunt" may be my favorite of Sam's "Lying Cunt" spinoff ideas (with "New Cunt, Who Dis?" a close second).
Speaking of… every time we get glimpses of the Bridget Everett-NYC cabaret sensation (anyone remember her "BFP" banter at The Public?), I get very excited. Mostly because she exists as a kind of shadow version of Sam, someone Sam could still yet be but perhaps never has to become. Still, the intermittent raunchiness we sometimes see in Sam is classic Everett, and we're all the better for it whenever it gets captured on camera.
Joel truly is out of this world: WHO SURVIVES OUT IN THE WORLD WITHOUT THEIR PHONE FOR AN ENTIRE DAY!?
I agree with Sam on a lot of things but "most everything is better than children laughing" has to be a top-tier opinion I unabashedly agree with.
Tinis and donuts sounds like the perfect evening now doesn't it?
I've never been to Kansas but "God this is a boring state...there's nothing to look at" as images of plain fields whizzed by made me grin stupidly.