Note: This article contains plot revelations for A Ghost Story.

Every year around this time, entertainment journalists, having nothing much better to do, bemoan the absence of certain names in the Best Director race, speculating about whether those filmmakers may be unjustly ignored when the Oscar nominations are announced. This season's primary cause célèbre has been Greta Gerwig, passed over for her direction by the Independent Spirit Awards and the Golden Globes, even though Lady Bird was nominated for Best Picture in both cases (and has already won the Globe for Best Musical/Comedy). When Gerwig did get nominated for a Directors Guild Of America Award last week, Lady Bird's distributor, A24, tweeted out congratulations that began "Perfect movies don't direct themselves," echoing rhetoric that's been kicking around for decades. I remember Billy Crystal using it (in song!) way back at the 1992 Oscars, when Barbra Streisand failed to get a director nomination for The Prince Of Tides: "Seven nominations on the shelf / Did this film direct itself?" So thunderous was the applause in response that Crystal had to pause his routine until it died down. (For those wondering, the beneficiary of this ostensible injustice was either John Singleton—the first black Best Director nominee ever—or Ridley Scott. The other "directorless" Best Picture nominee was Beauty And The Beast.)

Of course, it's no longer even possible for Best Picture and Best Director to line up perfectly, since the number of nominees in the former category was expanded (effectively doubled) back in 2009. The very idea that they should, though, has always seemed ridiculous to me. Even if you're a hardcore auteurist who ascribes 100 percent of a masterpiece's greatness to its director, you'd have to concede that there's no real point, in that case, of having two separate categories. It's redundant. Just give a Best Picture statuette to the film's director, as well as to its producers, and shave eight minutes off of the telecast. That would please everyone but the entertainment journalists, who'd be deprived of a valuable annual talking point.
I'm more of a softcore auteurist myself and have spent enough time on film sets to know that much of what a director does is invisible to the viewer. (More of the job than you'd think entails shepherding the labors of a dozen different departments; it's very much like being a large company's CEO. This is true even of micro-budget indies with tiny crews.) Rather than just give up and conclude that the best films must logically be the best-directed films, I instead try to determine, when voting for Best Director in year-end critics' polls, which movies most impressed me from a purely visual standpoint. Admittedly, there's plenty of crossover there with various technical categories—cinematography, editing, art direction, costume design—but I generally boil it down to a simple question: "Who knew exactly where to put the camera?" When I come at it from that angle, Picture and Director diverge just enough to make things interesting. Films that are superbly written and acted but formally uninteresting drop out of contention, regardless of their rank on my list of favorites. (No good examples from 2017, but I didn't vote for Maren Ade in Director the year before, even though Toni Erdmann was my No. 1 movie.) On the flip side, a filmmaker sometimes gets my vote for directing a film that I didn't even especially like.
Which brings me to A Ghost Story—for my money, last year's most stunning directorial achievement, as well as… hang on, lemme check my ludicrous rundown of literally everything I saw ranked in order of preference… last year's 26th-finest commercially released motion picture. There's no point in going into detail about my reservations, as they're unimportant to the case I want to make. Suffice it to say that the film's narrative takes an unexpected turn (backwards) late in the going that just did not work for me. It's enough of a deal-breaker to keep A Ghost Story from being one of my favorites from 2017 (though it placed eighth on the A.V. Club's collective list, without my help), but the screenplay, written by David Lowery, is entirely to blame. The director, who also happens to be David Lowery, doesn't make a single false step.
G/O Media may get a commission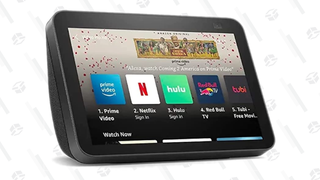 Arguably, Lowery deserves far more recognition than he's getting based on the degree of difficulty alone. Most movies feature at least one active protagonist who drives the story forward; passive protagonists—often found in literary adaptations, minus the interior monologue that made them memorable on the page—usually spell trouble onscreen. The actors who play them generally still have a face, though, and corresponding facial expressions that can convey emotion. A Ghost Story devotes the vast majority of its running time to a man (which in any given shot may or, more likely, may not be Casey Affleck) wearing a bed sheet over his entire body, with two pitch-black eyeholes offering no window into his soul. Old-school, Romero-style shuffling zombies have more personality. Every once in a while, Affleck or whoever manages to signal, say, curiosity with a slight movement of the head beneath the sheet, but that's not even remotely enough to sustain a feature-length film. Quite a challenge Lowery the screenwriter served up.

Lowery the director is up to the task. Shooting in the square-ish Academy ratio, he generates drama and empathy almost entirely from where he positions the ghost within the frame. When the ghost travels by foot from the hospital morgue to its former home, the camera is so far overhead that you can barely spot the white-clad figure below, which makes the journey seem forlorn rather than, well, silly. Inside the house, this intentionally un-scary specter is alternately foregrounded in discomfiting proximity to the lens or relegated to an impotent distance. When Rooney Mara sits down on the kitchen floor to grief-eat almost an entire pie over the course of four unbroken minutes, the ghost observes her from so far away, motionless (and without its eyeholes even visible—they're just above the top of the frame), that it can initially be mistaken for a piece of furniture or drapes. Part of the reason that the shot goes on for so long, presumably, is to give everyone enough time to register the ghost's presence, as it had been offscreen (though still in the room) for several minutes by that point. This sort of blocking plays a crucial role in any thoughtfully directed movie; here, it more or less is the movie, carrying all of the emotional weight that would normally fall upon the shoulders of its lead actor. I find it uniquely thrilling to watch.
Lowery also manages to suggest the ghost's non-corporeal experience of time passing without resorting to clunky exposition. Shortly after the ghost first appears, we see it watch Mara leave the house three times in what appears to be a single shot, creating the impression that separate days blur together from its perspective. Throughout the rest of the film, the ghost will frequently turn around and find itself in the same room weeks or months or possibly even years later. Cinematographer Andrew Droz Palermo deserves some of the credit for this effect—it's usually accompanied by a subtle shift in lighting—but it's Lowery's idea conceptually and accomplished with seemingly effortless skill. And while I'm not crazy, as previously noted, about the direction (quite literally) that A Ghost Story takes in its final 20 minutes or so, the way that Lowery visually handles those leaps remains impressive. So, too, does his ability to suggest, on the tiniest of budgets, a narrative that spans millennia—indeed, possibly (depending upon how full of shit you think Will Oldham's monologue-spouting hipster is) the entire history of the universe.
When I brought this subject up on Twitter a while back, fellow A.V. Club writer Jesse Hassenger (who did love A Ghost Story) gave me some friendly pushback, saying that he saw no need to go looking for first-rate direction among movies that failed to make his list, given the bounty of superb direction available from the list itself. It's certainly not as if I couldn't find any strong candidates among my own favorites: Darren Aronofsky, Bertrand Bonello, and Yorgos Lanthimos (who helmed Mother!, Nocturama, and The Killing Of A Sacred Deer, respectively) are very close to being equally deserving in my eyes. As I told Jesse, though, I didn't "go looking" in an effort to be contrarian. I simply watched A Ghost Story and thought it the single best formal achievement I'd seen all year. Why should my dissatisfaction with other aspects of the film negate or even dilute that assessment? We've all seen great performances in otherwise crappy movies, heard a terrific score wasted on disposable garbage, etc. There's no sensible reason for Best Director to be yoked to Best Picture, so long as we're distinguishing the two with separate categories in the first place. Hell, I can even imagine an extreme hypothetical case in which there'd be no overlap at all. (The Oscars have come pretty close on occasion. Only two of 1954's Best Picture nominees, for example, also scored in Director; Alfred Hitchcock, William Wellman, and Billy Wilder hijacked the latter.) Talent isn't restricted to the tiny pool of consensus hopefuls that emerge every fall. It's everywhere. Cast a wide net.