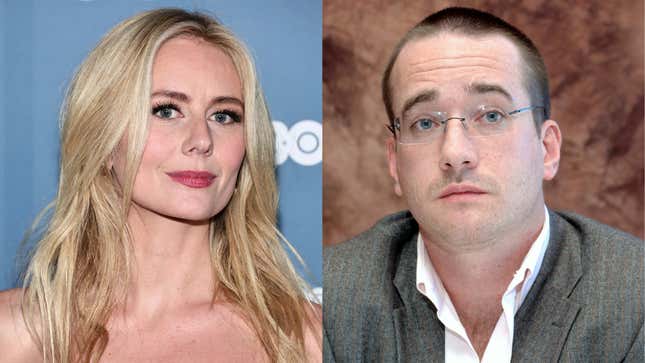 "Swoon-worthy" isn't exactly the first adjective that comes to mind to describe founding Disgusting Brother and utterer of the phrase "love portfolio" Tom Wambsgans. But for classic romance aficionados, Matthew Macfadyen—who plays the character on HBO's Succession—absolutely invokes the word. Just ask his co-star Justine Lupe who, like so many, saw Pride & Prejudice and fell head over heels for Macfadyen's quietly dashing Mr. Darcy.
"Oh my gosh," Lupe tells The Independent's Ellie Harrison in a new interview. "I don't know how you could watch Pride & Prejudice and not be in love with Matthew Macfadyen."
Lupe even remembers the movie theater where she first saw the 2005 film: the Esquire Theater in Denver, Colorado.
"I saw it with my mom and I walked out of it and thought, 'There's no one more dreamy than that man in that movie.' Like, it's just perfect," Lupe recalls. "I had a boyfriend at the time and I named him Mr. Darcy in my phone. Like immediately. Walking out of the movie theatre. I was just so smitten with him."

Cut to some years later, and Lupe found herself in a uniquely full-circle position—acting alongside Macfadyen on Succession, which just premiered its fourth and final season. Meeting him on set, Lupe humbly admits that she had "zero chill."
"Within the first couple of episodes I went up to him and I told him I'd been in love with him as Mr. Darcy. He was like," she says, before diving into a British accent: 'Oh, that's so… thank you… oh, OK.'"
What is it about Macfadyen's performance that moved Lupe so significantly she changed her boyfriend's contact to Mr. Darcy? According to her, it's pretty straightforward: Macfadyen had a damn good read on a damn good book.
"I mean, Jane Austen knows how to write her men and he knew how to perform him so well," Lupe says. "So that's that!"