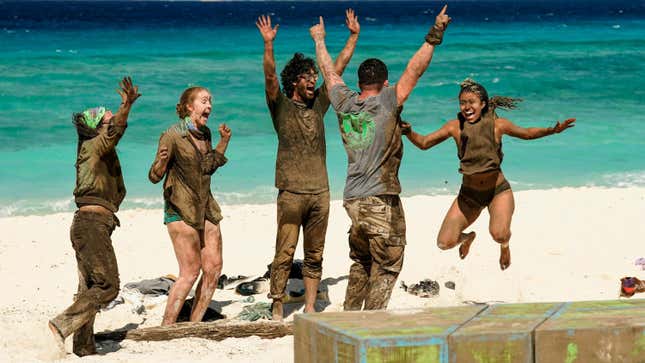 In the opening minutes of the premiere of Survivor's 44th season, which aired March 1 and marked 22 years of the show, host Jeff Probst insisted—during his dramatic welcome speech to the new batch of contestants—that the series is always a "new game" because it always has "new players." But is that really true? On the one hand, how can it be? They're calling the season Survivor 44, for one thing, and, again, this show has been on for 22 years.

The answer is: yes—but not for the reason Probst claims. The game isn't always new because of the new players; it's because of the fact that Survivor is a game—and this most recent premiere episode positively reveled in that fact. This wasn't a game like Big Brother is a game. This was a game like Mario Party is a game, complete with people crying and going home (which happens all the time in Mario Party).
A big reason for that distinction is that this season's kickoff episode had no illusions about being "real" in any way. Nobody is coming away from this thinking that these contestants are actually trapped on a deserted beach and their only contact with the outside world (that doesn't involve a camera operator) is when Jeff stops by to give them a new challenge. The medical team showed up, on camera, four times in this installment, starting immediately with the first task that the teams had to complete when they got off their boats.
The game involved crawling under a wooden thing, grabbing a big puzzle piece, and then lugging it back to your team, and one player smashed his head so badly that blood was pouring down his face for what appeared to be several minutes before the medical crew came in and checked him out. Jeff even sat with them and asked about what they were doing so they could explain it to the audience. Everyone even cheered when he appeared to be okay, like you would … during a game.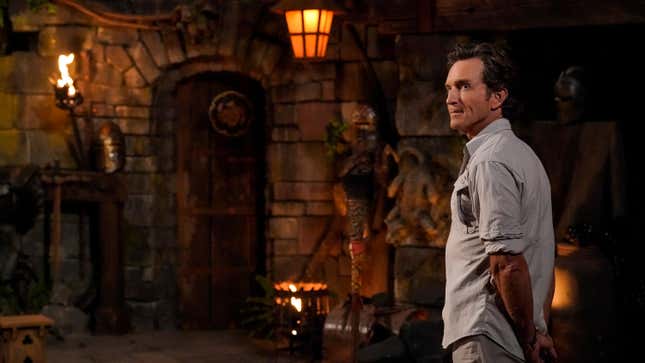 G/O Media may get a commission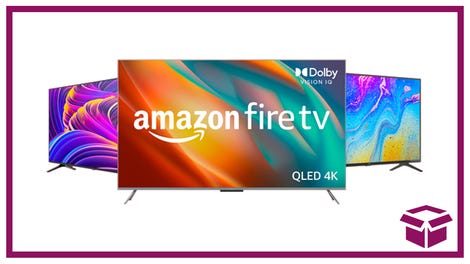 Ooh. stunning.
New Amazon Fire TVs
The medical crew returned for him later that night at his team's camp when he suddenly got a terrible headache and seemed to be on the verge of completely losing consciousness, and at that point Jeff came back and sat with him, explaining that he was going to have to leave the game so they could get him checked out. This moment felt like real drama, not reality TV drama, specifically because it was abundantly clear that this was happening on a TV show and that they had to keep this guy alive for the sake of the TV show.
Another player hurt his arm climbing on some rocks after getting too enthusiastic about the fun of being on Survivor, and a third player had to get checked out by the medical team when he almost collapsed during the final immunity challenge. At no point did the show try to make it seems like someone was really hurt and could die. It was all presented matter-of-factly as "something bad happened and the experts rushed in to help." It's a refreshing kind of honesty that doesn't treat the audience like they're stupid, simply by acknowledging that this is a game and that none of it is really real.
The other big plot thread in this premiere was every contestant being overly concerned about how they're perceived by the other players, which is a game-ass game thing to happen in a game (as we explained when we looked at the most interesting contestants ahead of the premiere). One woman, Carolyn, confessed to a teammate that she really wanted to start inserting herself into other people's conversations so she could be a part of any gaming, but she didn't want anyone to think she was gaming.
Another player, Matthew (the guy who jumped off the rocks), came up with the idea of having his tribe split off into groups to look for a key that would open a secret mystery near their camp, and he explained in a talking-head interview that he did it so nobody would be able to keep the key a secret. And, naturally, everyone immediately got super weird and paranoid once they were in smaller groups, to the point where a guy named Brandon found the hidden key, told somebody (as was the agreed plan), and then got treated like a weirdo for deciding to tell the whole tribe immediately rather than lying and keeping the contents (a not-so-secret secret immunity idol) hidden. Everyone's playing the game, but they don't want anyone to know they're playing the game, which just underlines the fact that it's all a game.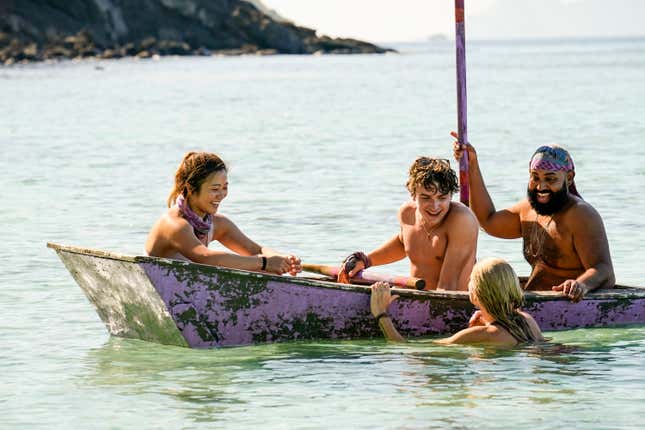 The final third or so of the episode was basically nonsense for anyone coming in and expecting a show about surviving on an island. One player from each of the three tribes was picked up by a boat and given a chance to randomly pull out a secret Advantage power or loser card that made them ineligible for voting at the next Tribal Council. When Matthew's team lost the immunity challenge and he found out that the woman his tribe sent on the boat was being shady about whether she got a secret prize or not, he tried to convince everyone to vote her off and negate whatever her prize was—not realizing that she was in the process of turning everyone against Brandon for being weird about the key and his immunity idol. Their reasoning was that he'll never see it coming and won't know to use his immunity, which will then take it off the table in the future.
This kicked off a wild Tribal Council where three people cashed in special abilities, one after another, as if it were the final turns of the card game Fluxx. Everyone was so uncertain about their fate that two people even used their "Shot In The Dark" moves—a thing you only get to do once—to try and gamble for last-minute immunity, and even that worked out in a weird way.
Shot In The Dark is a fairly new Survivor twist in which each contestant gets one opportunity to trade their vote for a random scroll that says either "Safe" or "Not Safe." If it's the former, any votes against you don't count. If it's the latter, they do. In the four seasons since introducing this mechanic, no one has ever drawn "Safe" until this episode. And it didn't even matter! The woman who drew it, Jaime, didn't get any votes against her.
But, because of the Shot In The Dark shenanigans and everyone's weird vibe, Brandon did use his Immunity Idol, negating all of the votes against him. So, by the time the dust cleared, the player sent home only got one vote against her. A 90-minute episode, with four medical emergencies and a cartoon Tribal Council, and it all came down to one vote. If this were a board game, everyone involved would've flipped the table.