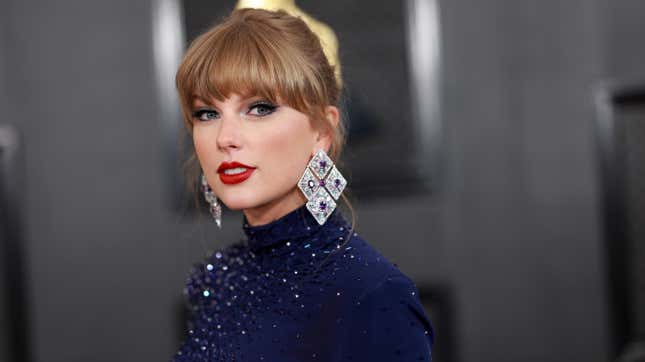 Taylor Swift sure knows how to keep her fans happy. The Eras Tour is imminent, during which she will play tracks from throughout her nearly 20-year career. (That includes albums that she's never gotten the chance to play live, like Lover, folklore, evermore, and Midnights.) Never content to rest on her laurels, though, the superstar delighted Swiftie nation by announcing a few new songs before the tour kicks off.
"In celebration of The Eras Tour I'm releasing 4 previously unreleased songs tonight at midnight," Swift posted on her Instagram story with some cute emojis. The unreleased tracks in question vary in levels of unreleased-ness: "Eyes Open," "Safe & Sound," and "If This Was A Movie" are all "Taylor's Version" tracks from previous albums, while "All Of The Girls You Loved Before" is a brand-new track, reportedly from the Lover era, that recently leaked online.
Perhaps the most remarkable part of this news is that Swift reunited The Civil Wars for "Safe & Sound." The Grammy-winning duo comprised of Joy Williams and John Paul White was featured on the original track, but not long after the song was released in 2012 they canceled their tour, citing "irreconcilable differences." They continued to release music for a time, but announced a permanent breakup following the release of their eponymous second album. The re-recording of "Safe & Sound" is the artists' first collaboration since 2014.
The second most notable thing about this new collection of Taylor Swift tracks is how completely random they are. "Eyes Open" and "Safe & Sound" are tracks from the first Hunger Games soundtrack, which Swift curated in 2012. "If This Was A Movie" is a bonus track from Speak Now, an album fans have long been speculating would be Swift's next re-recorded album. And, as previously mentioned, "All Of The Girls" is one of a few leaked tracks that recently made its way to TikTok.
This disparate set of songs does not go a long way to answering the eternal question on Swifties' minds, which is "What is Blondie up to?" Releasing the Hunger Games tracks outside an album cycle makes some sense, since they won't get their own "Taylor's Version" album. There's no rhyme or reason to why she chose to release "All Of The Girls" over the other alleged Lover leaks, or why she wouldn't release full versions of the leaks at the same time.
G/O Media may get a commission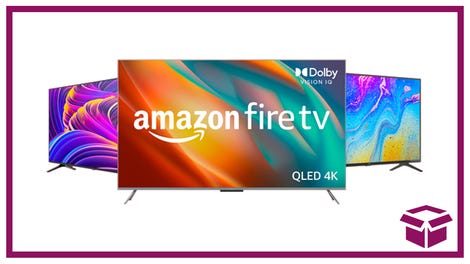 Ooh. stunning.
New Amazon Fire TVs
Throwing in "If This Was A Movie" seems designed purely to throw fans off her scent: It's from Speak Now, but it's not even one of that album's biggest songs, unlike "Dear John," "Mean," or "Back To December," for instance. (It is the only song from the album, deluxe or otherwise, that Swift didn't write entirely by herself, if any intrepid Swiftie can extrapolate a reason for its inclusion from that fact.)
Seeing as how the Eras Tour starts tomorrow, fans who theorized that Swift would release Speak Now (or one of the other remaining albums up for a re-record) before the tour began are clearly mistaken. However, these new tracks—not to mention the actual tour itself—are sure to tide her adoring public over in the meantime. Happy listening, Swifties!