An evocative narrative and stark dialogue keeps Uzodinma Iweala's Speak No Evil from a single dull moment. In Washington, D.C., two teens struggle with their identities and their futures. Niru is reaching adulthood, with one year left before he graduates high school. He's overwhelmed by the pressures exerted by his traditional Nigerian immigrant parents, his homosexuality, and conforming to the standard of his peers. His best friend, Meredith, understands less and less of Niru's inner conflict and drifts further away, battling her own lack of self-acceptance. Perspectives crisscross and flit between chapters as characters fight, cry, and grow up. Speak No Evil tells Niru's and Meredith's stories, of the guilt these two almost-adults carry with them, and the far-reaching consequences of actions they'll struggle with for years to come.
Iweala addresses incredibly sensitive topics through his characters. Niru's guilt over his recently discovered homosexuality is debilitating. Once his family uncovers what they consider his unwanted evil, Niru is pushed to undergo "treatment" in the United States and to go to Nigeria for "spiritual" care. Niru himself resists his sexual feelings toward men. He reminds himself what his Reverend Olumide says again and again: "Young men should do the things that young men do." His guilt over his sexuality colors nearly everything, tearing Niru apart; every conversation and thought transforms into denials and retreats, and acceptance seems more and more impossible.
Iweala's dialogue, which omits quotations, is instrumental to bringing characters and scenes to life. Conversation, seen from Niru's point of view, quickens when words heat up and arguments begin. Sentences run on and on with rhythm until cut with a blunt description or jarring thought. When Niru and Meredith fight at a party, the alcohol thickens the atmosphere and blurs the argument. The reader can only see through Niru's eyes:
Let me go, she says. She says, let me go, I didn't make you gay. This world is so unfair, so very unfair my knotted stomach says to my brain and to my hands which clench around her flexed muscles, but now with anger and as her eyes search my face again, now with rage. Well maybe Harvard didn't take you cause you're a lying ass-face. There is no more color in her face and then I cannot see her face because my eyes burn...
G/O Media may get a commission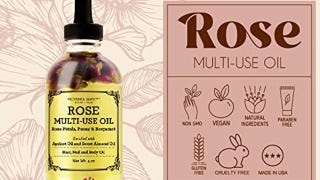 Provence Beauty Rose Multi-Use Oil
While Niru documents their childhood, Meredith's perspective, told from the vantage point of years after the events of high school, reflects on the past. As a teenager, Meredith craves adoration from her emotionally unavailable politician parents, and from the conflicted Niru. Abandoned and seeking attention from her hawkish male classmates, Meredith loses herself in attempts to understand what she needs and who she is. Her later guilt manifests from a singular event, out of her control, that happens at the end of the school year: a devastating moment that tangles the Meredith and Niru and their families for years to come, which leads to Meredith's eventual return home six years later to address what happened.
Speak No Evil delves deep into a swamp of familial pressures, guilt, and acceptance. There are moments of over-explanation that lessen the blur of emotion and consciousness Iweala writes so profoundly. Still, his characters' rawness and beauty overwhelm page by page, looping their two stories into one heartbreaking narrative, one that embodies and echoes the pains of current, broader inequalities.