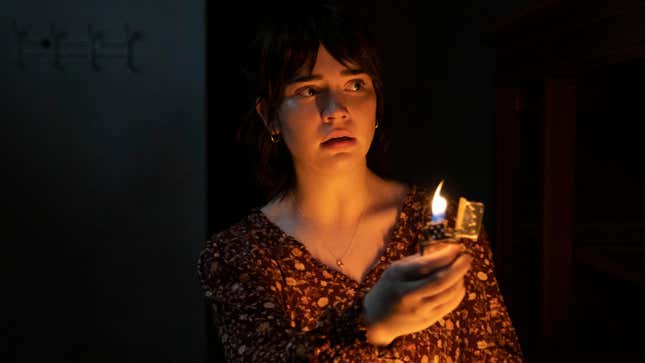 Stephen King's 1973 short story The Boogeyman is not exactly a cinematic tale —it's essentially a deranged man's monologue to his therapist about the creature that killed his three kids—so it's ultimately a wise choice for the film version to take extreme liberties with the term "adaptation." This should come as no surprise to fans of King's written work and the cinematic versions thereof, as King is a uniquely difficult author to accurately and compellingly translate to the big screen. So it's heartening to realize that screenwriters Mark Heyman (Black Swan) and the duo of Scott Beck and Bryan Woods (A Quiet Place) aren't even trying that angle, instead developing their own take on the "monster in the closet" thriller that plays more like a sequel to King's work than a misguided attempt at realizing the same maladjusted character study. And the results are just as terrifying in their own right.

What we learned from the "Obi-Wan Kenobi" trailer
Therapist Will Harper (Chris Messina) is struggling to address his own grief and raise his two daughters–teenaged Sadie (Sophie Thatcher) and Sawyer (Vivien Lyra Blair)–in the wake of their mother's tragic passing. When a disturbed man (David Dastmalchian) shows up to Will's home office for an impromptu appointment and rambles on about a monster that killed his children, Will fails to believe him. And while Will calls the police, the man apparently commits suicide in a closet. However, as Sawyer starts to see shadows in her own closet that worm their way into the rest of her perpetually underlit house, it becomes increasingly clear that there may be some truth to the story of the so-called boogeyman.
It's actually Sadie who serves as the film's protagonist, which is simultaneously a blessing and a curse. On the one hand, focusing on Sadie's inability to let go of her grief is a more interesting and active narrative angle than Will's inability to accept his family's crumbling reality. Yet the film also has a tendency to divide its scenes between emotional introspection and creature feature terrors, so while Sadie's poor transition back into high school life is compelling in its own melodramatic way, there's a sense of whiplash when she shifts into being a one-woman Scooby gang and The Boogeyman reminds you that it is, in fact, a horror movie.
Director Rob Savage (Host, Dashcam) proves just as deft with stable cameras and a budget as without, playing with light and shadow so effectively that it's no wonder 20th Century Studios scrapped plans to drop the film on Hulu and instead release it into theaters. Sawyer's nocturnal hauntings are dominated by darkness, and our perspective is just as helpless as hers. Moving and blinking lights cause shadows to slither and meld together so you're never quite sure what you're looking at, though a pair of reflective eyes and eerie echoes assure you that something is in the murk. These are jump scares done right, where the struggle to see what's there is much more effective than any cheap lurch into frame.

It's perhaps most fascinating, then, that by its climax, The Boogeyman's strengths and weaknesses find themselves swapping positions. The meandering, if capably acted, dramatics of the Harper family come into sharper and more compelling focus in the third act, resolving each of their respective arcs with nuance and grace. Unfortunately, the boogeyman itself becomes a victim of overexposure, abandoning its ethereal nature for one of solid shape and skeletal structure, proving why the unknown is more horrifying than the anatomically concrete. It certainly doesn't help that the monster's computer-generated design isn't exactly inspired or novel, but it's more frustrating that the film doesn't stick to its convictions by continuing to let our imaginations fill in the missing pieces.
The Boogeyman is the rare 98-minute film that feels like it needed further tightening to reign in its dramatic dalliances, but it's also a film that hits hard when it decides to unleash its beast. What ultimately makes an impression is the lurking sense of danger and the taunting playfulness of a monster (and filmmakers) with its own private sense of humor. Tense, vicious, and sometimes just a little bit mean, this is a perfect film to watch with the lights off.
---
The Boogeyman opens in theaters on June 2, 2023