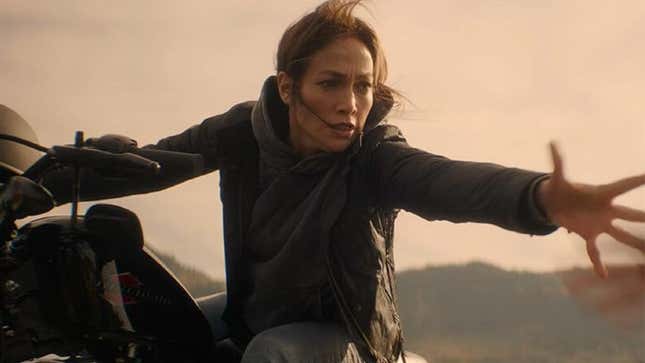 In the pantheon of female assassin films, many have shown grit and gravitas, but only a handful have nailed their targets. This is especially true in the case of original features for the streaming services. While recent international offerings from Netflix—like Kill Boksoon and Furies—have demonstrated a modicum of mettle, splashy English-language releases—like Gunpowder Milkshake and Kate—have proven frustrating and far from thrilling. And although director Niki Caro's The Mother ranks as one of streaming's stronger action titles, alongside Lou, it also sticks to a straightforward formula. It's decent but a tad too restrained for its own good.

Judy Garland's previously missing Wizard of Oz dress to be auctioned off
Our tale opens on a sleepy suburban safe house where our pregnant heroine—known only as The Mother (Jennifer Lopez)—attempts to broker a deal with the FBI to inform on her former exes; ruthless arms dealers Hector Alvarez (Gael García Bernal) and Adrian Lovell (Joseph Fiennes). The negotiation is cut short when Adrian shows up and attempts to murder her and her unborn child. Since she's a top-notch assassin, she survives and severely maims him in the process. It becomes apparent that in order to protect her newborn daughter, she must give the child up for adoption and go into hiding in the Alaskan wilderness near her ex-military pal, Jons (Paul Raci). Yet not before getting Agent Cruise's (Omari Hardwick) word that if trouble arises again, he's to send for her aid immediately.
Sure enough, said trouble does arise when a bunch of baddies carrying a photo of Mother's daughter Zoe (Lucy Paez), now a happy, stable Midwestern 12-year-old, are intercepted by the FBI. With skills as sharp as ever, the dormant recluse comes out of hiding just as Zoe is kidnapped by Hector's right-hand man, The Tarantula (Jesse Garcia). As The Mother and Cruise head to Cuba to rescue her estranged progeny from the slimy, silk shirt-sporting Hector, they draw the eyes of Adrian, who's physically scarred and hell-bent on revenge. The Mother is then forced to launch her most precarious mission yet: Parent and train an obstinate tween in the ways of an assassin.
Similar to Lou in its use of a laconic, world-weary heroine driven to chilly remote surroundings through a sense of self-abnegation, Caro and screenwriters Andrea Berloff, Peter Craig, and Misha Green (working from a story by Green) create a dynamic female lead character who, both metaphorically and physically, dwells and thrives in life's gray areas. This is reflected narratively, in her shady post-military career and covert motherhood, as well as aesthetically, in her dilapidated cabin sanctuary and its drab color palette. Symbolism surrounding a wolf mother and her young cubs is delivered with a tender touch, acting as a subtle nature-versus-nurture commentary on The Mother and Zoe's dynamic.
The film's big action set pieces are workmanlike in their construction, but hold enough character-driven tension and visual flair to make their execution compelling. Mother's pursuit of The Tarantula on foot, motorbike, and car through the winding alleys of Havana (which recalls a sequence in Mafia Mamma involving a coffin and oranges tumbling down stairs) is akin to a Bourne film. Mother and Cruise's raid on Hector's heavily guarded compound is set to Massive Attack's "Angel," giving it a steely cool sonic identity with its chorus of kills and pulsating beats. Adrian's camouflaged henchmen descend and die on Mother's snowy mountain like Bond baddies. And the finale's fisticuffs between Mother and Adrian hit hard, thanks to Lopez instilling her eponymous heroine's unrelenting journey with tangible poignancy. She delivers nuanced work where her empowering emotions land as strongly as her punches.
However, the film's fabric experiences a few frays that lead to a sloppy unraveling. Around the midpoint, characters slowly stop behaving as humans, and behave more like puppets functioning on behalf of the story. It also suffers from a villain problem where both of the evil exes are barely one dimensional, neither oppressive nor genuinely menacing due to Fiennes' and Bernal's lack of meaty material. Screenwriter contrivances guide the second-to-third-act transition. The Mother's considerable abilities begin to slip for baffling reasons that run counter to her established character—early on she can mend a bullet wound with superglue, but later she can't stitch a bite wound.
Given the solid pedigree behind these filmmakers—Caro directed Whale Rider and Mulan, Berloff wrote The Kitchen and Straight Outta Compton, Craig wrote The Town and The Batman and Green created Lovecraft Country—it's a surprise to see their creative consommé turn out much less flavorful than expected. The Mother doesn't examine, augment, or challenge the genre's familiar formulas. We might wish for a motherlode of satisfaction when the needle finally drops on Kate Bush's "This Woman's Work," but we find a shrug of contentment instead.
The Mother streams on Netflix beginning May 12.