Welcome back to AVQ&A, where we throw out a question for discussion among the staff and readers. Consider this a prompt to compare notes on your interface with pop culture, to reveal your embarrassing tastes and experiences, and to ponder how our diverse lives all led us to convene here together. Got a question you'd like us and the readers to answer? E-mail us at avcqa@theonion.com.
This week's question:
So the sun's shining and the birds are out. Obviously, that's not going to be enough to make it summertime. What is the one song/band that is summer to you? For me, it's the band Great Lakes Myth Society and the song "More Adventurous" by Rilo Kiley. Thanks. —Laura
Tasha Robinson
Do I get a free pass on claiming the lazy, obvious choice if I claim I'm doing it just to make sure everybody else's answers are more interesting? Because while it's a big-ass cliché, I don't see how music could get much more obviously summer-y than The Beach Boys, most specifically "Surfin' USA," "Wouldn't It Be Nice," and "Good Vibrations." Personally, I associate The Beach Boys' big, broad hits with July 4, when my family would head into Washington D.C., for the day and stake out a spot downtown near the Navy-Marine Memorial. (Don't ask me why there; Dad's an Army vet, not a Navy vet.) We'd eat fried chicken and potato chips and watermelon and listen to radios blasting pop music—the Beach Boys always featured prominently—and dad would play volleyball while the kids all spent the day climbing on that statue and trying to get up on top of the top gull. (That thing is way bigger than it looks in the picture, and it was a daring, scary climb.) We'd hang out until dark, watch the fireworks, and go home. It was all pretty Norman Rockwell, right down to the music, even though the Beach Boys were kind of long-haired hippie freaks. I've never surfed, but I still think of their surf songs as the epitome of summer music.
Claire Zulkey
Whenever I hear the remix of the Pharcyde's "Soul Flower," I am instantly whisked to a backyard summer party that so far only exists in my mind. Nothing fancy, mind you: just a lot of liquor, food, and laid-back people. There's something about the vibe of the song that reminds me of low-key warm-weather socializing. Plus, the phrase "Shot him in the ass on the downstroke" sounds like one that needs to be hollered along to with a red plastic cup in one hand.
Jason Heller
Sometimes blatant stabs at summery sentiment can be the worst thing a band can do. But the word "subtlety" was never in The Undertones' lexicon (that is, not until later in their career), so they're off the hook. The Irish band's 1979 single "Here Comes The Summer" was one of a handful of songs the punk band recorded for DJ John Peel's lauded Peel Sessions, and when I was 17 and living in the armpit of suburban Denver in the late '80s, The Undertones' Peel Sessions cassette was the only thing I could find by the band. I worked in a comic-book warehouse that summer, and something about the cartoony, hormonal croon of The Undertones' frontman Feargal Sharkey seemed to sum up that whole period of my life. Even today, as soon as I hear "Summer"'s corny boardwalk-anthem organ (the band later actually wound up doing an excellent, reverent cover of The Drifters' "Under The Boardwalk") I get totally heartachy. And I'll always have a hard time resisting any punk band wimpy enough to sing lines like "summer's really here, and it's time to come out / Time to discover what fun is about!"
Donna Bowman
I'll be the dork who goes classic rock (or maybe even AM Gold) with this question. Because the summer songs for me are all about what was playing over the PA at the swimming pool, or being piped into the "Q-line" for the Great American Scream Machine at Six Flags. "Hot Child In The City" by Nick Gilder comes instantly to mind, and just the sound of the shimmery, reverb-free vocals on the chorus puts me back at summer camp trying to get the chlorine sting out of my eyes. (The "hot" in the title doesn't hurt the association, either.) Summer means thumpy, almost sluggish grooves; nobody wants to walk too fast, nor can you get up any head of steam when waiting in line for your turn at the thrill rides. Just nod vacantly and study the REO Speedwagon tour dates plastered on the back of that dude you're passing… again. Wait time approximately 30 minutes from this point.
Leonard Pierce
There are ton of songs I unleash once summer officially arrives (which, in south Texas, is around March 3rd): Tribe's "I Left My Wallet In El Segundo" is a reliable road-trippin' classic, and Frank Sidebottom's deranged cover of Mungo Jerry's "In The Summertime" is required listening at the kickoff of BBQ season at my house. I actually refuse to listen to the Go-Go's "Vacation" until at least Memorial Day. But the one that really gives me that summer feel is "Two Week Vacation" by the Embarrassment. I moved from Phoenix to Chicago in 1993 via an epic road trip, and before I left, a friend of mine gave me a road-songs mix-tape (on cassette, a music-delivery format some of our AARP-aged readers might recall), kicked off by this ragged, brilliant song by the Kansas-based Embos. Its powerful, stuttering build nicely echoes the experience of a long, tiring drive, and the lyrics—delivering in a staggered holler—perfectly encapsulate the drifting, aimless state of mind that marks the start of any good road trip: "Where can I go?" sings organist John Nichols. "What can I do?" He ends with the conclusion that, to this day, I sing along with at the start of any interstate journey that will take me far from the worries of work and the routine of life: "Away from frustration, it's my anticipation / it's cause for elation / I go across the nation with no reservations / I got my two-week vacation."
Josh Modell
Easy answer for me! The Boo Radleys' "Lazy Day." It's about 90 seconds long, and has one of the cheeriest guitar melodies ever put forth by the shoegazing movement. It's a good thing the lyrics are mashed up in white noise, because they're actually pretty weird/dark. (Something about stabbing a demon…?) Anyway, it doesn't matter. Don't listen for the words, listen for the 120 Minutes-era glow.
Jesse Woghin
Much like Josh's pick, my song is semi-inappropriate in its self-deprecating lyrical content ("I wrote a poem on a dog biscuit / And your dog refused to look at it"), but totally appropriate in its sonic qualities and title, at least. Every time I hear that first swell of guitar on "Fourth Of July" by Galaxie 500, I'm immediately transported to one of the following places: lying hazily in the grass, driving down a highway with all the windows open, or setting off fireworks in an alley. The way the lazy waves of distortion build steadily into a crescendo of "na na na na's" always just sounds like summer to me. In spite of what Stacy and Rebecca say, this is not The Connells:
[pagebreak]
Zack Handlen
Anything Paul McCartney ever did for the Beatles. "Got To Get You Into My Life" is a late May morning when you wake up with the sun out, you got no place you gotta be, and the breeze coming in through the window tastes and smells like hot tar and the ocean. "When I'm 64" is tree-climbing music; "I'm Looking Through You" is for that buzz you get when you see the girl you had a thing for during the school year getting ice cream and she doesn't notice you and you just don't give a fuck; "Rocky Raccoon" is the soundtrack for deep July, when it's so hot that you have to hide in the woods, lying in the shadow of some massive elm tree, and chewing on a pine cone because somebody told you people do that, although they were probably lying, because who the hell eats pine cones? "Helter Skelter" for the edgy August vibe—you know fall is coming, and you're not, y'know, scared about it, but you want to get everything you can, and you're a little too desperate to have as much fun as you used to. And "Golden Slumbers" for that moment around, say, September 25th, when you realize everything's just starting to die. Time to start breaking out some records, I think.
Kyle Ryan
Oddly, the first thing that popped into my head for this question was the 1987 hit "Heart And Soul" by T'Pau, probably because I remember hearing it on the beach during one of many trips to Galveston, Texas, as a kid. Otherwise, I had a hard time thinking of something, until I remembered Butter 08, a sort of supergroup featuring members of Cibo Matto, Jon Spencer Blues Explosion, and Skeleton Key. Their one and only album came out in 1996 on Grand Royal, and it was a featherweight collection of organ-heavy rock with tinges of funk and punk. The songs all have a loose, tossed-off quality, but they're fun nevertheless, and perfect for summer. When I bought the album after seeing the video for "Butter Of '69," I always imagined listening to it while having people over and grilling—though I'm unsure whether I ever actually did that.
Genevieve Koski
For the past several years, I've made quarterly mix-CDs celebrating the seasons—Spring 2007, Winter 2006, etc.—and distributed them to my friends for them to promptly throw away/ignore. I try to fill the discs with new, recent music each year, but the song that keeps showing up on my "summer" mixes is Miriam Makeba's "Pata Pata." Listening to it is the aural equivalent of putting on a sundress and riding your bike to a backyard barbecue where you proceed to drink, dance, and flirt as the sun goes down. Like a lot of the songs on this list, it has less to do with the lyrics, which are mostly in Xhosa, than a cheerful piano line and an simple, infectious beat that is the exact tempo of a breezy, sunny day in the city. I can't find a decent YouTube clip—just live performances that I don't like as much—but it looks like there's already audio of this uploaded on the site from this feature: http://www.avclub.com/articles/vinyl-retentive-miriam-makeba,9366.
G/O Media may get a commission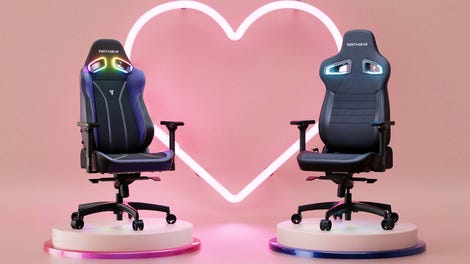 Up to $150 off
Vertagear Gaming Chairs
Noel Murray
The song that most says "summer" to me is The Cars' "Magic"… and not just because Ric Ocasek literally says "summer" about half a dozen times at the top. Heartbeat City came out in March of '84, when I was 13, during that golden age when I was old enough to spend summers hanging out all day with my friends and staying up late at night, but not yet old enough to get a job. The string of hit singles from that record—and especially "Magic"—remind me of municipal pools, amusement parks, church camps, family vacations, late-night music-video shows, "Top 5 At 5" radio countdowns, renting John Hughes (and Hughes-wannabe) movies from the corner video store, and crushing on girls I was never going to talk to. In a similar vein, the band that most reminds me of summer is New Order, largely because their album Technique was the soundtrack to my summer of '89, as me and my college roommates drank hard liquor, took road trips (not simultaneously, I hasten to add) and mutually pined over recent bad break-ups. I also tend to think of the New Order song "Regret" (from Republic) as the perfect farewell-to-summer song, making me think of all the camp-friends and summer-job co-workers—again, mainly girls—that I didn't see anymore once September rolled around.
Nathan Rabin
There are so many great summer songs and summer albums that it almost seems churlish and pointlessly contrarian to single out my favorite anti-summer song, Elvis Costello's great "The Other Side Of Summer." In a neat bit of pop-culture judo, Costello hijacks the sunny harmonies, giant hooks, and feel-good vibe of traditional summer anthems to depict summer as a sun-baked, dystopian hellscape of "foaming breakers of the poisonous surf" and "the burning hills of Astroturf." "The Other Side of Summer" contains some of Costello's most acidic and penetrating observations, as when he notes, "Was it a millionaire who said 'imagine no possessions'?" Oh, snap! Someone get out the VaPoorize, cuz the original Napoleon Dynamite is talking mad shit. "The Other Side Of Summer" is the perfect summer song for people who hate summer.