An astronaut is dead, and everyone on the Hadrian's Wall spaceship is a suspect. That death is the inciting incident of the new Image Comics miniseries Hadrian's Wall, reuniting the C.O.W.L. team of writers Kyle Higgins and Alec Siegel with artist Rod Reis for a murder mystery with a heavy sci-fi influence. The first issue debuted earlier this week, and it's a compelling introduction to this cast and the futuristic world of this series, both realized in rich detail by Reis. Detective Simon Moore probably shouldn't be the person investigating the case given that the murder victim shot him and stole his ex-wife years ago, but his personal relationship to the deceased is a major source of drama and tension in the story, particularly when Simon's ex-wife is around.
This preview of next month's Hadrian's Wall #2 shows the start of Moore's interrogation of the crew, and it's a great example of the script's brisk pacing and the rich characterizations of the art. Talking heads aren't especially dynamic, but rapidly cycling through the suspects gives the sequence a stronger sense of urgency, and spending time with each crew member showcases Reis' evocative character designs and the nuances in his emotional storytelling. Reis' art in C.O.W.L. was impressive, but he's bringing even more specificity and clarity to his work on Hadrian's Wall, making for an highly engaging reading experience. Readers can check out the first issue of Hadrian's Wall in store or digitally right now, and if they're hungry for more, the second issue is available on October 19.
G/O Media may get a commission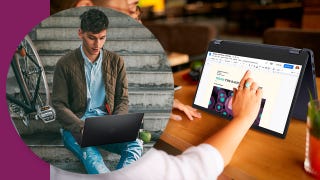 Ends August 15
Best Buy Anniversary Sale 2022
Ends August 15
Best Buy has a number of different promotions happening all for its Anniversary Sales Event. Laptops, tablets, TVs, you names it. Whether you're heading back to school or just trying to fill your home with some new tech, there is something here on sale that you've likely been waiting for.