Tony Shalhoub plays buttoned-up exceptionally well—his repressed, depressed Adrian Monk is the most memorable character to emerge from a network devoted to them. But the Emmy-winning actor also spent much of Monk's eight seasons hinting at the vibrancy buried beneath all the mannerisms and immaculate (if a bit drab) suits. His turn as Abe Weissman on Amy Sherman-Palladino's The Marvelous Mrs. Maisel has allowed him to tap into that playfulness, though it'd be overselling things to suggest that's where Midge (Rachel Brosnahan) gets her sense of humor.

But Midge's new stand-up career has definitely affected the lives of her parents, Abe and Rose (Marin Hinkle), who are moving past wringing their hands over her failed marriage. Season two of the Amazon dramedy will further explore these effects, along with the next phase in the Weissmans' marriage. The A.V. Club spoke with the actor at this summer's Television Critics Association press tour, where he (vaguely) teased what's ahead for Abe, if he'd ever don Monk's iconic suit again, and whether he's got a hankering for some pineapple.
---
The A.V. Club: You obviously can't talk specifics, but what's the mood ahead of the season-two premiere, coming off the Emmy nominations?

Tony Shalhoub: [Laughs.] Yeah, they've kind of sworn us to secrecy about the actual plotlines of season two, but what's thrilling for me is that we had such an out-of-the-box successful, first-year run of episodes. I just felt like the bar was set so high. How are they ever going to able to match it? And much to our delight and surprise, the second season is just unbelievable. The scripts are, I feel, even stronger, and that's saying a lot. And the relationships are really starting to become more complex. And so it's really, really starting to... They're really taking it to the next level.
AVC: Earlier you said you're happy to watch Abe grow. What kind of growth are we talking about?
TS: Well, just in the sense that prior to when our story starts, prior to the pilot, Abe is established as a successful math teacher. We find out in season one that he's being recruited by Bell Labs, but his life is fairly set. His marriage is there. His daughter and son are married. Their lives are set up and conventional until he hears this news that Midge's marriage is falling apart, and all of a sudden there's this upheaval, and the ripple effect of her issues and her problem are... well, they're not ripples, they're really large waves and going out in all directions. All of a sudden our established lives are kind of thrown into chaos, so there's an adjustment.
But in season two, we're also moving out of the late '50s into the '60s, so the country and the culture at large is going through a sort of seismic shift, especially for women, but also politically. And so that just makes for a very rich and fertile area for these characters to develop and grow and most importantly, change.
AVC: The show really takes care to show that Abe and Rose aren't just the disapproving or concerned parents—they're fully fleshed out in their own way, and it sounds like season two is going to go further. 
TS: Absolutely. Because of what happens to Miriam [Rachel Brosnahan] in the first season, we're all kind of treading into new territory here. And for people who are older, like Rose and Abe, that's not so easy. They're not starting out. They feel like they've gone through all of their requisite transitions in life, and now they're on that, in that period in their lives where they're supposed to be kind of coasting along, and there's the grandchildren, and retirement is possibly looming. There's not a lot of terrible financial headwinds or any of that. And now all of a sudden life is not what we thought—even our children are not who we thought.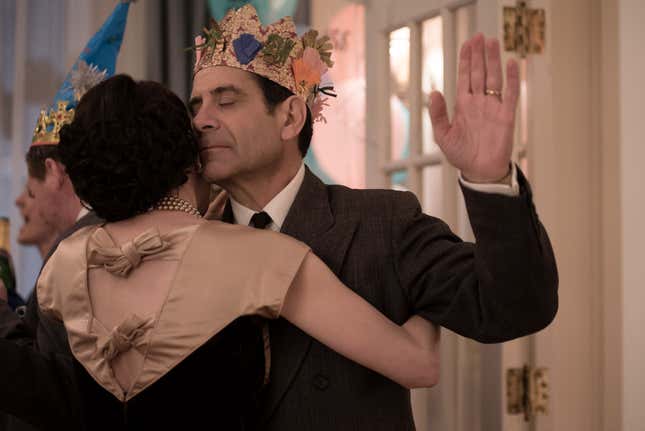 AVC: In the last year, you've received critical acclaim for The Marvelous Mrs. Maisel and your performance in The Band's Visit. How do those two experiences complement each other?
TS: Well, I started out in the theater when I was a young actor, so I've always tried to move from one medium to the other. I like doing all three [including film], and I have found that a steady diet of one for too long was maybe not the healthiest thing for me. But what's kind of gratifying is that they're so different, doing a Broadway play, especially a musical. That's a whole different kind of experience, a whole different kind of discipline. There was even a month this year in May when I was shooting the second season of Maisel and doing the Broadway play for a stretch of about four weeks. And it was really great and challenging, but kind of unsustainable. I had to let the play go. And it's still doing great—huge success with all the Tony Awards. But now we are, happily, deep into season two [of The Marvelous Mrs. Maisel].
AVC: Your Abe has a very distinct look, the same way that Adrian Monk did, and you've spoken before about how you had to kind of dismantle the one persona before stepping into this one because when you play someone for that long, and when it's someone who is just that—
TS: So specific.
AVC: Yes, specific. Is there some sense of mourning when you put that away?
TS: The truth is that there's a whole nine-year period between when we finished shooting Monk to the start of Mrs. Maisel, and there've been a lot of projects in the interim, both in the theater and film and television, too.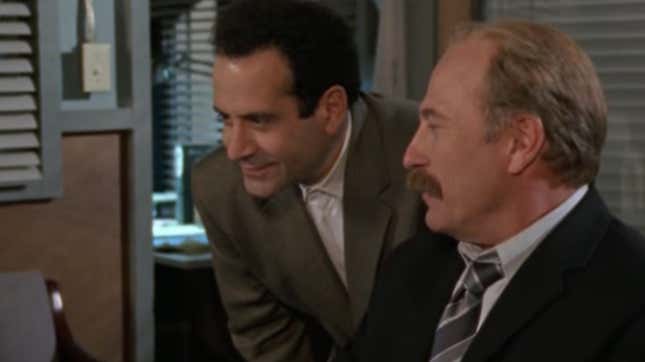 AVC: In between, you starred in BrainDead, which was better than it got credit for being.
TS: Thank you. It was lot of fun. But yeah, so there's a sort of a slower, it's not an abrupt kind of... You're not being yanked out of one universe into another. It's more of a gradual sort of putting to bed of one persona. And so that time is really helpful, the time in between.
AVC: Speaking of your old USA home, Psych has had a revival where they're talking about doing seasonal movies every couple of years.
TS: Oh, I didn't know that.
AVC: Yeah, they did a Christmas-themed movie last year.
TS: A TV movie, you mean? Oh, I didn't know that.
AVC: When I spoke with James Roday and Dulé Hill last year, they said they are up for the long-teased Monk/Psych crossover.
TS: I've not heard about that, but I never say never. It would be interesting to revisit all those characters and see how different that would be now. I guess anything's possible.
AVC: What do you miss most about playing Adrian Monk?
TS: Well, I miss the people that I worked with, the great creative team and the cast and the writers. And we had a real strong, cohesive, collaborative unit going there. That's what made it fun to go to work every day. And you know over a course of eight years that we did that show, we had a lot of great experiences, and I was blessed to have that ensemble of actors and that amazing team of writers. But all things, in this business, all things come to an end. And maybe that's healthy, too, because then you move on, hopefully, unless your career dries up and blows away. But now there's this, and it's another—I feel like we're just at the beginning of something tremendous and hopefully long-running. And you know eight years of Monk was, in a way, was enough. We explored it. We stretched it. We went out on a high. Viewers were not tired and bored of it. We left them wanting more. And I think that's always a good thing.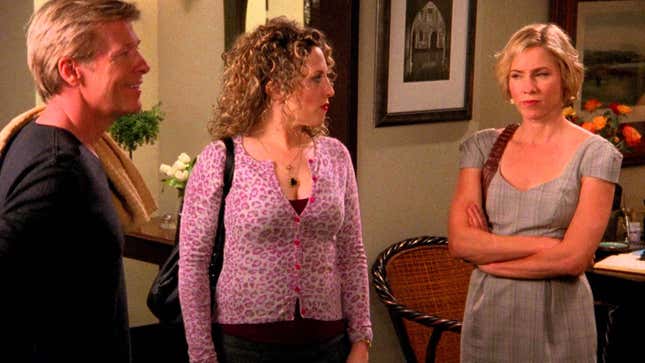 AVC: Who was the better assistant: Sharona [Bitty Schram] or Natalie [Traylor Howard]?
TS: Hmm, you mean in terms of helping Adrian?
AVC: Yeah, who do you think was more helpful in the long run? Because Sharona really pushed him to be more independent.
TS: Oh, Sharona was more tough love, that's for sure. But Natalie, even though she was a little softer overall, I felt like they got closer, and they got more entrenched in each other's lives and problems. Whereas when Sharona was [Adrian's] assistant, the predominant relationship was of employer/employee. And I think over the years with Natalie, they became more like friends.