On the one hand — Singapore!  That's perhaps the most exotic locale for a Top Chef final in the show's history.  Which is interesting since it's paired with one of the more dreary urban settings for competitive cuisine.
On the other hand — no Tiffany.  I know some of you disagree, but I was crushed when Tiffany was sent home last week.  As she reeled off her improbable string of victories over the past couple of weeks, I had cheered louder and longer, and been more genuinely happy for a contestant's victory, than I can remember in the past couple of years.  Not because she was obviously the most skilled or the most creative chef, but because her presence on camera was so genuine and her little romance with Ed so touching and sweet.
Now entering the last two episodes, I kinda feel like I don't have a dog left in this fight.  I'm not sure Angelo has Harold/Hung-esque inevitability, since after a fast start out of the gate he's been notably behind on his goal of winning every single challenge. Wouldn't root for him even if he could convince me of underdog status, because he seems weird in a stalker-y manipulative-y kind of way.  Ed's the sad sack of the group, but although he's sometimes done well, it's hard to have any confidence that he has genius in his soul.  Kevin reeks of false bravado and seems touchy besides.  Kelly is probably the only chef with the chops to hang with Angelo, but like many of the (it must be said) female top contenders, she can psych herself right out of the running.  Insecurity issues, thy name is Madame Chef.
Naturally the chefs are plunged straight into a Quickfire — with an express pass to next week's finals! — right off the plane after a whirlwind tour of a market filled with street food. And Kevin starts lowering our expectations right away, with his "I've never used a wok" confession.  Contrast with Angelo, who counts his Asian background as a plus but tries to grab for victimhood by complaining that the spice labels are in Cantonese.  Standing sweaty and deflated in the market heat for their critique, the final four hear that Ed gets the win (Angelo's reaction: "This sucks").
G/O Media may get a commission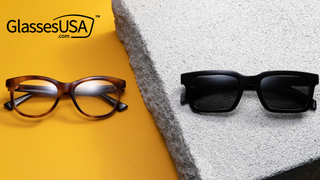 60% off frames
GlassesUSA.com Back to School Sales
Things don't get any better when Padma announces a team challenge (Angelo: "I was kind of anticipating … not having to rely on anyone else").  And rightly so, since the last team challenge led to Angelo and Kevin getting into a whine-off.  The editing puts the onus for the decision to prepare just four dishes for the eighty guests on Ed — Mr. Immunity.  Then he pockets a single-serving jar of marmalade from the continental breakfast, commenting that he could use it as a glaze.  Then at the market, he decides on his own to do a battered plantain as a second dish.  Immunity doesn't usually change the personality or strategy of the competitors — although their fellow contestants usually suspect the worst —  but Ed is definitely taking full advantage to fuck up the mainstream.
When Tom shows up halfway through the scant 60 minutes of prep and tells the chefs that for a party of this kind they should all be doing two dishes, everybody is screwed except paste-colored Ed, who looks like he's on the verge of a cardiac event while he butchers his pork.  Really, it's amazing how much the focus of this episode is Ed, whether it's his sour sense of humor (when Angelo asks to borrow a spoon, Ed tells him to be careful because his mother gave him that spoon) or assumption of control with the wait staff.  Then his Facebook friend Dana Cowin shows up as a judge (she had previously been announced as the host of the party), and Ed decides that immunity isn't enough for him.  We need a psychiatrist to analyze his issues with Cowin, if not his behavior as a whole this week.
There's a decided absence of drama at the judges' table, where every dish gets measured praise and Ed's two dishes provoke nothing short of ecstasy.  As a result, the party service a la minute is less exciting than it might have been; there may have been chaos in the kitchen, but nobody fell off the tightrope.  So the judges' decision won't be based on falling short, but not reaching high enough.  Maybe that's the way it ought to be for a competition of this caliber, but it's a little disappointing for a show where one feels the distance between finalists and non-finalists should be reasonably clear.
What do the judges find to fault? The thickness and "intensity" of Angelo's soup; Kelly's fish texture and timidity with spice; not enough banana fritters from Ed; and a crispiness missing in Kevin's egg thingy.  After seeing the near-orgasmic response to Ed's dishes during service, it's easy to predict that Ed is the winner, but it's still kind of stunning how thoroughly he has dominated Singapore so far.  Was there anything in the season so far that dropped hints this kind of success would be in the offing for Ed?  Ed, of all people?
When Kelly's name is announced as the chef leaving the competition, Angelo breaks down a bit — and I for one read that as a genuine reaction.  He had talked himself into the losing spot while waiting for the critique, and that was a moment of true surprise and gratitude.  It would be nice if he took that moment as the gift of another day of competition and lost the fakey attitude.  But in a twist, he takes it and apparently makes himself sick with it, requiring ass injections.  Tune in next week as Emily Withrow dissects the performance of past Top Chef winners cooking alongside Ed, Kevin, and maybe Angelo!
Stray observations:
I was all ready to be snarky about Kelly's obligatory voiceover fawning over the guest local expert, Seetoh, and then she pops up with "I read his book."  Point to you, Kelly.
Angelo tries to instruct the judges on what order to eat his chili frog legs and side dish.  Any time I hear a chef tell the diners how to eat, I think about Gordon Ramsey's reaction, and I smile.
You don't often get a chance to take issue with the styling on this show, so I took some perverse pleasure in the flattened, lifeless mess that was Kelly's hair during the Quickfire judging.
Now the new standard for insipid behind-the-scenes banter, courtesy of Angelo: "It's a really cool transition to go from cooking your heart out to going prawn fishing."
Tom on Ed's fritter: "That was the perfect stoner food.  And that's a high compliment."  We see what you did there, Tom.  (Also, do you have firsthand experience?)
Words to live by from Seetoh: "There's only two types of food in this world: good and bad.  Everything else is bullshit."