What Are You Watching? is a weekly space for The A.V Club's staff and readers to share their thoughts, observations, and opinions on movies new and old.

Torque, the 2004 feature directorial debut of the music video stalwart Joseph Kahn, is awesome, persistently cartoonish extreme-sport-sploitation—something about drug-smuggling sport-bike gangs and overheated formula in the vein of vintage Roger Corman. Except that by the mid-2000s, classic drive-in outfits like Corman's were no longer around, and teeny B-movies had become major studio material. (Torque was made for a cool $40 million, or more than $50 million in today's inflation-adjusted dollars.) A critic buddy of mine has made the case a few times that the prolific genre producer Jason Blum is the closest thing today's Hollywood has to a Corman figure. He may not have the obvious literary ambitions of Corman, who studied English lit at Oxford on the GI Bill before he started cranking out quirky programmers for $60,000. (Instead, Blum is a Vassar grad; the first film he produced was Kicking And Screaming, the debut of his college roommate Noah Baumbach.) But he's got an unapologetic political side. Get Out is the most obvious and successful example. But before that there was The Purge and its more effective and partisan sequels.
Anyway, back to Torque, which simultaneously cashes in on and sends up the then-recent success of The Fast And The Furious (itself named after a mid-1950s Corman movie) and its Vin Diesel-less first sequel, 2 Fast 2 Furious, which is now mostly remembered for its title. Kahn, whose subsequent films (Detention, the upcoming Bodied) have confirmed that he is a grade-A smartass, directs in a mile-a-minute style, every other shot a visual gag. He's a purely stylistic provocateur, which is to say that the most provocative thing about him is the fact that he wears superficiality like a badge of honor. The set pieces and camerawork are as outrageous as the plot and characters are hokily bad. Torque is a film that features multiple, unrelated Vertigo dolly-zooms in on Ice Cube's face (he plays the leader of one bike gang); geometrically elaborate master shots of gangs gathered in rows and circles; a shocking number of shots framed around the side-view mirrors of bikes and trucks; Adam Scott as an FBI agent who looks and acts like the coked-up manager of an indie-rock buzz band of the era; and a finale of batshit, riotously unconvincing digital effects.
G/O Media may get a commission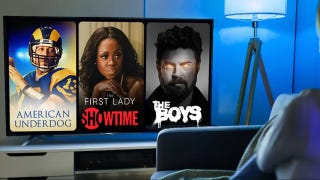 UNDER $1
99¢ Prime Video Channels
It's the cinematic equivalent of pure party music, but with a lot more aggressive posturing. But superficiality—even a knowing appropriation of superficiality that mugs "Ain't this dumb?" as it breaks various rules of taste and economy—isn't subversive. Or to put it another way: Parody isn't the same thing as satire. Kahn's piss-takes on The Fast And The Furious's inflated conflicts (small potatoes compared to the Looney Tunes logic of the recent sequels) and "I live my life a quarter mile at a time" maxims are just crashingly loud. Having seen Bodied (due later this year via YouTube Red), I can report that it's a more caustic piece of work: a reworking of All About Eve in which the Bette Davis and Anne Baxter characters are, respectively, a black underground rapper and a white grad student who's writing a thesis on what he wincingly refers to as "the n-word." But like Torque or any of Kahn's decadent Taylor Swift videos ("Look What You Made Me Do," "Blank Space," "Bad Blood," etc.), it gets lost in its own exaggerations.
It seems relevant that Paul Verhoeven's trashy, satirical Las Vegas soap Showgirls is also a loose All About Eve remake. Or maybe the thought is on my mind because I've also recently rewatched Steven Soderbergh's effortlessly superficial Ocean's Eleven, which is still a lot of fun—a casino heist flick modeled on the starry and synthetic thrills of Vegas. Ocean's consciously keeps its stakes surface-level and offbeat. The comparison to The Fast And The Furious series (especially the later entries) is obvious here, too, though none of those movies are this breezy, witty, or well-acted, Don Cheadle's accent notwithstanding. What struck me the most was Soderbergh's minimalism, and the way his minor trims to Ted Griffin's screenplay—a visual gag here, some dialogue there—create a more fluid and controlled whole. (The introduction of Cheadle's character doesn't make a lick of sense in terms of space or time, but somehow Ocean's pulls it off.) Maybe that's the secret.